Violin vs piano. Which one is the best instrument? Which instrument is the hardest?  Pianist Robert Emery and Violinist Jamie Hutchinson battle it out to see which instrument is the champion!
Robert and Jamie cover the different sorts of sounds you can make on the instruments. 
Creating a long note on the violin can be magical; creating a long note on the piano can fail dismally.
How simple it is to make the piano sound glorious from just one chord. 
How terrible Robert is at making the violin sound beautiful.
Robert performs on his 9ft Steinway concert grand piano worth $120,000 (£90,000), and Jamie plays her 300-year-old violin.
Watch the footage now, filmed at Abbey Road Studios, then head over to look at our Beginner's Guide to the Piano and Violin. Now let the battle commence…
Piano vs violin - which one won?
The piano and violin are both great instruments. But which one is the best to learn as a complete beginner? Well, that partly depends on which instrument you feel is best for you. I know that's a pathetically diplomatic answer, but it depends on the learning curve you are looking for.
It's relatively easy to start playing the piano. As long as you have an instrument to learn on, the countless YouTube video tutorials, books, apps, and let us not forget piano teachers, makes learning piano easier than almost any other instrument.
Though it doesn't mean that playing the piano is easy; you'll have the coordination of your left hand, your right hand, and even eventually your feet to contend with. It takes years of practice to play piano to a high level, and unlike a violin, the piano is a much more difficult instrument to make a career out of. Playing in an orchestra is pretty much unheard of (unless you are the soloist!). So your choice of a piano or violin isn't as straightforward as you initially thought.
Choosing the violin as your instrument to learn is a wonderful idea. Playing a string instrument is a much more collaborative way of making music, as you can have as many as 34 violinists in an orchestra. Making music in an orchestra is a magical thing that as a professional violin player, you'll be able to experience every day.
And let's not forget, carrying your violin around is also an awful lot easier than carrying a piano on your back! So if portability is the name of the game, then the violin wins hands down.
It's an incredibly popular instrument. Student violins have a much lower cost entry point than the piano, and for this reason, there are ten violinists to every pianist. And although this is an essential factor for some, it shouldn't be the main reason why you choose a piano or violin.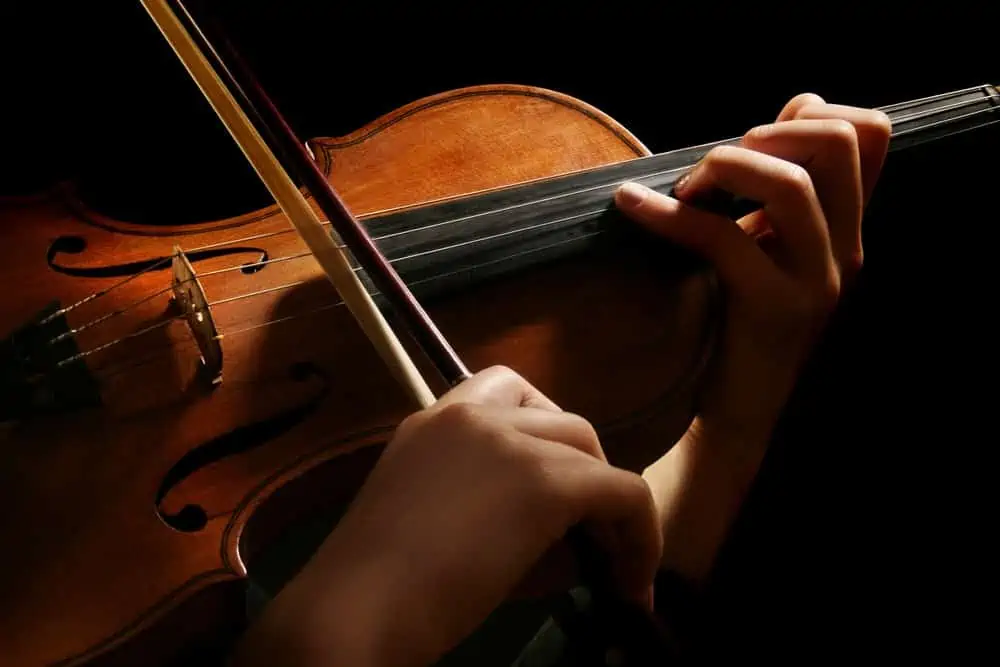 Piano or violin. Which instrument is cheaper in the long run?
Strings
Bow
Chin Rest
Bridge
Strings
Violins have four strings. The piano has around 230. So you would assume that the additional costs for the piano are substantially greater. But you'd assume wrong. A piano string is very thick, and they pretty much never need replacing.
Violin strings, however, can wear out fairly regularly, and although they are not particularly expensive, it is a cost you'll have to cover, again and again.
Bow
Chin Rest
Bridge
Piano keyboard
Piano stool
Portability
Tuning
Piano keyboard
The actual keyboard of the piano in the old days was made of ivory.
Thankfully, the elephants are now safe, and a poly-plastic is used. So instead of cleaning your keys with milk, just a good old fashioned damp cloth should work.
Piano stool
Portability
Tuning
Piano vs violin: which one has more additional costs?
Although you'll probably spend longer looking after your violin on a day to day basis, the acoustic piano is by far the more expensive option. Unless of course, you opt for a digital piano, in which case that will be your cheapest option over time. So if you're buying a reasonably cheap violin vs an affordable digital piano – the digital piano will probably be a bit more cost-effective over time.
Although do remember, a digital piano is just that – a digital electronic instrument. And we all know that electronic things don't last forever… (unlike Jamie's violin in the video which is 300 years old!)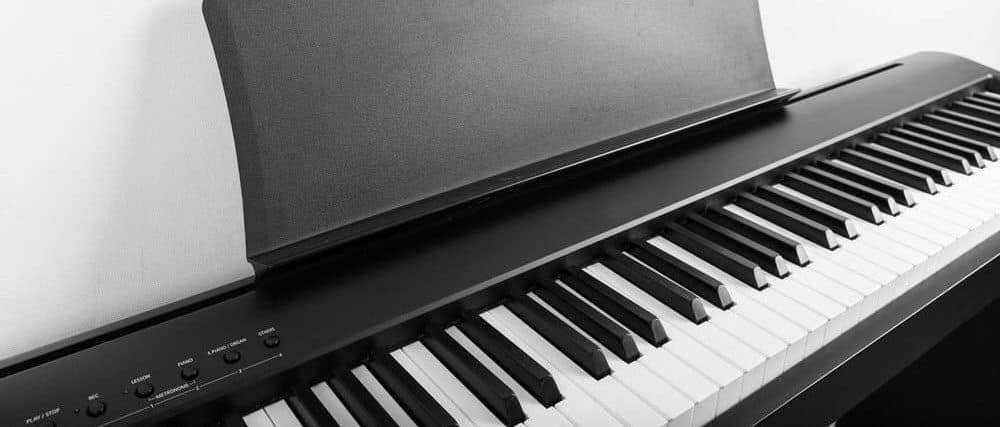 Which instrument is hardest for a beginner?
Both instruments are so different it's almost impossible to declare which is hardest. If you watch the video above, you'll undoubtedly see that the piano can sound beautiful pretty much straight away. Play two white notes with one in the middle, and you immediately have a nice-sounding chord. The violin, however, can sound scratchy, out of tune, and quite frankly, pretty nasty (as you probably saw in the video when I attempted to produce a sound!).
Does this mean out of the two instruments, the violin is the hardest? Well, no. Both the piano and violin have their own challenges:
Unlike the violin, you'll be learning both the treble and bass clef in your piano lessons. Two clefs = double the work (and if you don't know what a clef is yet, click here to read all about them).
Similar to the violin, you'll be learning to use all five fingers on your left hand, but instead of learning to control a bow with your right hand, you'll be using those five fingers to do something completely different.
Ten independent fingers equal ten independent things to go wrong!
So as an experiment, put your hands on the desk and try lifting each finger, one at a time, without moving any other finger. It's not as easy as you thought!
Being able to play the piano is about multi-tasking with both hands. But what about your feet? Don't forget that you'll also have a minimum of two foot pedals to control at the same time. This is where, eventually, your muscle memory comes in and will take over. Thinking about all the notes, on two different clefs, with two hands, having a choice of 88 keys on the instrument, and remembering to keep your musicality isn't as easy as you think!
No, you don't have 88 keys to press. But as a violinist, you do have an indefinite number of notes to play. This is the reason the instrument can sound so beautiful, or so awful. It's really easy to be out of tune on the violin. And this is one of the most challenging techniques to master. Once you have learned all the positions, you'll be on your way to becoming a musician who can play in tune.
So it isn't straight forward...
In a word, nope! Thankfully though, both violin and piano lessons are relatively easy to organise; so you could try out both instruments and see which takes your fancy. You'll be able to find group violin lessons which will work out cheaper than one-to-one. Piano, on the other hand, is best learned when you have someones undivided attention, so don't even think about group lessons…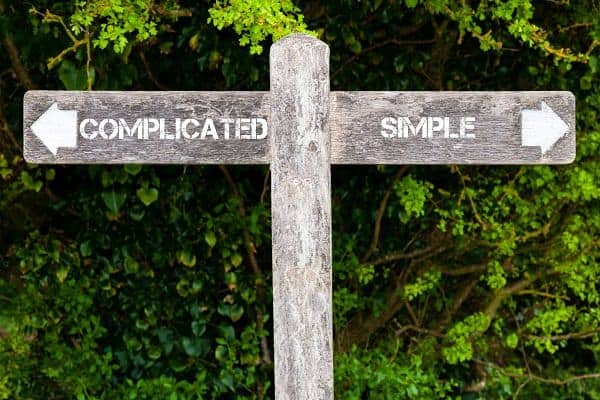 Both instruments require versatility
Both instruments require you to be able to read the notes on the page
Pianists need to learn to multi-task like crazy
Violin players need to learn to listen like crazy, to make sure you play your violin in tune
The violin needs love and attention daily. The piano mostly sits there (apart from twice a year where you'll not forget to tune the thing!)
Above all, remember that all students find starting an instrument a difficult challenge. Accept the fact and move on
Both instruments are great fun...
The most important part of being a musician is to have fun. Without that enjoyment, progress will be slow. If you or your child doesn't like learning the instrument they are playing; there are only three possible reasons why:
They have a lousy, tedious, insipid teacher
They have an excellent teacher, but the instrument isn't right for them
See number one or two
That's it. No other options are available; so stop trying to complicate matters.
If there is one thing to learn from this video at Abbey Road Studios, it's that music is a journey. It doesn't start or stop with the first pluck of that string.
So finally you ask 'Violin VS Piano' – which one is the best?'
The answer: There isn't one best instrument. You need to play whatever your heart and soul wants to play.
Is that me backing out from giving you an answer?
Possibly. But it is the truth. Us humans tend to over complicate things, so here is how you choose the instrument:
If you like the idea and sound of playing the piano, then play it.
If you like the idea and sound of the violin, then play that instead.
Both instruments win hands down.   Let us know in the comments below which instrument you chose, and why.