How long does it take to learn the violin? Well, I guess that depends on how much work you're happy to put in… Violinist Jamie Hutchinson has just finished a recording session at Abbey Road Studios, and she can tell you all about it using her 300-year-old Italian violin to demonstrate.
So how long does it take to learn violin?
Anyone can learn to play the violin, at any age. Yes, the older you get, the slower you understand, but it doesn't mean that it can't be done. Everyone learns at a different speed, and each human has a diverse skill set, so it could take you three years to play Bach – or it could take you thirty.
That's the short answer, but of course, there is a bit more to it.
Your learning speed entirely depends on how much you practice. If you would like to become a great violinist, you'll have to work hard. Learning is a lifelong journey. It's a road that never ends. But that's part of the fun!
The first few months of lessons are spent trying to understand the basics. Learning to play an instrument, and learning to read music are two entirely different skills. Usually, a person finds one of those skills easier than the other.
You'll learn how to look after your violin, and work on fundamental techniques like:
You'll also start learning a couple of simple scales and the relevant music theory.
After a year of playing violin, you should be able to play a few tunes and songs that you're proud to perform. You should have a good foundational understanding of the instrument, how it works, and how to look after it.
Your bowing technique should by now feel comfortable, and your understanding of the notes on the violin should be reasonably secure.
After two to three years of learning, your technical abilities should have increased massively. Hopefully, you'll also be able to read music by now without having to 'think about it' too much. Eventually, reading musical notation becomes second nature; and when that happens, life becomes a lot easier!
You'll be learning to shift into third position, and also start using vibrato as a technique to give greater musical expression. You'll also be working more on scales and studies.
The world is your oyster (I know, I never understood that phrase either!). By now, you should be reasonably competent enough, and have enough natural personal skills, to be able to push forward your playing without relying 100% on your teacher. Students, after all, only spend 5% of their time in lessons; 95% of the time is with the best instructor you know – you!

PLAYING REQUIRES PATIENCE
Playing any musical instrument is about long term dedication and patience. Violin students try and schedule their practice sessions every day. They have found the most fantastic violin teacher, and so look forward to violin lessons. They understand that learning the violin to a high standard can take many years. They know that progress is about the bite-size chunks of success that take place every day whilst you play the violin – it's not about an end goal. It's about thousands of mini-goals en route.
There are some key things you can do, which can make a massive difference:
Learning the violin requires finding someone who can share their love of the instrument and teaching with you. The majority of people fail at their instrument, not because they don't enjoy violin playing, but because their teacher doesn't inspire them. Teachers are an essential part of learning. Find a great teacher, and half your battle is won.
For all violinists, practice is the most critical part of progress. Concentrate on separating our elements of music-making. Rhythms. Fingers. Left-hand isolation work. Vibrato. These are all techniques that need dedication. For more help on practice, do take a look at our How to practice the violin article.
You wouldn't build a house without monitoring the progress of the project. You'd be checking in with all the workmen that they are doing a proper job. You need to do the same for your violin playing. Check-in with yourself regularly. Don't just fall into the auto-pilot trap of 'playing the violin'. Practice time is a skill to be learnt and monitored.
Your bow is just as important than the violin itself. Look after the bow hair, and make sure you have some great rosin on hand at all times. Practice your bow hold until it feels entirely natural for you. Your hold technique can help or hinder how long it takes to learn. And remember to keep a spare set of violin strings in your case, just in case!
Occasionally grab some sheet music you've never seen before, and try to play it. This sight-reading will come in handy when you're technically secure on the instrument. The people who can sight-read on their instruments are always the ones who excel.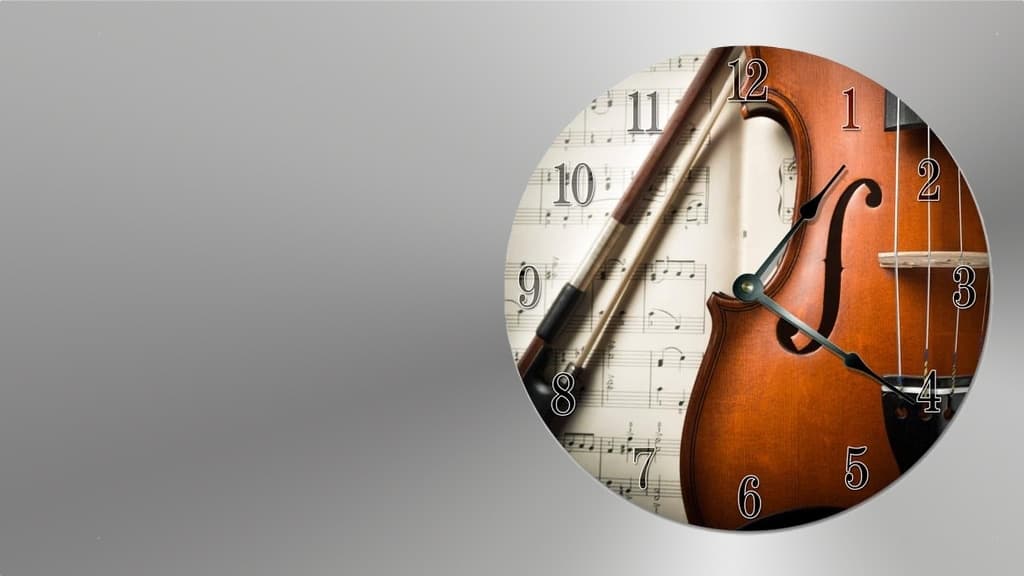 If you want to play violin, you need to understand that lessons and practice equal ability. A beginner musician should take the view that they'll enjoy playing for many years. It's not a race. Instruments all over the world are being plucked, hit, blown and bowed. The trick is to play regularly, and you'll soon see your skill develop.
We hope you have found this motivating, if so then your next step should be to read our dedicated beginner's guide to learning the violin, which can be found here.
Let us know in the comments below if you liked the video.