You have your shiny new piano or keyboard, and you've been clever and purchased an adjustable piano stool (sometimes called a piano bench for absolutely no reason!) – but the big question is 'how tall should a piano bench be'?
Well, thankfully, it's a pretty easy question to answer.
Filmed by Pianist & Conductor Robert Emery at Abbey Road Studios, and featuring his 9ft Steinway Concert Grand Piano, this video will help you figure out how high a piano stool or piano seat should be – and get you playing the piano like a pro!
You could use a chair. The famous pianist Glenn Gould used an old chair. But in all honesty, unless you have his talent and experience, which you don't, avoid the chair – and office chairs are equally a bad idea!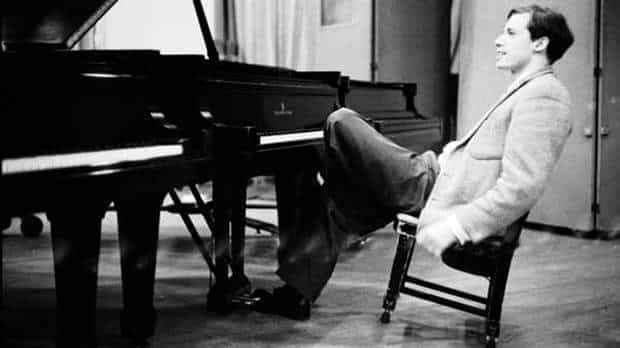 Piano Stool or Piano bench
A stool/bench is totally the way to go for all piano players. But make sure you get an adjustable height stool. Getting a static piano bench is a little like buying a car where the seat doesn't move to ensure you're the correct height for driving. You'll crash pretty soon if you can't see out of the window.
I like this adjustable piano stool simply because it's well build, yet very affordable (aka cheap!)
Adjustable Piano
Stool by Gear4music
Very affordable, high-quality piano bench
Seat: Leatherette top provides hours of comfort

Colours: Matte black or premium white finish
But of course, if you're looking for something to last you a lifetime that's unbelievably comfortable, then you really cannot get better than this Roland RPB-500.
Roland RPB-500
Piano Bench
Best piano stool on the market
Key Features: Superior cushioning

Key Features: Hidden storage compartment
The TedScore™ is our unique system of scoring products. The professional musician who wrote this article combine many things, from the product build, manufacturer's reputation through to feedback from other users, to create our famous TedScore™.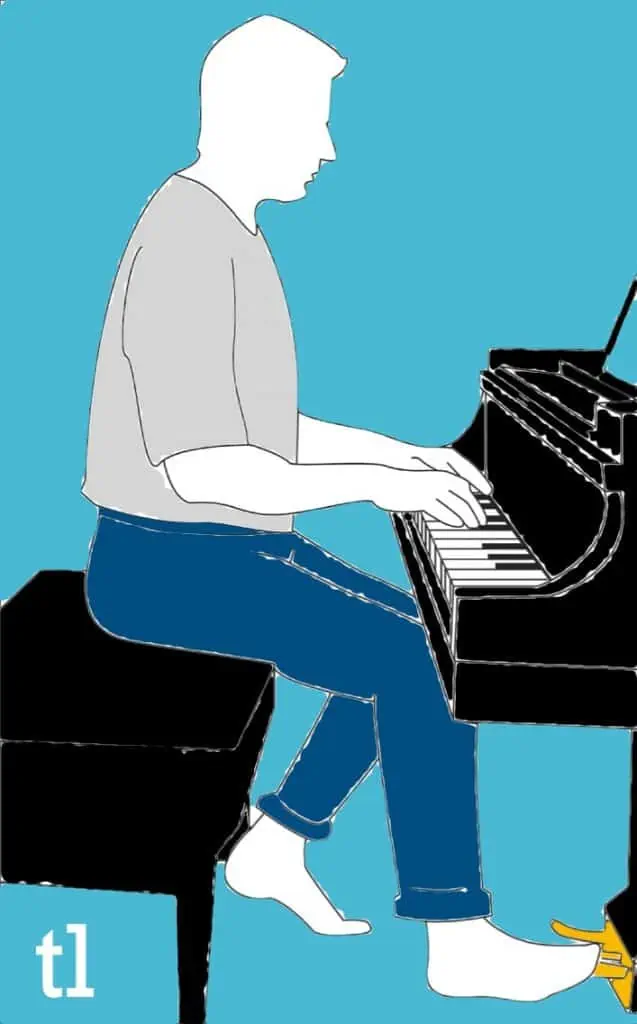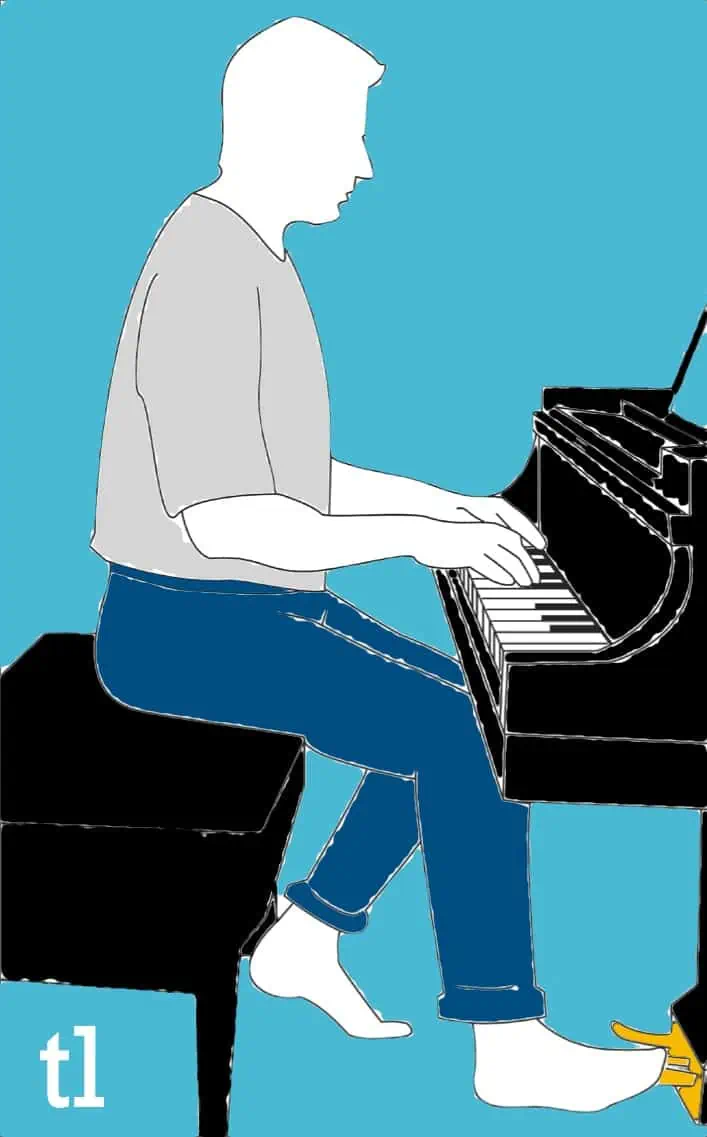 Place your hands on the keyboard (it doesn't matter if it's a piano – the actual keys are always called a keyboard regardless of if your piano is a digital or acoustic version). Are they level with your arms? Does your write drop or is it higher than your arms? These are all signs of a bad hand position created by a wrong seat height.
Having the correct posture doesn't mean sitting with a rod up your backside! You should be comfortable sitting at the piano. Your feet should be able to touch the floor (if you are old enough) and you should be in a good natural position where your back isn't hunched over.
Beginners often like to flatten their wrists as it feels more comfortable. Try not to do this; your wrists should be in line with your arm. Imagine a marble being able to run down your arm, onto your hands, and down your fingers without falling off.
The arms should almost be forming a right angle. Your upper arm should fall freely from your shoulder, while your forearm should be parallel to the floor.
How to sit correctly at the piano
When sitting at the piano, you want your elbow and arm to fall freely from your shoulder. Your forearm should be parallel to the floor, and your arm should be at an angle slightly more than a right angle. Adjust your seat to make this happen.

Beginners tend to slump at the piano as it feels more comfortable. While you might prefer this at first, it will hinder your piano playing in the long run. Try your best to keep yourself in the correct position. Your good posture will pay off in the end
The average piano bench is somewhere between 18″ to 22″ in height. Some stools even go as far as 24″ when fully extended. Many are around 30″ wide, which is plenty big enough for people of various sizes.

As you adjust your bench height, there's a good chance that it might be too short. I find that younger students run into this issue a lot and need some help to get into the best position to play. In this case, I would add something to the bench to help prop them up; a book or even soft padding or pillows work just fine.
Where To Sit On A Piano Bench
The distance you sit away from the piano is an essential part of making all of this work. You could be sitting at the perfect height and still be too close to the keyboard. A good indicator of being too close is when your shoulders feel shrugged, and your elbows appear contracted.
When the distance from the keyboard is too large, you'll experience the inability to move around freely. This affects not only your finger speed but also your note accuracy and things relating to tension. I've had many students think that if they sit high enough on the bench and get close, it'll cure all of their problems. What they haven't figured out is that they are creating more.
With this in mind, make sure you're sitting on the front half of your seat so that you can move your torso – but back enough to feel stable and not wobbly! Your elbows should be slightly in front of your body when your hands are on the keys.
Sit far enough forward on your seat that you can move your hips, but not so far forward that you're falling off. Be both flexible and stable.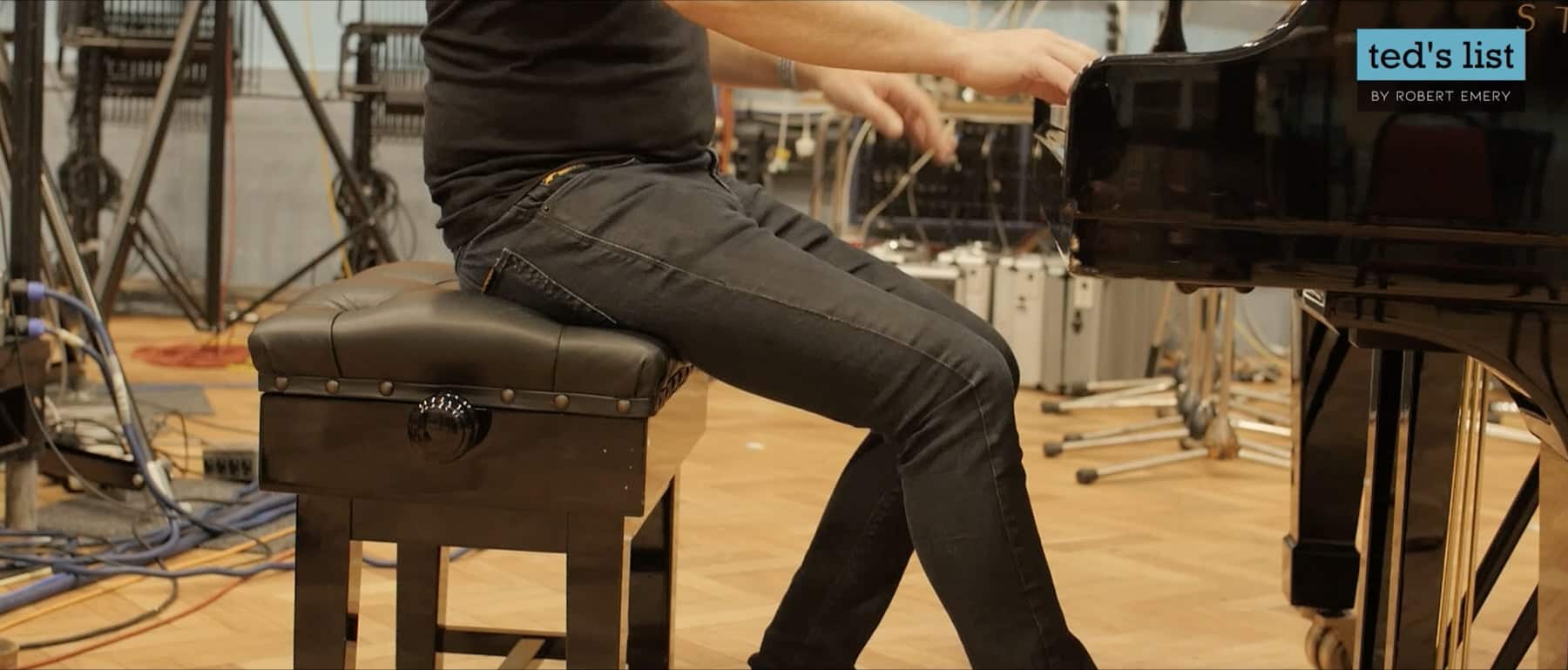 How tall should a piano bench be


Summary
Many pianists don't realise how important this topic is.  As you perform, it's a good idea to experiment. Your forearm, elbow, and wrists should feel as relaxed as possible. This helps you achieve a good sound as opposed to being tense in your playing.
At the beginning of every lesson and practice session, adjust your piano bench to be the best height for playing and the best distance from the piano.
You'll eventually find a position that just 'works' – all piano players do. Keep on adjusting little by little until you find that magical position.
If you have any questions, make sure you ask them in the comment box below.
Now go and buy that adjustable stool!