Not sure where to start with this vast family of instruments? Can't tell a snare drum from a suspended cymbal? You've come to the right place! We'll take you from the beginning and introduce you to percussion instruments one step at a time, covering the history, types, uses and materials. Let's get started with Percussion Family – An Introduction.
A brief history of percussion instruments
Percussion instruments have been used by major civilizations all over the world; in war, ceremonies, celebrations or as means of communication. The marching band has been heavily associated not only with the brass section, but also the percussion section. 
In around 1720 the Janissaries (Turkish Military) introduced their variety of drums and bells to Europe. Their military bands emboldened the troops and struck fear into their enemies. The timpani was first adopted into the orchestra by composers such as Lully and later Bach.
Since the late 19th Century, the variety of percussion instruments used in orchestras has really taken off. Instruments from all over the world have been adapted and used, which has opened up new possibilities for composers as well as making the percussion section a dynamic and innovative part of the orchestra.
In today's music, you will see percussionists playing anything they can get their hands on. And not always something that you strike (percussion instruments are generally ones that are struck). Not only bass drums and snare drums –  but other percussion instruments like finger cymbals, bells, whistles, rattles and sirens – you name it and they'll be playing it! New instruments keep enriching the percussion section, and new ways of working the drum kit are redesigning the ways that the good old snare drum and bass drum can sound like.  
.
The use of percussion instruments in music
The percussion family has the most diverse range of instruments amid instrument families and can be used in the widest range of genres (maybe pipped to the post by the piano!). Whether it's the snare drum in a brass band march or a jazz ensemble, the congas in a cuban trio or the tam tam in a James Bond score, percussion instruments can add rhythm and color like nothing else.
Percussion instruments are often used in music to imitate everyday sounds or ideas of how something does sound. For example, have a listen to the xylophone which portrays bones in Saint-Saëns Carnival of the Animals and the temple blocks and whip which are played in Leroy Anderson's Sleigh Ride depicting the clatter of hooves and Santa's whip.
The most demanding technical works for solo violin, Niccolò Paganini's Caprices make up 24 fiendishly tricky pieces for the string instrument. Crammed with double stops, left-hand pizzicato and endless spiccato bowing. Paganini was the superstar of his day…
"Sleigh Ride" is a light orchestra standard whose music was composed by Leroy Anderson. The composer had formed the original idea for the piece during a heat wave in July 1946, and he finished the work in February 1948. The original recordings were instrumental versions. The lyrics, about riding in a sleigh and other fun wintertime activities, were written by Mitchell Parish in 1950.
Look how much fun the percussion section has, playing all sorts of sound effects in Tom and Jerry at the BBC Proms!
Types of percussion instruments
Pitched percussion instruments
Pitched percussion instruments (also known as tuned percussion instruments) are percussion instruments with a definite pitch. They may produce only one pitch or they can produce many different pitches, or different notes. Pitched percussion instruments include the xylophone, glockenspiel, marimba and timpani. There is more than one pitch on tuned percussion instruments, meaning you can play both melody and harmony on them.
Interesting fact! By definition, the piano is also a percussion instrument as the sound is produced when hammers strike the strings. On the other hand, most of the sound resonance does come from vibration of the strings. 
Unpitched percussion instruments
Unpitched percussion instruments (also known as untuned percussion instruments) are percussion instruments that have an indefinite pitch (e.g. varying between different notes and different pitches). On the one hand, they may produce a pitch, but on the other hand, it will be unpredictable and could change.
Unpitched percussion instruments include the snare drum, bass drum, cymbals (incl. finger cymbals), tambourine and triangle.
How percussion instruments are played
Percussion instruments can be (but are not limited to) struck, scraped, rattled, shaken and blown.
You can play pitched and unpitched percussion instruments with a variety of sticks, metal beaters, mallets, foot pedal, and of course your hands, to produce different sounds. Generally you would use mallets on pitched percussion and sticks on unpitched percussion.
Here is some more information on how to play percussion from one of our other articles.
Innovative ways of producing more sounds from the same instruments are constantly thought of. Double bass bows can be used on vibraphones which produce mellow sound washes, and a bow on a cymbal can create piercing sounds which make you shiver. There are also powerballs which you can drag across resonant surfaces to create a roaring sound. Other percussion instruments abound. New software allows for a regular snare drum to be electronically programmed to sound a specific way in real time.
The Timpani sit at the back of the orchestra with other instruments and provide the foundations for harmony, rhythm, and tempo, indirectly affecting our perception of the melody. Timpani will either be hand tuned or pedal timpani. This refers to the way that the player changes the pitch.
The period of music being played will determine how many drums are used. In the modern day orchestra, there are typically four drums (32, 30, 28 and 25 inches). This is because more pitches are needed to be played at the same time or in quick succession. This is compared to hand tuned timpani, where only two drums are normally used, and the pitch will stay the same on each drum for a whole piece.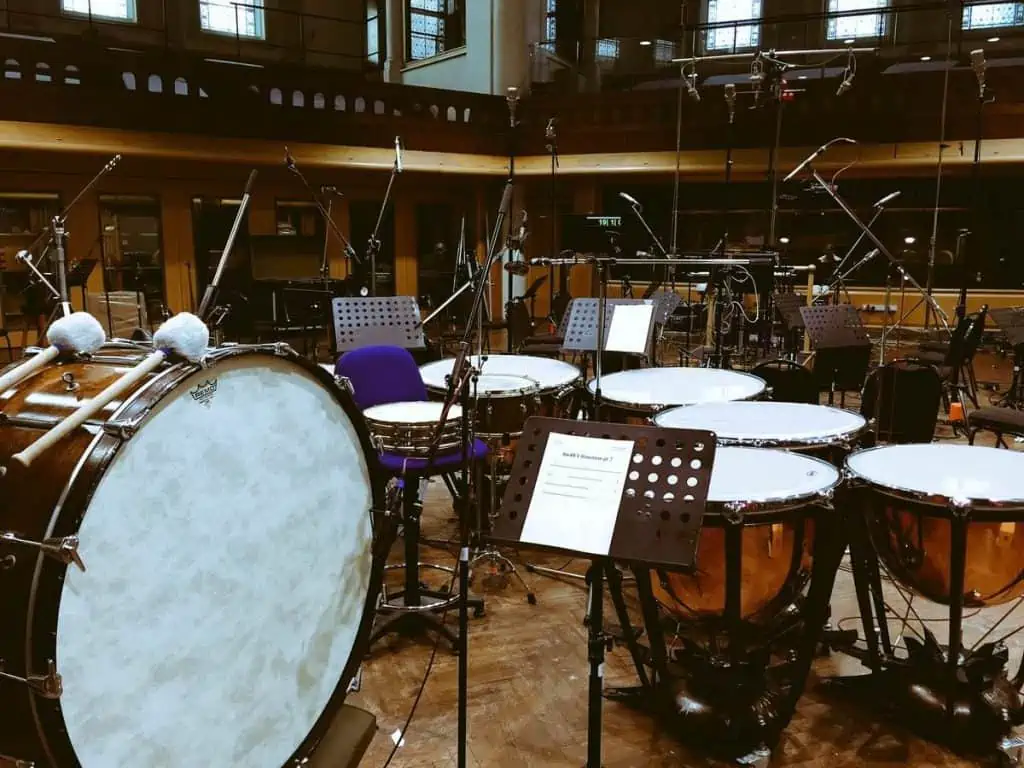 Here is some more information on how to play Timpani.
See here, the timpani taking the lead in Shostakovich 5th Symphony fourth movement:
Bass Drum
The Bass drum is the largest drum in the orchestra, and it is so big that it has its own frame. The bass drum has two heads which are held in place by tension rods attached to the shell.
You can use the bass drum for those thunderous sections as well as quieter moments where you can feel the vibrations as it is struck.
Cymbals, triangles and tambourines
When playing the cymbals, you tend to play either clash cymbals (also known as crash cymbals) or a suspended cymbal.
Clash cymbals are two cymbals which you bring together to create the sound. These cymbals are often used at the peak of a section of music but equally clash cymbals can also be used more delicately to add soft sizzles which float across the orchestra.
A suspended cymbal is a singular cymbal mounted on a stand. In an orchestra you often use these cymbals for cymbal rolls. You also find the suspended cymbal on a drum kit in every genre of music whether it be rock, jazz or hip-hop, the varying sizes and thickness make these cymbals versatile.
The Triangle is a metal rod bent into the shape of a triangle. Usually they are made from steel but you can also find them in bronze and other metals. One corner of the triangle is not joined up, this ensures that the triangle does not produce a definite pitch as well as creating luscious overtone sounds. IMPORTANT NOTE: despite popular belief, this percussion instrument is not easier to play than other instruments!
You can play the Tambourine in many ways including using your thumb, finger, fist and knee. It can be quite a flashy and theatrical percussion instrument.
Xylophones, glockenspiels etc.
The Xylophone originates from Africa. It is made with wooden bars that have resonators underneath (tubes). The layout is the same format as a piano, the wooden bars corresponding to the piano keys. When you play the xylophone with a hard mallet it can produce piercing sounds, but with a softer mallet it produces mellow sounds.
The Glockenspiel is similar to the xylophone, the main difference between these two groups being that instead of the wooden bars, it is made from metal plates. This creates a much brighter sound and a higher pitch, especially when struck with hard mallets.
The name 'Glockenspiel' comes from the German words "Glocken' meaning Bells and 'Spiel' meaning Set.  And as the most popular tuned percussion instrument in an orchestra, I have listed below three models I think are great:
Percussion Plus
Glockenspiel Kit
All in one percussion deal
The TedScore™ is our unique system of scoring products. The professional musician who wrote this article combine many things, from the product build, manufacturer's reputation through to feedback from other users, to create our famous TedScore™.
The TedScore™: 
8/10
WHD 32 Note
Glockenspiel
Key Feature: Includes: Soft Case, Mallets & Stand
The TedScore™ is our unique system of scoring products. The professional musician who wrote this article combine many things, from the product build, manufacturer's reputation through to feedback from other users, to create our famous TedScore™.
The TedScore™: 
7/10
Yamaha YG250D
Glockenpsiel
Key Feature: Compact Design
The TedScore™ is our unique system of scoring products. The professional musician who wrote this article combine many things, from the product build, manufacturer's reputation through to feedback from other users, to create our famous TedScore™.
The TedScore™: 
9/10
A Marimba is most comparable to the xylophone. It is also made of wood and has resonators. However, the note bars and resonators are much bigger. You play the marimba with much softer mallets which produce a warm mellow tone.
On the other hand, if you want to achieve the most resonant sound, above the resonators is where you should be striking the note. However, you can play on different parts of the bar if you are looking for yet a different sound. You can even try playing with the shaft of the mallet on the edge of the bar for a clicky sound.
The Vibraphone is slightly different in terms of the layout than the other tuned percussion instruments as the sharps/flats are not raised. The other major difference is that inside of its resonators are small electric fans. You can set the speed of the fans to different speeds depending on how fast or slow you would like the tremolo effect to sound. It is a great instrument for playing chords as the sound can linger for so long.
This version of Somewhere Over the Rainbow expertly demonstrates some of what the vibraphone can do.
Wind chimes, gongs, maracas, castanets et al
Wind Chimes
Wind Chimes which are also known as a Mark Tree, is a set of suspended chimes which range in height and are placed in height order. This allows you to play from high to low (in pitch) or vice versa.
They are great among tuned instruments for adding colour and a bit of magic sparkle to music – whether in an orchestra or another ensemble setting.
Gongs
There are many types of gongs but the one used most widely in western music is the Tam Tam.
The Tam Tam is a larger type of gong. These tuned instruments can be as big as 80 inches in diameter! In orchestral music they bring a rich tone and air of greatness to the music.
Be careful though, when playing in a musical ensemble! Playing this can be like trying to tame a wild beast; hit it too hard and there is no coming back.
Castanets
If the word castanet is making you think of the flamenco then you would be correct! This is their original setting, often played in rhythm by the dancer themselves.
As well as how you can see them being played in the video, you can also mount Castanets allowing you to use your hands, mallets or even another pair of castanets if you want them to sound particularly loud.
In an orchestral percussion section, the castanets are usually attached to a handle and played by hitting a surface, usually your leg.
Percussion instrument materials
The next stop in our introduction to percussion instruments is materials. The material used for an instrument (say, a snare drum) makes a big difference to an instrument's distinctive sound, and even its specific pitch. This can be the playing surface as well as the body of the instrument.
On percussion instruments like bass drums, snare drums, and timpani, the original material for the head of the drum would have been (and still sometimes is) animal skin. This is stretched across the drums and held in place by the rim. Animal skin produces a much drier sound than synthetic materials.
Plastic heads are now used across the percussion family as they are not only more cost efficient but are not affected by changes of temperature and humidity like animal skins are.
On good quality tuned percussion instruments with wooden note bars, the wood used is Honduran Rosewood. This higher quality wood delivers more resonance than any other. Wooden bars produce more hollow sounds and metal bars would produce sharper and brighter sounds.
The material of the actual sticks and mallets also affect the sound when striking percussion instruments, especially as far as a drum kit is concerned. Hard mallets result in sharper or brighter sounds. They can come in a whole range including plastic, wood, metal, yarn, felt and leather. They can also come in different sizes. It is your responsibility as a musician to think about the sound you are trying to create and how you will create it. As a drummer, what you hit your snare drum will influence the way it sounds. 
Percussion Family - An Introduction


Summary
As you can tell from what you have read and seen, there are so many options as a percussionist, both in instruments and ensembles that are available to you. Whether it is hitting a snare drum or striking a triangle, being part of the percussion section is rewarding and fun!
Percussion Plus Glockenspiel Kit
All in one percussion deal
Best Beginner Glockenspiel
WHD 32 Note Glockenspiel
Best All-Round Glockenspiel
Yamaha YG250D Glockenpsiel
Good Tone produced by High Carbon Steel Bars