What size violin do I need? What are the different size violins? What size violin should I buy for my child? Many questions that the outstanding violinist Jamie Hutchinson, fresh from a recording session at Abbey Road Studios, can answer.
What size violins are available?
The answer to the question "what size violin do I need for my child" doesn't need to be complicated.  Violins come in different sizes. The smallest instruments are 1/16 (just 9 inches or 23 cm), increasing to a 1/10, 1/8, 1/4, 1/2, 3/4, 7/8 and finally 4/4 or full size (about 14 inches or 36 cm).
If you have two children aged five, don't assume their instruments will be the same size..
How do I measure to find out the right size violin?
To measure your arm length, grab a tape measure and run it from the left side of the neck (where it meets the shoulder) down the left arm to their left-hand fingers (where the fingers meet the palm of the hand). The arm must not be bent at the elbow and needs to be at a right angle to the body, with the palm of the hand facing up towards the ceiling.
You need to be able to reach the notes with ease.

If in doubt, your teacher should advise.
Violin Size Chart Measurements
| SIZE | LENGTH* |
| --- | --- |
| 1/16 | 33.5 cm or less, 13 ¼ inches |
| 1/10 | 36 cm, 14 ¼ inches |
| 1/8 | 38.5 cm, 15 ¼ inches |
| 1/4 | 44 cm,17 ¼ inches |
| 1/2 | 48.5 cm,19 inches |
| 3/4 | 52 cm, 20 ½ inches |
| 4/4 | 54 cm, 21 ¼ inches |
* Length is from the neck to wrist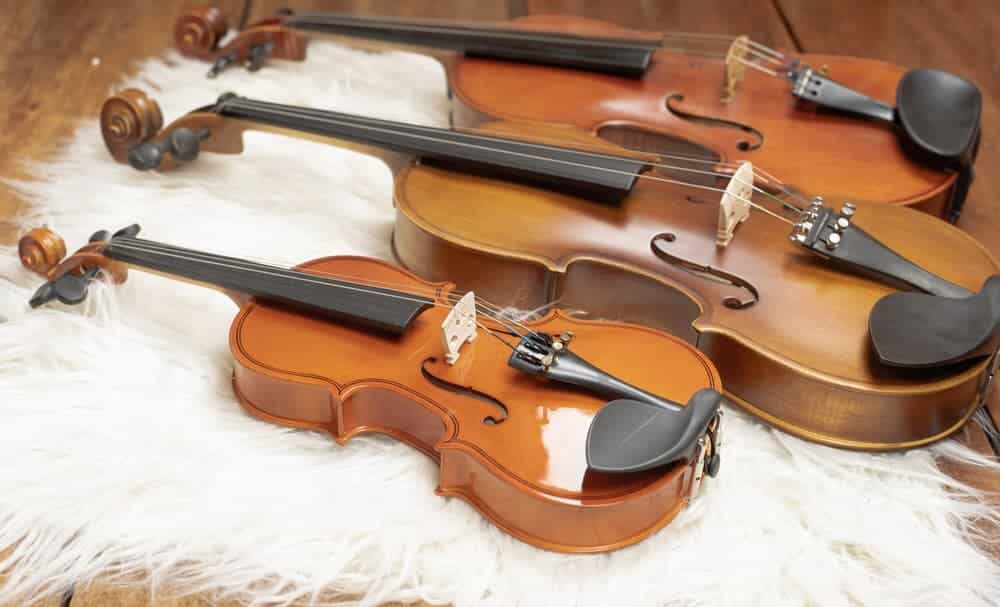 These starter violins should last a couple of years of violin lessons. Teachers usually advise when to upgrade to one of the larger violin sizes (as the smaller size instrument's fit becomes an issue).
OUR STARTER VIOLIN RECOMMENDATIONS:
SIZES 1/16 | 1/10 | 1/8 | 1/4 | 1/2 | 3/4
Adults use the largest size violin; a 4/4 or full size (some small adults/teenagers will sometimes play a 3/4).  The two clear choices for adult violinists are:


Purchase the cheapest starter full-size violin and upgrade when you progress. We recommend:
OUR ECONOMY FULL SIZE VIOLIN RECOMMENDATIONS: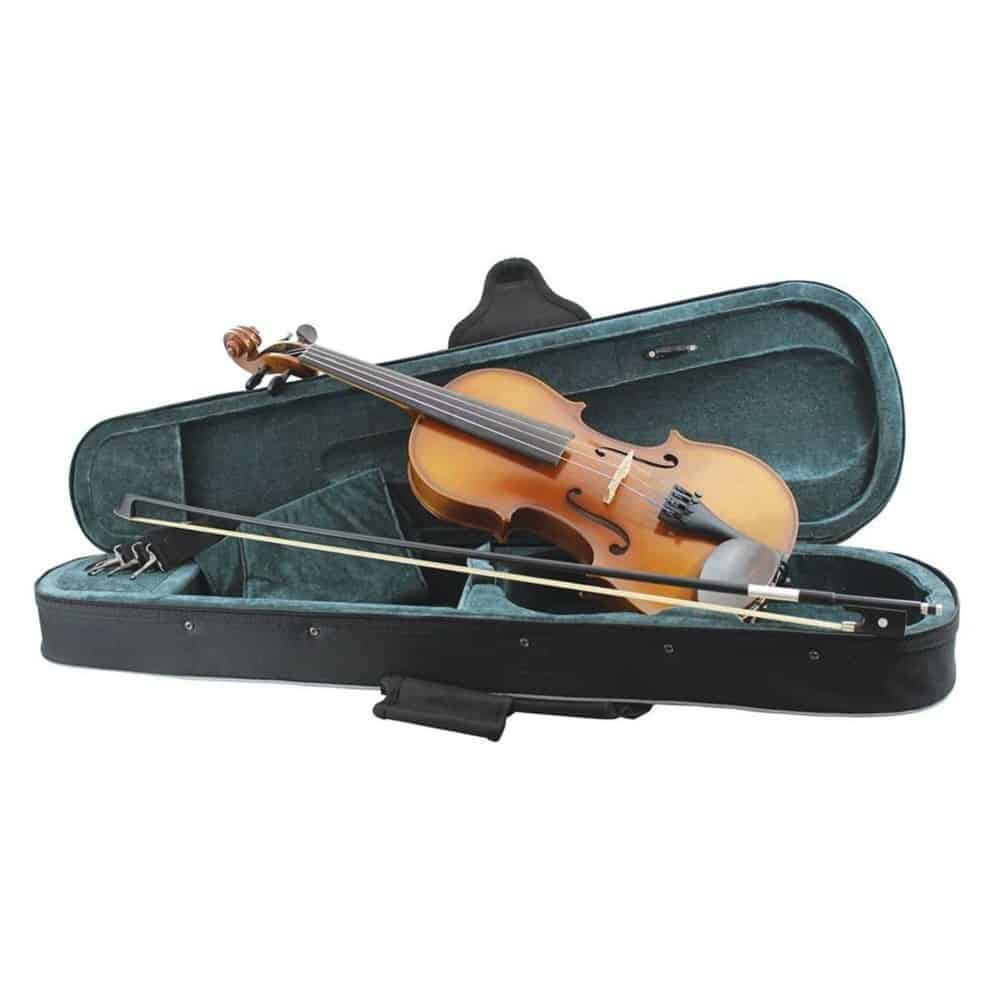 Primavera 100 Full Size Violin With Gold Level Set Up

around £140/$190

Coming set up and ready to play with D'Addario Prelude strings; this gold level set up offers the perfect starting point. it's set up by an expert luthier, meaning you can start playing straight away!

One of the reasons we love it so much is that the instrument produces a full and resonant sound, mostly due to the hand-carved maple and spruce body.
MORE >>>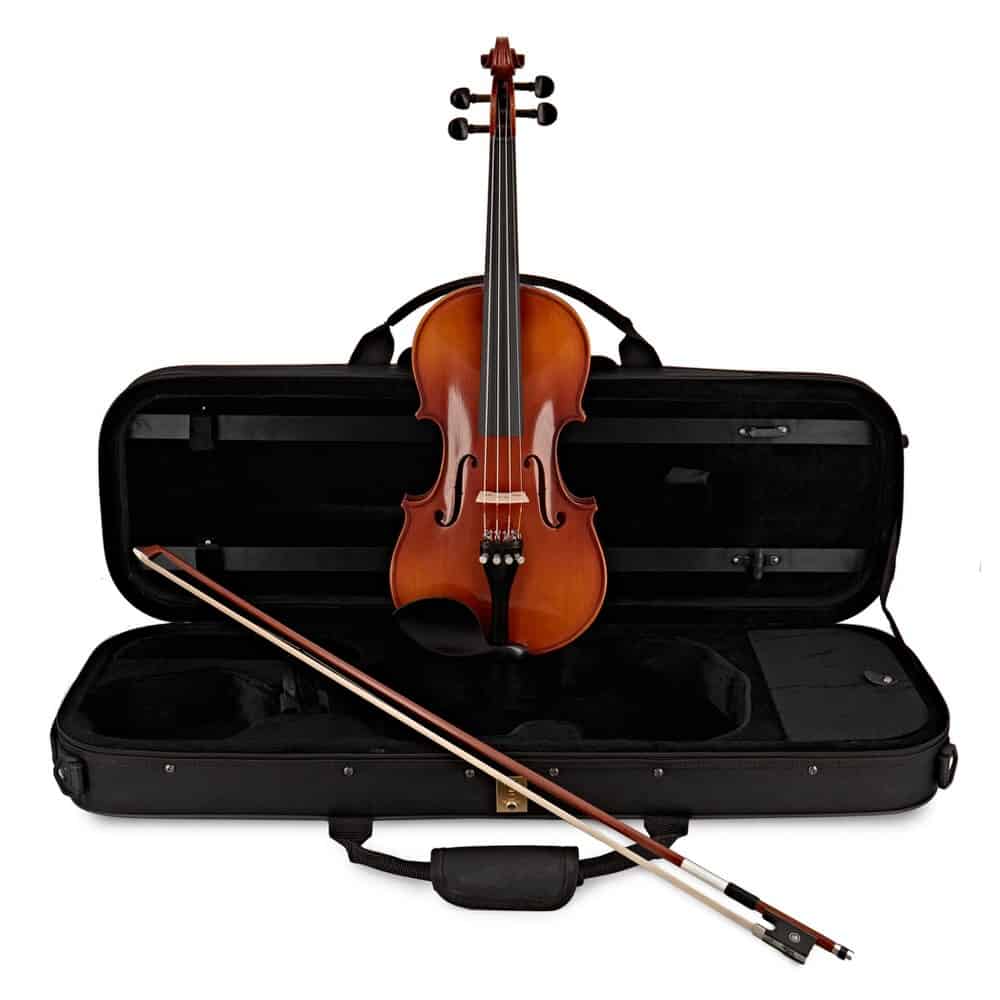 Archer 44V-500 Full Size Violin

around £180/$245

Beginner violins don't get much better than this. The Archer 44V-500 violin is a beautiful instrument which is perfect for keen students. Boasting a hand-carved body alongside stunning Ebony fittings, the Archer 500 series violin is guaranteed to impress.

The choice of wood is the most important factor of a violin's tone. This is why they've used European maple alongside a solid Spruce top. The complex organic nature of these European woods offer a tone which is brimming with nuance and character.
MORE >>>
Purchase the best instrument you can afford to avoid upgrading later. We recommend the following violins:
OUR BEST FULL SIZE VIOLIN RECOMMENDATIONS: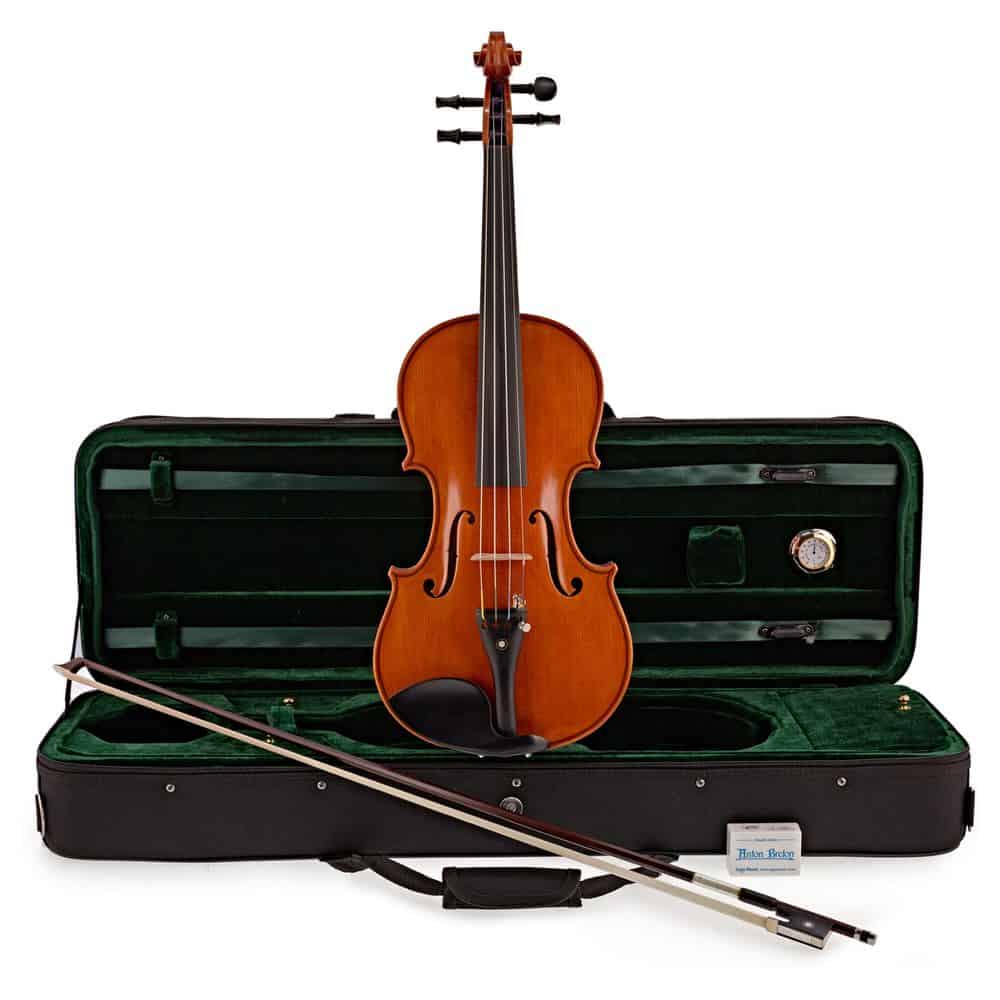 Cremona SV600 Violin Outfit, Full Size

around £500/$700

Inspired by the masters. The Cremona SV600 violin is an outstanding instrument, capable of taking you to the highest grades and beyond. Crafted with a figured maple back and sides with a solid spruce top, the Cremona SV600 is perfect for any discerning violinist.

Cremona's attention to detail can be found all over the SV600. Coming complete with full ebony fittings with stylish Parisian eyes, the Cremona violin looks just as professional as it sounds. For a beautiful aesthetic, the SV600 is finished in a light orange varnish.
MORE >>>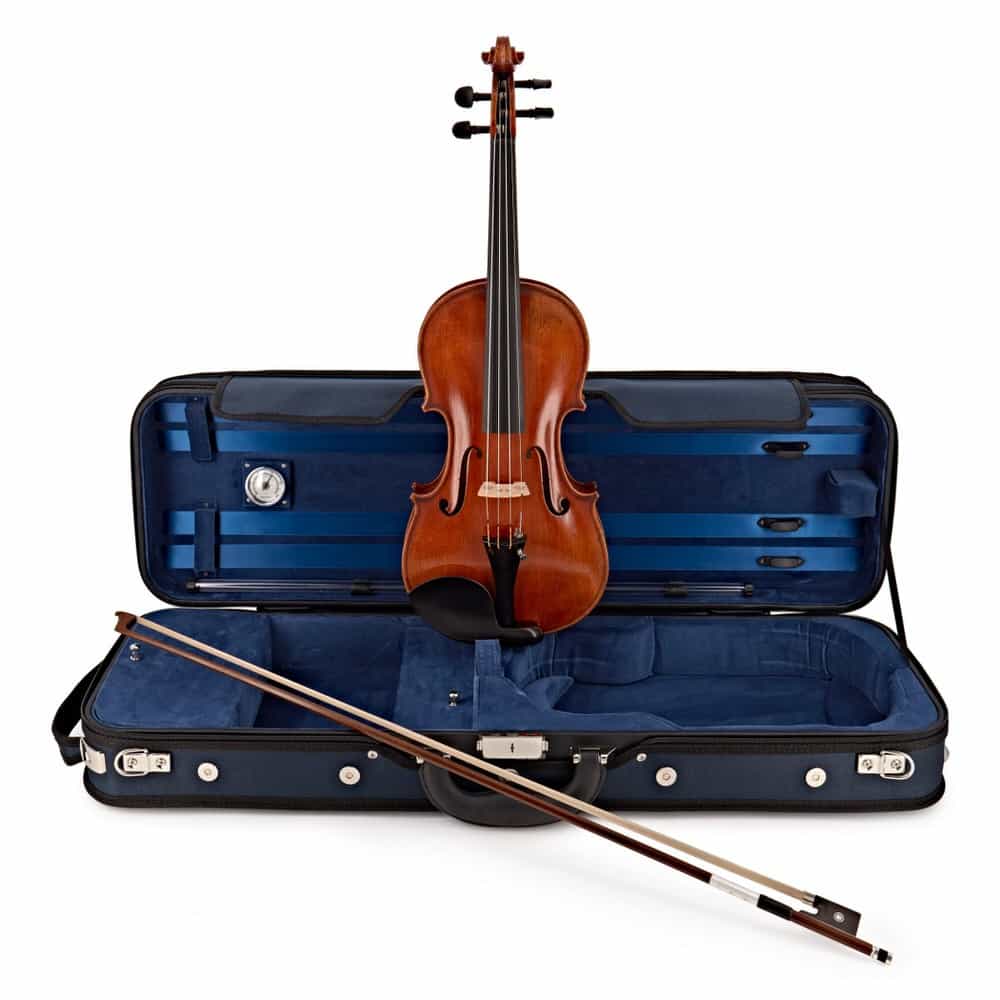 Eastman Master Series Stradivarius Violin Outfit with Gold Set Up

around £1,000/$1,500

The Eastman Master Series Stradivarius Violin Outfit is an instrument designed for the advanced player. The violin is designed with a highly select spruce top and a flamed maple back, sides and scroll. Amber spirit varnish has been hand-applied to this violin in reminiscence of its Italian makers.

The Violin is fitted with an ebony fingerboard, boxwood chinrest and tailpiece. This model has been treated to a Gold Level Setup which consists of the highly popular Larsen Virtuoso Strings, which are professionally fitted and measured in line with the bridge, to provide ease of play as well as resulting in a full bodied and incredibly responsive sound.
MORE >>>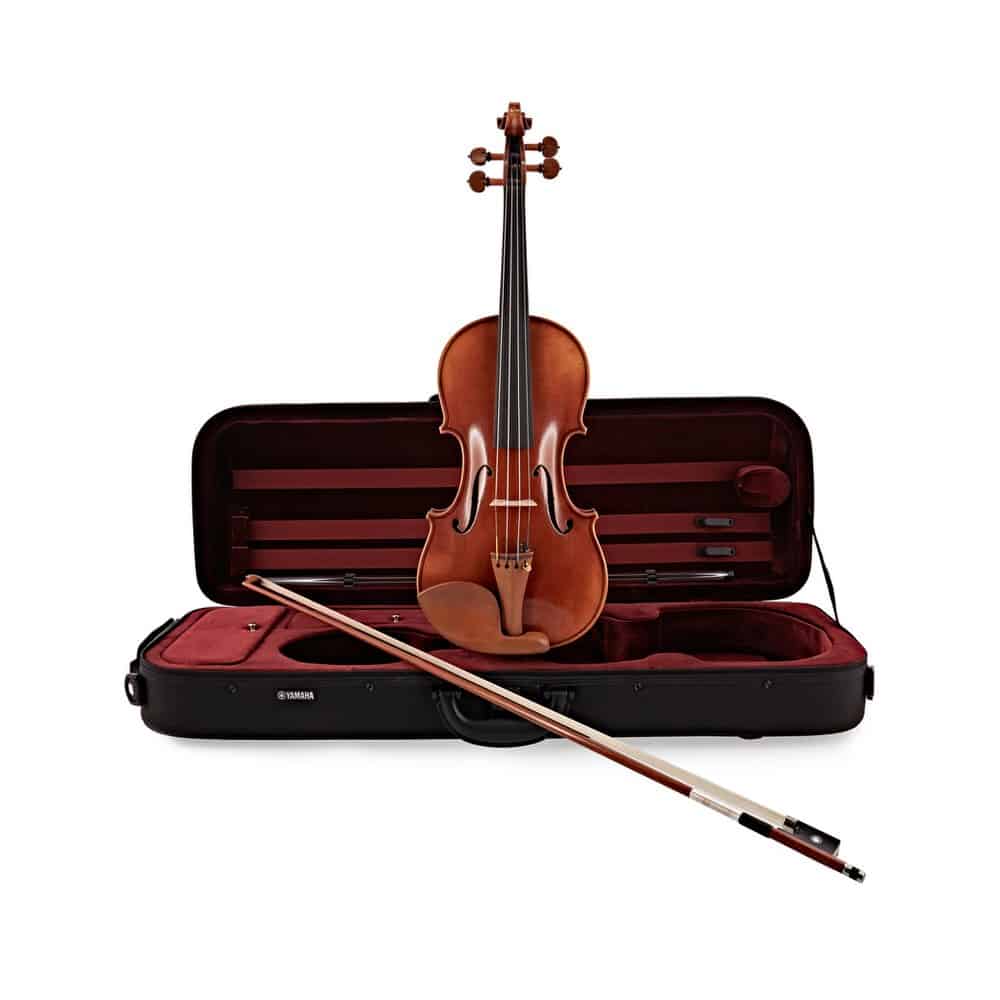 Yamaha V20G Intermediate Violin Outfit Full Size

around £2,000/$2,700

The Yamaha V20SG Violin has been inspired by the historical famous luthier Guarneri in producing a powerful and rich sounding instrument. Using carefully selected spruce and maple and high quality varnishing, this instrument has been built to the highest standards. Including a Wittner fine tuner on the E string and great quality Dominant strings, you will not be disappointed with this instrument. In fact, we think it is THE BEST violin in it's price range.
MORE >>>
If you don't like these violin purchase suggestions, pop down to your local violin shop or music rental shop to see other options. Otherwise, look at the violin reviews here.
How do I know if a violin fits me?
The following measurement is a test to make sure you have the right sized instrument:
To check if you have the correct size and playing position, get your left arm and curve your left hand comfortably around the scroll, with a bit of bend still in your arm. If you have too much bend in the arm length, or too little, the violin is the wrong size.
Alternatively, your violin teacher should be able to help.
What size violin should I buy for my child who is growing fast?
Your child is growing and has outgrown their current violin. Should you buy the next size instrument? It would fit perfectly right now but will be too small in six months. Or should you skip a size knowing your child will grow into it?
This is the most common question asked by students. There are two options:
Choosing a larger violin can be sensible if you are prepared to pay a bit more to have a better quality, larger violin, rather than buying two cheaper violins in quick succession.
It is possible (if unlikely) that the child's growth slows down. If this happens, it could be longer until the violin becomes comfortable to play – and this can damage technique in the long term. HOWEVER, this happens so rarely that option number 1 is usually the best.
Fundamentally, the most important thing is that the student can (or at least very close) play the 4th finger on the fingerboard. If they can reach this fingering the violin will be a good fit.
How do I help my child with a violin that is a little too large?

One easy bit of advice to implement straight away is to use a shoulder rest. It helps support and usually extends the time the students can hold the violin before getting fatigued.
How do I play the violin if I'm left-handed?

That's simple! Even left-handed players play a regular, right-handed violin – in the same technique a right-handed player would have.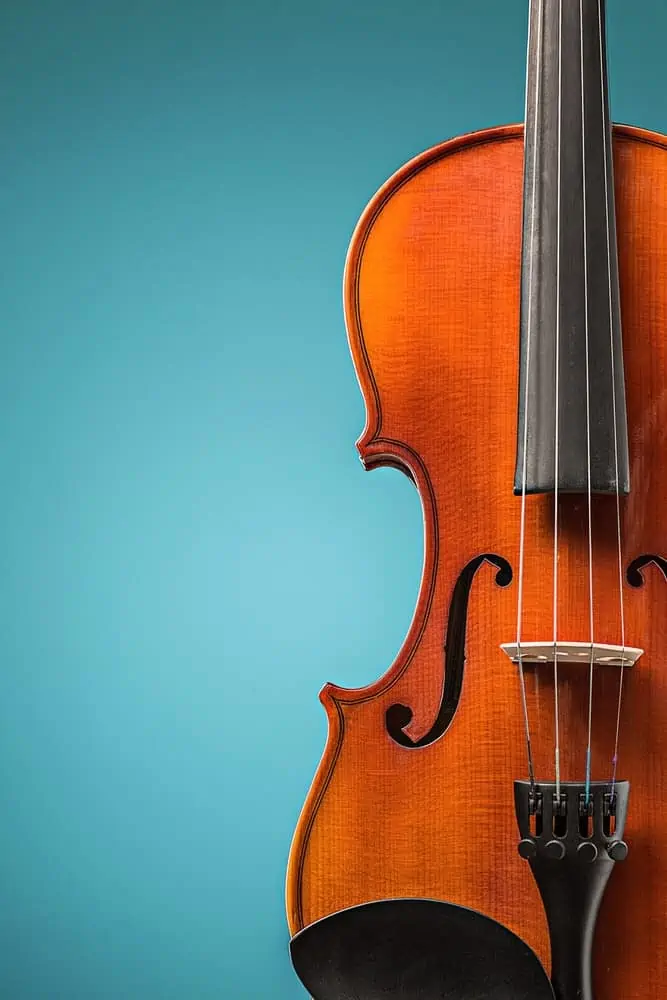 Other things to think about
It's not just your violin that you need to think about. All students should have the following: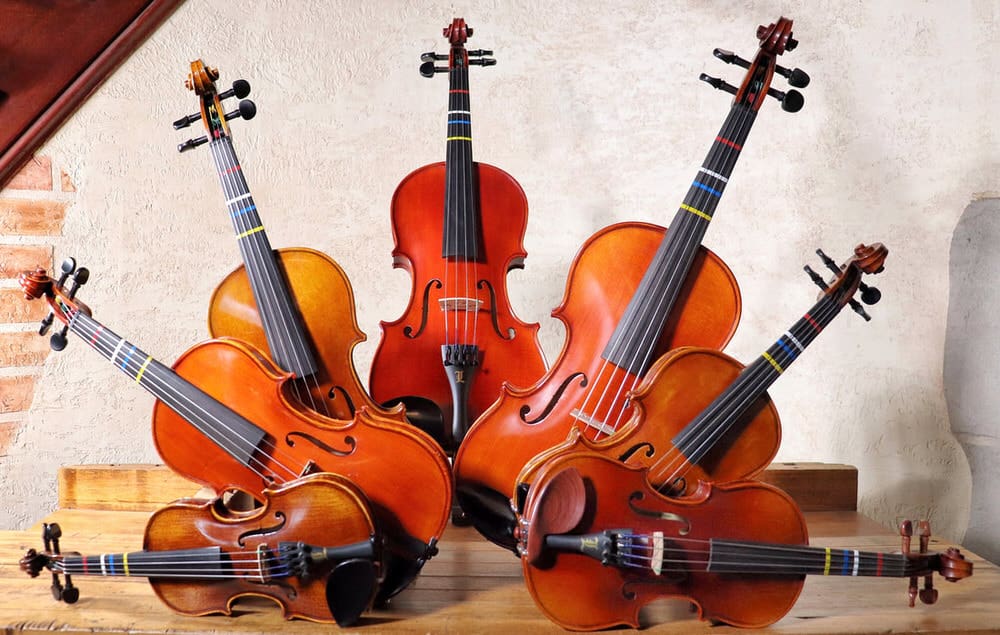 Summary - What SIze Violin Do I Need
Choosing a violin size doesn't have to be complicated. Just follow the instructions and advice above, make sure the student's measurement is accurate, and you'll soon figure out the most comfortable size for your body, regardless of your age. Isn't it nice to find comfort in something uncomplicated and easy to figure out!
Let us know in the comments below if you liked the video..