French Horns are among the most difficult-to-make musical instruments, with valves, complex tubing and endless options to customize.
Here, we bring together some things to think about when you buy, explore bell/material/size options and give you 10 instruments of all levels from French Horn brands we think are worth considering.
Is the French Horn Easy to Play?
…and are some brands easier than others?
The French Horn has a reputation for being difficult – the notes are closer together than on many other instruments, which makes accuracy hard. But some people find the horn comes easily to them, some people have a slow first year then progress quickly, and many people who take it up as a second instrument find it straightforward.
There are many different French Horn brands. A beginner/intermediate French Horn by a company that focuses on other musical instruments is likely to have some small 'defects' in areas that may not matter at a lower level, but become something we need later on. For example, hand-stopping (a technique where you close your hand to make a metallic sound) is often out-of-tune on beginner instruments, but not professional instruments, which also have better high and low ranges.
A professional player might sometimes trade ease of playing for convenience or a better quality of tone. For example, lacquer, gold brass and a detachable bell all make the horn heavier, which can deaden the sound compared to an unlacquered, fixed-bell yellow brass horn. However, gold brass sounds beautifully mellow – a sacrifice you might be willing to make.
Resistance (the thing that makes a sound "crunchy" or feel less free) also differs between makes; Paxman horns are less resistant than Alexanders, as they have a larger bell throat and wider tubing. However, some people love the Alexander sound quality – you get an amazing brassiness in loud playing (a kind of classic hunting horn sound!) and some people find the sound more defined. But the resistance makes it harder! As they say, sometimes you have to suffer for your art…
How to play a French Horn
It's a rather complicated question, and if you want a more detailed answer, look at this 'How To Play The French Horn' article! However, in a nutshell…
The French Horn is played with the right hand straight-ish inside the bell, and the index/middle/ring fingers of the left hand on three valves, with the thumb operating a thumb valve on a double horn.
You buzz your lips together into the mouthpiece (tight for high, loose for low), and blow air through them as they buzz. This creates the sound!
This is the same on ALL modern French Horns – no matter what brand.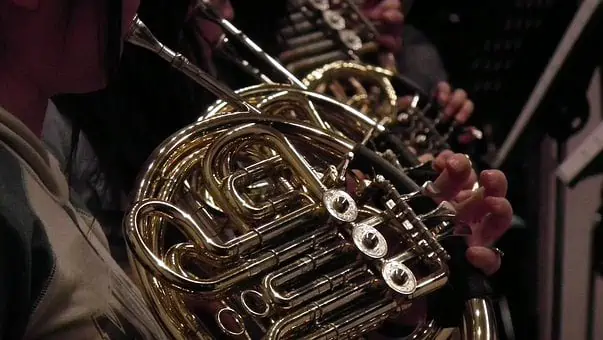 Things to Consider When Buying a Horn
New vs Used
You might assume new instruments are automatically better, but this is only sometimes the case. Second-hand instruments are literally "played in", and are cheaper. Have a look at this table…
* A handy test to see if brass instruments still have life in them – flick the bell gently with your fingers. If it rings, it's alive (played-in, not all played out!). If it sounds dull (a "dunk."/"donk." that ends abruptly and doesn't resonate), it's knackered – don't buy it!
Valve options
Generally, non-standard valve options are non-essential – most people just play double French Horns. You might want something different if you have problems lifting weight, want a stopping valve or want a triple horn. All modern horns have rotary valves (valves that go round and down, as opposed to trumpet-style piston valves which go up and down)
A triple horn is an F horn, Bb horn and a high F or Eb horn, all in one. They are heavy but you can play very high on them! The best remedy for the weight is super-light (super-expensive) titanium valves.
If you have extreme problems lifting weight (chronic tendonitis, arthritis etc), you might also consider having titanium valves as a custom option on another horn. These are expensive; cheaper options include wrist straps, unlacquered horns or even a single horn (if the playing you do allows for it – if you're playing 4th horn all the time or you're a professional player doing anything other than 1st horn, a single horn won't work!).
You can also choose to have a hand-stopping valve, which saves you transposing the music down a semitone when hand-stopping! Again, it's an added cost – but it is an option.
Metal options
Different metals will give you different sounds.  There have been a couple of studies suggesting people can't tell the difference between the sound of different metals; however, my theory is that people just don't share a common vocabulary to describe sound (what does a "bright" sound really mean, for example?), or they hear a difference but just can't guess the right metal. Sorry, science…!
Yellow brass gives quite an open, direct sound; weight-wise, it's the lightest option. Gold brass has a more mellow character, but is slightly heavier.
Silver and nickel silver give a darker sound, almost as if you were covering the bell a little with your hand; they can also sound a little smoother than the above (although smoothness of sound is mostly down to your technique!). Most people don't have nickel silver horns, so it can be hard to blend into a section with one; however, they are more common in America.
Gold-plated horns (for those of you who are wondering if you can get a gold French Horn – yes, you can) are a highly specialist hypoallergenic option, unbelievably expensive and really only for people who have severe allergies to all other alloys.
Big-name maker Schmid has a great article explaining different metals here.
Extra options
Lacquer
There are two options for French Horns – lacquered or unlacquered. Lacquer is a clear varnish that prevents wear and tear to the metal from our sweat, as well as "green hand" from copper oxides as sweat reacts with brass.
However, unlacquered horns tend to "ring" more – lacquer is added weight, and can deaden the sound slightly. Many people play beautifully with a free-blowing sound on lacquered horns, but many people notice a difference. Green hand is also not particularly dangerous, although kids hate it!
Bell Options
One way to make a difference in the sound without buying a new horn is changing the bell. For example, an unlacquered yellow brass bell on a lacquered gold brass horn gives additional punch and clarity in the low register. Different bells can also change the balance of the horn, which may improve comfort in some people.
On some French Horns, the bell is detachable, allowing for it to be stacked on top of the horn's body in a smaller case. They're easier to cycle with and they fit into plane overhead lockers.
This changes the weight of the instrument a little, and can make the sound of the instrument slightly deader, so some players prefer fixed-bell instruments – but I think it's barely noticeable. And you can't beat a detached bell for convenience!
Garlands are decorative bands that give a smoother sound (delaying the effects of resistance until loud playing). Sometimes a player will have two bells, one with and one without.
And hand-hammered bells are thinner towards the edge of the bell, so vibrate better. This can make the horn ring more.
Buying a French Horn: Single Horn
What is a single French Horn?
A single horn is a French Horn in either F or Bb, with no thumb valve. They are lighter and cheaper than double horns, and ideal for either beginners (both types), for a professional player who wants a lightweight instrument (Bb only) and for people who struggle to hold weight, providing that a single horn will fit the kind of playing they do (if you play lots of low horn a single Bb horn won't be ideal for you – some of the low notes don't exist!).
Single F horns are more difficult to play in the high register, and single Bbs lack some low notes, so both are compromises. However, for beginners who can only play an octave anyway, that's no problem!
Beginners often start on single F horns, as many teachers set store by the veiled sound you get on the F horn in the middle register, and think that learning to distinguish between the many notes on the same fingerings (in the first octave there are 5 notes you can play on open, ie no valves!) is a vital skill.
I, and some others, hold the sometimes controversial view that starting on a single Bb horn can work – progress is quicker, as the notes are further apart and therefore easier to play (and then the F side on a double horn can be learnt when the player is older and has more determination/patience). Always check with your teacher!
An excellent value beginner single horn is made by starter instrument specialist, Gear4Music. The SFH-100 below is an excellent example of a good instrument at a great price.
Student Single Horn
SFH-100
SUPPLIED WITH: Carry Case and Mouthpiece

MATERIAL: Light Gold Lacquered Finish
The TedScore™ is our unique system of scoring products. The professional musician who wrote this article combine many things, from the product build, manufacturer's reputation through to feedback from other users, to create our famous TedScore™.
The TedScore™: 
8.8/10
Buying a French Horn: Double Horn
What is a double French Horn?
A double French Horn is a horn that combines an F horn and a Bb horn. The F horn is the "original" valved French Horn, which produces a traditional, veiled horn tone, and the Bb allows easier high playing. There is a thumb valve to switch between them – a player will always read music in F, and just think of the different sides as providing different fingering options.
Double horns come in two types – compensating and full double.
A full double French Horn has separate tubing for both the F and Bb sides, whereas a compensator uses the Bb slides for every note plus small F slides that add the required length to bring the pitch down. Compensators have less secure tuning, but they are lighter and cheaper to produce.
It is possible for compensating horns to be high quality, but for some reason comparatively few high-quality compensators are made; most are student level.
As a starting instrument, you can't get a better cost/quality package than the Coppergate Double French Horn shown below…
Coppergate Double Horn
FH-500
MATERIAL: Gold Brass Body For Warm Tone

INCLUDES: Hard Foam Case and Mouthpiece
The TedScore™ is our unique system of scoring products. The professional musician who wrote this article combine many things, from the product build, manufacturer's reputation through to feedback from other users, to create our famous TedScore™.
There are two big horn makers worldwide – Paxman and Alexander. The majority of horns played are by one of these two. Quality horns are also made by Dürk, Hoyer, Schmid (especially triples), Conn (mostly for US markets).
Here are 10 horns we think are worth knowing about – a mix of professional, beginner and intermediate instruments to suit every player.
Our Top 10 Best French Horn Reviews
Alexander 103
Best for professionals
Level: : Professional

Type: Full Double
The Alexander 103 is the standard horn in Germany, and in many UK orchestras. They are renowned for being a little more challenging to play (due to the resistance of a slightly narrower bore and smaller bell throat), but they make a clear, carrying, beautiful sound, and an exciting brassy sound in loud playing. There are lots of custom options – the metal, lacquer, detachable bell etc.
The only thing to watch out for is that Alexanders are renowned for being inconsistent (they're hand-made). This produces some of the world's finest instruments, but also produces a few that have slightly awkward tuning or a hint of stuffiness. Always compare several 103s, get somebody else's opinion and test them thoroughly – it's worth it to find an absolute gem of an instrument (I did!).
Paxman 20
Best for professionals
Level: : Professional

Type: Full Double
The Paxman 20 is a standard double horn, free-blowing and played by many British horn players and in some European and US orchestras.
They make a big sound, slow to become brassy, and are designed to make the high register slightly sharper and the low register flatter, correcting common problems in these registers (handy!).
The number of symphony orchestras that play on Paxmans is testament to the fact they project well, although for my ears, Alexander horns have greater definition and clarity of sound in dense orchestral pieces (a matter of taste – I know some die-hard Paxmanites think Alexanders sound nasal!).
They have a slightly larger bore than Alexanders, which makes them more free-blowing. And they're a very consistent make, so every Paxman 20 is high-quality.
Alexander 1103
Best for professionals
Level: : Professional

Type: Full Double
The 1103 is like a cross between an Alex 103 and a Paxman 20. It has the lovely sound clarity of a 103 but is slightly freer-blowing (like a Paxman) as a slightly wider-bored horn. They are even more expensive than the 103, but are amazing instruments.
Jupiter 852L
Best for professionals
Level: : Intermediate (or beginner who wants to invest)

Type: Full Double
The Jupiter 852L is a bargain intermediate instrument. Sturdily built (I dropped one off a chair as a teenager), they're fairly well in tune and make a good sound. The only problem is Jupiter no longer seem to sell them – but some retailers still have them, and second-hand options are available.
Paxman Academy
Best for students and skilled amateurs
Level: Intermediate

Type: Full Double
The Paxman Academy series full double is an intermediate instrument that can last young players right up until 18, and beyond if they're not going to go into the profession (it's also a great buy for adult learners who can't afford an expensive professional French Horn but still want something good-quality). It's well in tune with a good tone, and Paxman also rent them out.
John Packer JP161/JP162
Best for students and skilled amateurs
Level: Intermediate

Type: Full Double
John Packer make bargain beginner student level instruments – singles in F and Bb. They work well and they're very light, sturdy and suitably small for young hands – and the cheapest good beginner French Horns money can buy. For more beginner options, check out our beginner horn buying guide.
Schmid F/Bb/Eb alto triple
Best for students and skilled amateurs
Level: Professional

Type: Triple
The idea behind a triple horn is it does everything, from very low to very high. They are a common choice for professional principal horn players, as the Eb/F alto bit moves high notes slightly further apart, making them easier to hit.
Triples by the horn maker Schmid are the most popular type – the Eb alto horn is slightly mellower than the F alto in most triples, and the horn blends well with players on Alexander horns. They're also lighter than other triples. However, they are expensive (and priced in €), and still somewhat heavy.
A great all-rounder if you can cope with the price and the weight!
Yamaha 671
Best for a professionally-recommended student instrument
Level: Intermediate Plus

Type: Double
The TedScore™ is our unique system of scoring products. The professional musician who wrote this article combine many things, from the product build, manufacturer's reputation through to feedback from other users, to create our famous TedScore™.
The TedScore™: 
6/10
One highly-respected London ex-principal horn says this is the horn he "gets all his good students to get"! It works well in all registers, is well-built (though still quite dentable!) and has a lovely clear sound in the high range. It's more expensive than the Paxman Academy series and I think it hand-stops a little sharp, but that may have been a one-off. (Check it yourself!)
A great mid-range choice.
Holton 178/179/180
Best for durability
Level: Professional or good amateur who wants to invest

Type:Full Double
The Holton H178/179/180 is a large-bore horn, and one of the few French Horns listed here to come in nickel silver. They are informally described as being "built like tanks" (in a good way!), and are very durable! A few professionals play Holtons, though they are more common among students and I think that they are surpassed by Paxmans and Alexanders (but if it works for you, why not?)
The large bore gives them a huge, fat and dark sound – more stylistically appropriate in the US than Europe, but not unheard of over here!
Conn 8D
Best for a massive sound
Level: Professional

Type:Full Double
Conn is a US household name and the 8D is a classic. It comes in nickel silver as standard for a dark sound. It is mostly found in US orchestras, though low horn players in the UK have been known to bring out a Conn 8D for a serious, late-romantic tone poem or two – the sound is so fat and smooth! Definitely not a day-to-day instrument outside America though.
We wanted to include some makes appropriate for the US market here, and in many ways the Conn 8D is exactly that. Enjoy the sound of the world's fattest low notes!
French Horn Brands


Summary
Is there such a thing as the "best French Horn"?
Really, it's all about horses for courses. We've listed some spectacular professional horns, some great beginner horns and a couple of brilliant intermediate instruments, from various French Horn brands. We can tell you that the Alexander 103 and Paxman 20 are the best instruments, but should you buy one for a clumsy teenager or a 7-year-old? Probably not.
That said, we do have some winners.
Best Overall French Horn:
Alexander 103/Paxman 20
Whether you prefer the Alexander 103 or the Paxman 20 is a matter of taste, but both instruments are amazingly well-made and everything a serious musician could wish for.
Best Beginner French Horn:
Jupiter 852L/John Packer
While the John Packer should be seriously considered for children and is a bargain, I would recommend the Jupiter 852L if you can get hold of one. It's a full double at an unbelievable price.
Best Intermediate French Horn:
Paxman Academy
The Paxman Academy is a high-quality precursor to their professional-level instruments at a reasonable price – it's rare to see such quality in a student-level instrument.
Has this helped you? Have we missed out a beautiful instrument? Let us know in the comments below.
Happy horn hunting!