If you're looking for tips and tricks on how to play and how to hold a french horn, then look no further! Our top 10 tips to playing the french horn will help kick-start your journey. They won't make you an overnight sensation, but they will help you get on the right path to becoming a great horn player.
Are warm-ups really necessary? 
Well, to play the horn, you need to work hard, an understanding of music theory, practice, and most importantly, have a great technique. And all of that can come with the toll of backache, arm pain, wrist tension, to name just a few things. 
So if you'd like to avoid those not-so-fun symptoms of horn playing, I'd advise a nice warm-up; just to get you started…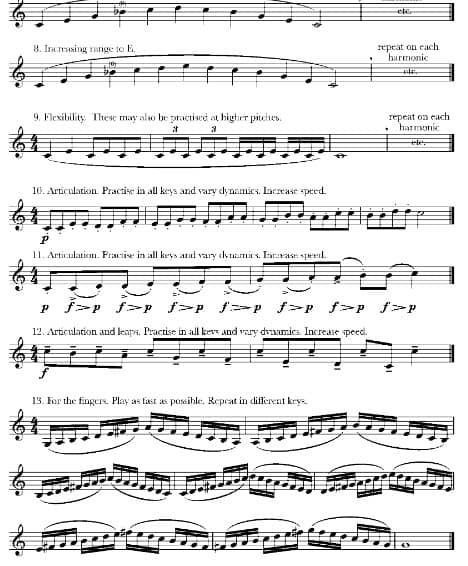 Singing is a vital part of performing, but the physical demands of brass playing sometimes make us lose sight of our musical goals. 
Help yourself to develop your inner ear to the point where you can sing along inside your head while playing. It'll help you with pitch, and your sight-reading.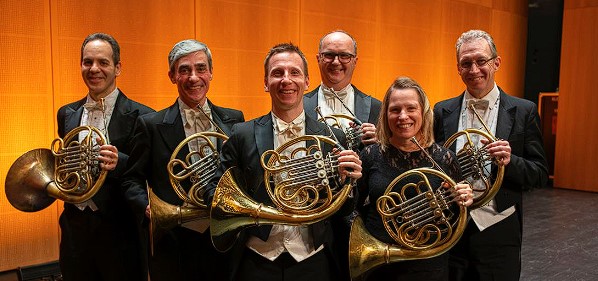 Find a correct hand position
Improper right hand position can adversely affect tone quality, articulations, intonation, and accuracy. It doesn't matter if you have a double horn or a single, these three easy pointers to achieve a good hand position are:
1. The palm of the right hand is slightly cupped as if swimming freestyle or holding a large bottle.
2. Allow the right hand to conform to the shape and size of the bell – resulting in a slightly rounded shape when the back of the hand is pressed against the far right side of the bell.
3. Line up the knuckle of the thumb with the bell brace, and then insert the right hand until the thumb touches the upper part of the bell and the bottom edge of the right hand makes contact with the bell
You'll probably see your french horn teacher once a week, at best. The majority of the time you're practicing the horn by yourself, so make sure you are comfortable! 
Turn off your phone, have a glass of water nearby, and carve out time in your schedule to have some dedicated practicing. It doesn't matter if it's fifteen minutes or three hours, it's the quality of the practice that matters.
Find the right tongue position
Many professional musician and brass players advocate the use of different vowel sounds to achieve better accuracy. Some basic rules for the horn are: 
Low register – "toh" or "thoh"
Middle Register – "tah" or "dah"
High Register – "teh" or "tee"
Whistling can also help you feel the various vowel sounds and tongue settings.
We can't stress this practice tip enough. Good musicians learn how to practice a fast piece at a tenth of its speed, and then gradually speed it back up to a normal pace. And what is the reason for this? Your brain!
When you play things too fast, you'll make mistakes. Every time you play the french horn, your brain is learning what you play. It learns the correct notes you play, but it also learns the mistakes. So if you are playing too fast, and making lots of errors, your brain will be learning those errors.  It's the same with music theory; take the time to understand it, and it'll help massively down the road.
The alternative, which is our suggestion, is to go slow. This way, you won't make errors, and your brain will only learn how to play the piece correctly. And eventually, learning to play like this will mean minimal mistakes and your best performance. When you see on the sheet music is what you will play on the horn!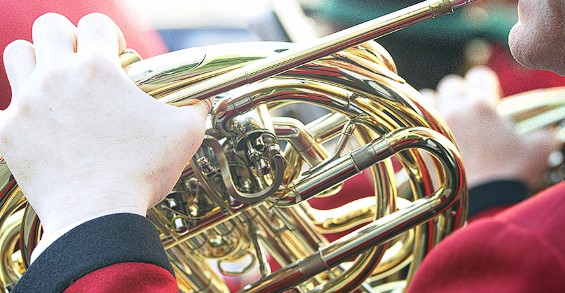 Brass instruments are difficult, and the horn is the hardest. Work on your embouchure away from your instrument. If you practice on the instrument and the embouchure is not really correct, you will compensate for any discrepancies by breathing differently (and often incorrectly) and straining your diaphragm. 
Remember to carry your mouthpiece around with you, as you can do plenty of exercises on it without the rest of the instrument.
Further training can be done with lip exercises. Lips, facial muscles and the diaphragm muscle are the specific areas that have to be built up. There are many exercises you can do constantly which will enhance your horn playing.
Remember, success doesn't happen overnight. After all, during sports training in the gym, you don't give up once your muscles get tired – you rest, then reset and go again. It doesn't matter if you have a double horn or single, you have to be careful and don't overdo it. 
If your muscles tense up while playing, you've missed the target, so try again and again until you are able to play in a relaxed way. And if you are too tired, then rest –  brush up on your music theory instead!
Learn to play with sensitivity and finesse. 
It is fun to play loud, but it is often more enjoyable to play soft! Even at our most full volumes, our sound needs to be wonderful, the tone quality warm, and never too 'brassy'.   It's just just about the music theory and dynamics though…
All brass instruments need to be careful of intonation; and when you're playing in an orchestra with other horns, you especially need to be careful. So listen hard, and you'll succeed like other horn players.
Remember to use these tips and tricks
It may sound obvious, but this list of tips and tricks that we've deliver on a a plate to you will be helpful forevermore. Horn playing is a lifelong skill that you can acquire. And learning the french horn is not just about practice, horn lessons, reading the sheet music correctly, remembering all the chords and keys, playing in tempo, playing the correct rhythm and using the correct fingers (I could literally go on all day with this list). 
It's about enjoying yourself.
And like most things in life, if you see rapid progress, you'll enjoy things more. And if you enjoy things more, you'll make more progress. It's the circle of life! So remember to print off this list of top 10 tips, and refer back to it regularly.