Just like buying a car is only the beginning of car-related costs, buying an instrument is only the start of the music-related purchases you'll have to make!
Here are our recommendations of the best accessories for brass players and their costs, so you can spend wisely when it comes to brass needs.
Accessories For Every Brass Player
It's good to get into good habits with tuning, as the better, we can play in tune, the better it will sound when we play with others. You can also use a tuner to check what note you are playing, which can be useful in the beginner stage.
You can get tuning apps for your phone or manual tuners. Phone apps are convenient, with more features, but be warned that dropping your phone can make the pitch a little off! With a manual tuner, you can be really sure that the pitch it shows is the correct one.
My favourite app is TonalEnergy, which allows you to play along to a drone that sounds like your instrument, changes the pitch and temperament, and also has a built-in metronome and a whole host of other features.
Our top pick for a manual tuner and metronome combination is the Korg TM60 – it does everything you could wish for and is only around £25.
Korg TM60 Tuner & Metronome
Tuner and metronome in one compact unit
Best Feature: One machine for both tuning, pulse and rhythm
Tonal Energy
Most powerful tuning app
Designed For: Doing anything with tuning you could possibly want
Metronomes are useful for helping you keep time, and for practicing passages of music slowly and then gradually faster. There is no difference between metronome apps and an actual metronome, but in both categories, there are simpler and more advanced metronomes.
While there is even a metronome on Google, more advanced metronomes can do clever things like complicated time signatures, leaving out beats and subdivisions. But with a little maths, you can do all this with a very simple metronome!
Our recommendations would be the Google click for the ultimate basic functionality, TonalEnergy again for a metronome app with plenty of features or the Korg MA-2 for a physical metronome that allows you to do most things without accidentally disappearing down a Twitter hole on your phone.
(A quick word about pyramid metronomes – they're gorgeous and the traditional analogue metronome shape, but they're not very practical. They need to be placed on a stable surface; they're too big and fragile to carry around, and the beat can be unsteady if they haven't been wound well enough or if you've only just turned them on.)
Korg MA-2
metronome
Multi-function compact metronome
Designed For: Those who want an entry-level metronome

Display: Larger and more easily readable display
The TedScore™ is our unique system of scoring products. The professional musician who wrote this article combine many things, from the product build, manufacturer's reputation through to feedback from other users, to create our famous TedScore™.
Every musician needs a pencil.
We trust you to find your own pencil from your stationery store of choice but suggest getting one with rubber so you can erase things when the page starts looking too busy.
You can also get a pencil clip that attaches to your instrument – so you'll never lose one ever again! Simply Google it – they're all the same.
While it's good to start simple when you play an instrument, after a while, you may find some gadgets help with an aspect of your playing.
ViBrass
A small vibrating massage device that takes a mouthpiece, the vibration can be used to give your lips a short massage after a difficult concert. By helping you with warming up and warming down, the ViBrass can help recovery and, therefore, endurance. They look a bit silly, so be prepared to take a bit of gentle mocking from your colleagues and family, but they work well and help you take care of yourself.
ViBrass
small vibrating massage device
Designed For: Relaxing the lips
The breathing bag, also known as the medicine bag, is simply a rubber bag that can be blown up. They come in different sizes – adult females will probably use a 4 or 5 litre, men 5 or 6 and children 3 or 4.
You can use the bag to check whether you are breathing properly. You can also use the bag to maximise your capacity by using different techniques and exercises.
Breathing bags are inexpensive and a really useful tool for players of all levels. Used properly, these bags are a great tool.
Thomann Breathing Bag
Thomann
Breathing Bag
Breathing bags are inexpensive
Designed For: Increasing your lung capacity
Valve Oil and Slide Grease
There are lots of metal moving parts in brass instruments, which means they need to be lubricated and maintained. Valve oil and slide grease are a must!
Different people will have different recommendations and preferences for the best products to take care of your instrument, but here are a few possible options.
Light valve oils for the fastest-moving valves
Light valve oils need to be applied regularly but tend to give the fastest and smoothest valve movement – the top priority for professionals. Yamaha Light, Blue Juice and Al Cass Fast are all good for swift movement, although be prepared to apply them every couple of days if you play a lot!
Yamaha Light
Light valve oil
Designed For: Those who play lots of notes!
Blue Juice
Light valve oil
Designed For: Trumpet players everywhere
Al Cass Fast
Light valve oil
Designed For: Trumpet players everywhere
Long-lasting oils and greases for students
Denis Wick makes oil with one special property: even when the oil evaporates, it leaves behind some lubricant. This makes it ideal for students, who may not regularly oil their instruments without constant reminders, and for any musical instrument that is left in a cupboard a lot of the time. Obviously, it has its limits – it's only valve oil, after all – but this valve oil does often save stuck valves and expensive trips to the repairer, so it's well worth an investment.
Denis Wick Advanced
Formula Valve Oil
Valve oil for the forgetful
Designed For: Keeping instruments working, even when their owners aren't!
La Tromba makes great grease, their Cork and Slide Grease, which is ideal for students as it doesn't tend to get old and gummy and lasts a long time. So it won't matter as much if the student only greases their instruments once in a blue moon or forgets to remove the old grease before putting new grease on.
La Tromba Cork
and Slide Grease
Can't-go-wrong slide grease
Designed For: Young students
Slide Grease is essential so that we can move the tuning slide on the instrument and empty water from the valve slides to avoid gurgling sounds. Some can be very thick, so slide gel is also an option.
Hetman makes a good slide gel, and Bach makes a fetching red tuning slide grease that works really well. However, note that trombones do not use tuning slide grease on the main slide (it needs to move so fast that slide grease would just gum it up) – see the trombone section further down for all the products you need to lubricate the main slide.
Hetman Slide Gel
Light and smooth
Designed For: Any slide that needs pulling out regularly!
Bach Tuning
Slide Grease
Heavy-duty grease for heavy-duty cleaning
Designed For: Slides prone to stickiness
Many reputable brands make cases for all brass instruments, so if a maker is good for one instrument, they tend to be good for all of them. A good case should be protective, comfortable to carry and not too heavy.
Marcus Bonna cases are great, being fairly light, compact, always well-thought-out with plenty of pockets, comfortable and ergonomic.
Marcus Bonna
great, being fairly light, compac
Designed For: Carrying round instruments you care about
Wiseman makes carbon fibre cases that are really light. While the horn "Opera" case is quite chunky, there are other options available, and all the others are amazingly strong and well-designed, with a lifetime guarantee – though they come at a price.
Wiseman Cases
Light, ergonomic cases
Designed For: Those who want to make a serious case investment
The horn one isn't the best horn case available
At the cheaper end of the spectrum, Gear4Music make good entry-level cases, which are cheap but surprisingly protective for the money – and all under the £200 mark.
Gear4Music Cases
Cheap, protective cases
Designed For: Students and those on a budget>
Although many players prefer hard cases for protection, some trumpeters prefer soft cases for portability. And for tubists, a soft case is almost essential because hard cases are so heavy! Thankfully, Gard makes gig bags that are more protective than you'd think – they're very light because they're soft cases but have a special configuration of foam that suspends the instrument in the middle of the case.
Gard Gig Bags
Cheap, protective cases
Designed For: Portability, with less risk than a fully soft case
The last big category of cases is wheely cases – cases you can wheel along behind you, so your shoulders don't have to take the weight. These are great if you have a lot of instruments to carry, if you're struggling with an injury or if you have a tiny 10-year-old tuba player! Marcus Bonna makes the Travel Bag MB for horn.
Protec cases are available with wheels and Gard both do wheely trumpet cases, and Besson makes a wheely tuba case
Cleaning all brass instruments is essentially the same. You will need a pull-through, a mouthpiece brush, soapy water and of course, your chosen slide grease and valve oil to re-lubricate the instrument afterwards.
Many different brands make pull-throughs, the best of which are flexible brushes (also known as "snakes") for getting all the dirt out of the complex tubing. Look for one with a nice wide brush to really get everything off the sides of the pipes. And many companies make good, cheap mouthpiece brushes; just make sure you get the right size for your instrument's mouthpiece.
Kölbl cleaning brush
The best pull-through
Designed For: Getting ALL the dirt out
The cleaning bars are hard to clean, so this kit is ultimately disposable
One final word of warning – although Spitballs (fluffy cleaning discs that you can blow through your instrument) look fun and tempting, you wouldn't be the first person to get one stuck.
Spitballs
Budget cleaning kits for all instruments
Designed For: A fun (if risky) way to clean out the hard spots
A practice mute is a mute that dampens the sound of a brass instrument far more than any other kind – often allowing it to barely be heard through a wall. There are many kinds, and most companies who produce them make a series for the full range of instruments.
Yamaha Silent Brass mutes offer the greatest reduction in sound and also have a tiny microphone built into the mute, so you can hear yourself through headphones using the "Personal Studio", a small sound module that allows you to adjust the volume and sound. Many people just use the mute by itself, though!
.
Yamaha Silent
Brass System
Practice mute with features
Designed For: Practising easily in non-ideal spaces
Analogue practice mutes (i.e. those without any kind of electrical component) often feel nicer and are slightly better in tune. Don Maslet make nice practice mutes for both horn and trumpet. Sshhmutes are also really, really quiet and super light!
.
Trumpeters love mouthpieces and talking about mouthpieces, so there are more options than you can shake a stick at. And they are, after all, the most important trumpet accessories!
However, bear in mind many of the mouthpieces that people rave about are designed to do very specific things. So, for the purposes of this article, we're going to focus on good, middle-of-the-road mouthpieces – ones that can take you through to a professional level if you so choose, but are also good for new starters or intermediate students.
A lot of mouthpiece makers provide size charts comparing their mouthpieces to other makers', so that if you decide to change your mouthpiece, then you know where to start! Our recommendations are the Vincent Bach 7C (which is similar to the Yamaha 11C4-7C and Schilke 11) and Vincent Bach 3C (Yamaha 14B4, Schilke 13C4), or the Vincent Bach 1½ C (Yamaha 16C4, Schilke 14) for smaller mouths.
A cheap but essential piece of kit is a small plastic spray bottle filled with nothing but water! Water on the slide "stockings" creates a film that allows the slide to slip over it without friction.
Trombonists also need Slide-O-Mix. It's a product for lubricating the slide, helping create a smooth film to allow the slide to glide. (don't use slide greases designed for other brass instruments, they're way too thick!). Keeping the slide clean and using a combination of Slide-O-Mix and sprayed-on water should keep your trombone in great working order.
Slide-O-Mix
Standard trumpet stand
Designed For: Keeping your trombone slide sliding
Trombonists need a wide range of mutes, particularly for big bands. Again, a beginner may not need to start with all of these, but most players build up a collection over time.
The Denis Wick straight mute can be found alongside many professionals on stage. Humes and Berg make a great cup mute for trombone, just like their one for trumpet, and do a great plunger. And for bucket mutes, try a Jo-Ral or (yet again!) a Humes and Berg.
K&M make quality stands that are relatively lightweight and fold up small for portability. Hercules stands and more stable but weigh more so might be suited to more use at home (or if you're lucky enough to be driving to all your rehearsals!).
K&M Trumpe
t Stand 15213
Standard trumpet stand
Designed For: Stopping your trumpet being knocked over...
Spyder
Trumpet Stand
Standard trumpet stand
Designed For: Keeping a range of instruments resting safely
The ErgoBone (made by Finnish company ErgoBrass) is a collapsible stick that supports the weight of the trombone. Ideal if you're having shoulder or arm problems but also potentially helpful for younger players or anyone who finds the weight of the trombone cumbersome. I know numerous colleagues who've had muscular or joint problems use one; it works really well and can be a huge help.
ErgoBrass
Weight support sticks for all
brass instruments
Designed For: Perfect postural alignment playing any brass instrument
Some players may use a weight support system. ErgoBrass and the HornStick are both good options. The HornStick allows you to support the horn's weight on your knee – it attaches to the horn (no need for permanent fittings), and the height is adjustable. The ErgoBrass does all this and more – you can loop it into a belt in order to stand.
HornStick (set A)
Support the weight on the lap while you play
Designed For: Anyone who might find holding the horn hard
Horn players normally only need a straight mute and possibly a stopping mute for hand stopping. (Beginners won't need either yet – you can get away without owning one for a few years!). The best stopping mute is made by Tom Crown and there is a wide range of straight mutes available, from Don Maslet to GrBrass (who do gorgeous custom designs) to Marcus Bonna – all purely a matter of taste in terms of the sounds. We recommend trying several out in person!
Horn players rarely use instrument stands, as they tend to be bulky and un-portable, plus the horn sits easily on your lap when not being played. However, having your instrument on a stand at home means that you can see it all the time, and pick it up whenever you want to practice! A Hercules stand is perfect for this purpose
Tuba players tend to need fewer mutes than trumpeters or trombonists, but a good straight mute is still essential.
Friendly tuba players have let us know that they like mutes by Peter Gane, the Wallace Collection (for Eb tuba), and the wooden Denis Wick. All three work well in all registers, with good tuning, and don't feel too "stuffy" as low-quality mutes sometimes can.
However…be warned that tuba mutes are enormous and therefore very expensive (£200+/$250+) – perhaps an accessory best bought further down the line when needed!
Tubas come in different sizes, with people playing C or Bb tubas and Eb or F tubas throughout the world.
For the smaller Eb and F tubas, the Wick 3L or Wick 3 are both fairly usual choices, or the Yamaha 64 or 66D4; for the larger tubas, a Wick 2 or a Bach 24AW is a standard classic.
Obviously, if you have a child learning the tuba, small mouths need small mouthpieces, and a Wick 4 or Wick 5 might fit a young beginner better.
Tuba players tend to need fewer mutes than trumpeters or trombonists, but a good straight mute is still essential.
Friendly tuba players have let us know that they like mutes by Peter Gane, the Wallace Collection (for Eb tuba), and the wooden Denis Wick. All three work well in all registers, with good tuning, and don't feel too "stuffy" as low-quality mutes sometimes can.
However…be warned that tuba mutes are enormous and therefore very expensive (£200+/$250+) – perhaps an accessory best bought further down the line when needed!
The K&M 14940 is a sturdy stand that gives the tuba a "hug", holding it safely upright for those times when you don't want to rest 12kg of metal on your lap.
Hercules also does a good one that cradles the tuba – it's bigger and less discreet but possibly good for home use.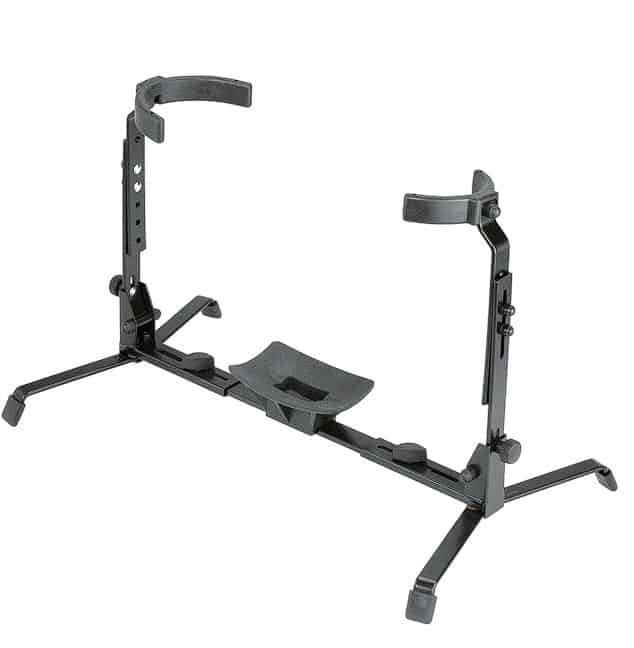 Tuba players normally sit down to play – so the lap and the chair support the weight rather than the player – but sometimes there might be an occasion to stand! On these occasions, K&M come to the rescue again with a stand (the Konig & Meyer 14950 You can rest the tuba on, adjusting it to suit your height.
Best Accessories for brass players


Summary
There are endless numbers of accessories for brass players – some essential, some just nice to have. You will definitely need a mouthpiece, valve oil or slide lubrication, a case and some kit for cleaning; you may also at some point need mutes, consider a playing trainer like a breathing bag or buzzing aid, or want to invest in upgrades to all of the above.
Explore our recommendations and decide what's right for you – and if you've found any great products we haven't mentioned, why not write them in the comments section below?
.
Denis Wick Advanced Formula with PTFE