So you want to become a professional musician? I'm not surprised. The UK music industry is a vibrant, creative and exciting environment in which to work, and professional musicians across all genres are widely admired and respected for their hard work and skill.
However, establishing a successful music career can be challenging in such a competitive scene. This article will give you a head start, with the best advice to help you break into the music business and become a professional musician yourself.
Set Yourself Realistic Goals
Let's start with the most important one – set yourself realistic goals. Now, "realistic" doesn't have to mean "lesser", but it is absolutely vital, to begin with, a complete understanding of precisely what you're aiming for, what you will need to do to get there, and how much commitment – financial, practical, emotional – it will require.
There are many different music careers available, so think carefully about what you want yours to look like and how that fits into your current skill set and skill level. Since I was a teenager, my dream day job has been to play in an orchestra for a living. Luckily, I play the double bass and not the electric guitar! While it's important to dream big, it's equally important to be flexible about your aspirations too. Secure, full-time jobs performing music are rare, but being willing to work with many different ensembles on a freelance basis has allowed me to play with an incredible variety of extraordinary musicians and develop versatility as a performer.
Be realistic about what you need to do to get there.  It's a great idea to set realistic targets because they will encourage a more productive attitude as you notice your skills begin to develop. How important is your music career to you? How much spare time are you really willing to spend outside your school hours or your day job practicing your instrument or travelling to lessons, masterclasses, and performances? Will you be available to say yes to your big break if it's offered to you at the last minute? Can you afford a professional quality instrument, or will you need to save – if so, how much, and for how long? Tuition isn't free either, nor are concert tickets or transport to gigs. Perhaps there are grants or scholarships you could apply to or training and mentorship opportunities that would offer you the best chance to realize your ambition. Identify them and get in touch!
This process can seem demoralizing at the start, and you may feel like you will never get there! But clearly outlining the effort you will need to make and recognizing the things you will need to develop will ultimately fuel your progress as you pursue your dreams. You won't regret it!
Find a Good Teacher/Mentor
An excellent professional mentor will support and encourage you as you progress, helping you achieve and extend your goals outside your comfort zone and decide which opportunities to pursue at the right time. They can offer invaluable advice about entering the music industry from their own experience (and occasionally even find you some gigs!). On the other hand, when the relationship between teacher and student is less good, it can be demoralising and frustrating for both parties, making progress difficult.
Finding the right teacher is essential, but it can be easier said than done! If you are hoping to study your instrument at a conservatoire or college, take the time to find out who teaches where and read their CVs, which are usually available online. Once you have identified a teacher in whom you might be interested – for example, someone who works in a specific genre or with a band you especially admire – see if you can arrange a consultation lesson. A bit like online dating but for music! It's helpful to do this with various teachers if possible, so you can accurately compare relationships and make the most favourable choice.
If you are hoping to take lessons independently, the music schools in your area are still a good place to start looking for a teacher who can take you to a professional skill level. Most are happy to teach privately and for their institution and can be contacted in the same way.
Above all, be aware that you must listen and keep an open mind! Different teachers teach in different ways, and the most important thing is to choose the teacher whose method works for you- regardless of their work outside the teaching room.
Want to see something amazing?
If you are at an early stage of learning an instrument, websites like www.musicteachers.co.uk can also be helpful.
Develop Good Practice Techniques
Practice makes permanent! While becoming a professional musician undoubtedly requires many hours spent practicing to develop and perfect the techniques of your instrument, this must always be done with care to establish excellence both technically and musically and avoid embedding bad habits that need to be unlearned later.
To get your practice going right-away, you're going to need a music stand to read off. Check out our favorite music stand below: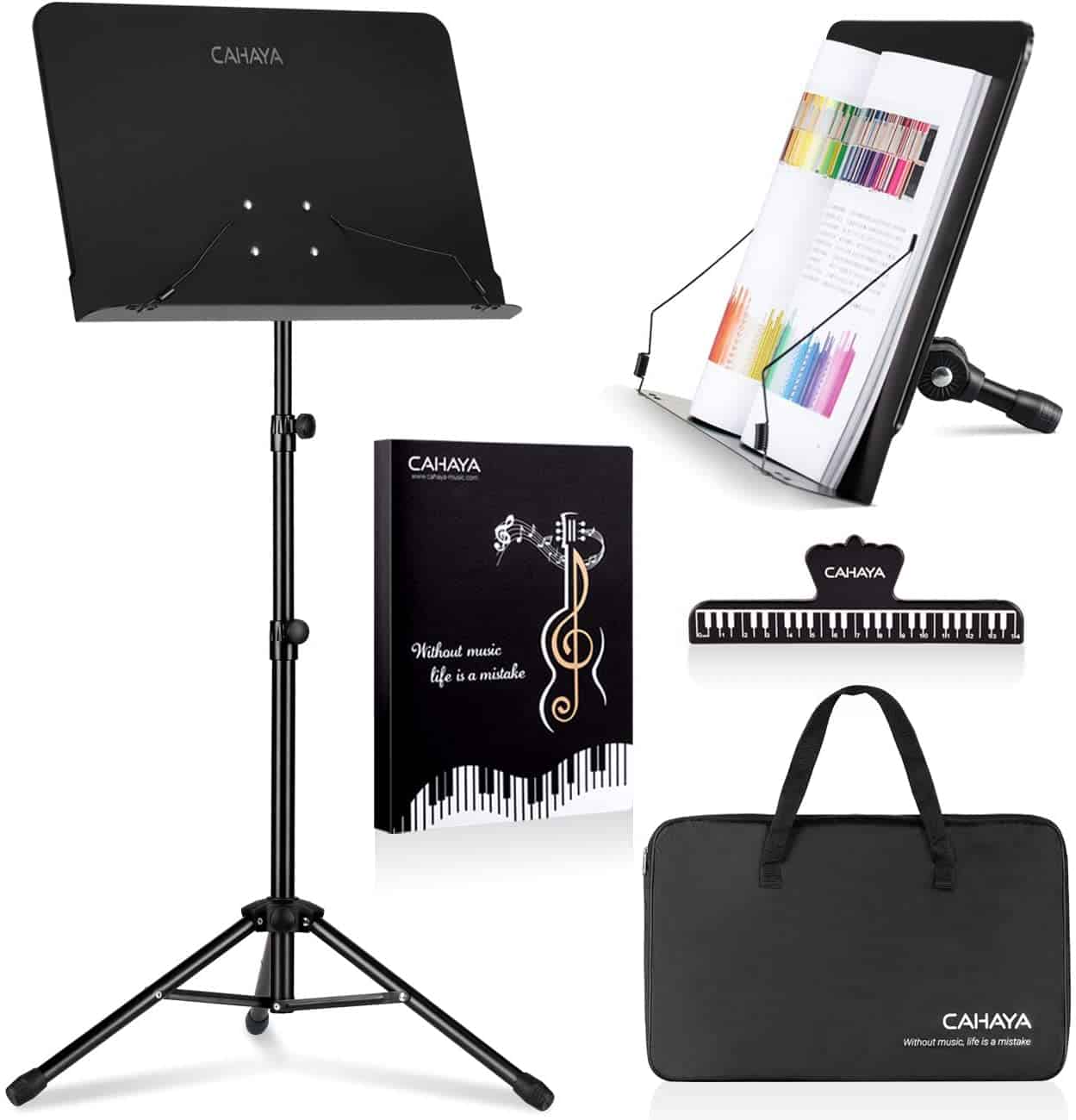 Amazing Kit at an amazing price
BEST FEATURE: Seriously well-made & sturdy
INCLUDES: Light | Carry Case | Sheet Music Clip
FEATURES: A carrying bag and a sheet music folder
Cahaya Portable Music Stand
When you check the price above, you'll see there are loads of great places to buy this item.  Our personal favorite is Gear4music.
It is the largest music retailer in the UK and fast becoming the most respected online music shop in the US too.  Their customer service is excellent, they have competitive prices, really fast shipping, and usually have the longest guarantee.
Most professional musicians use Gear4music, so there is no reason why you shouldn't too!
Take regular breaks when practising and rehearsing.
Some instruments make physical demands on the musician that limits the length of time they can be comfortably played: for example, it is difficult for woodwind and brass players to perform for extended periods without exhausting their lips.
However, just because you might be physically able to play your violin for seven hours straight doesn't mean you should and could even leave you at risk of developing a physical injury that might stop you from playing altogether! The human brain can also focus much better if you take short, regular breaks, resulting in better music-making and a more productive practice session.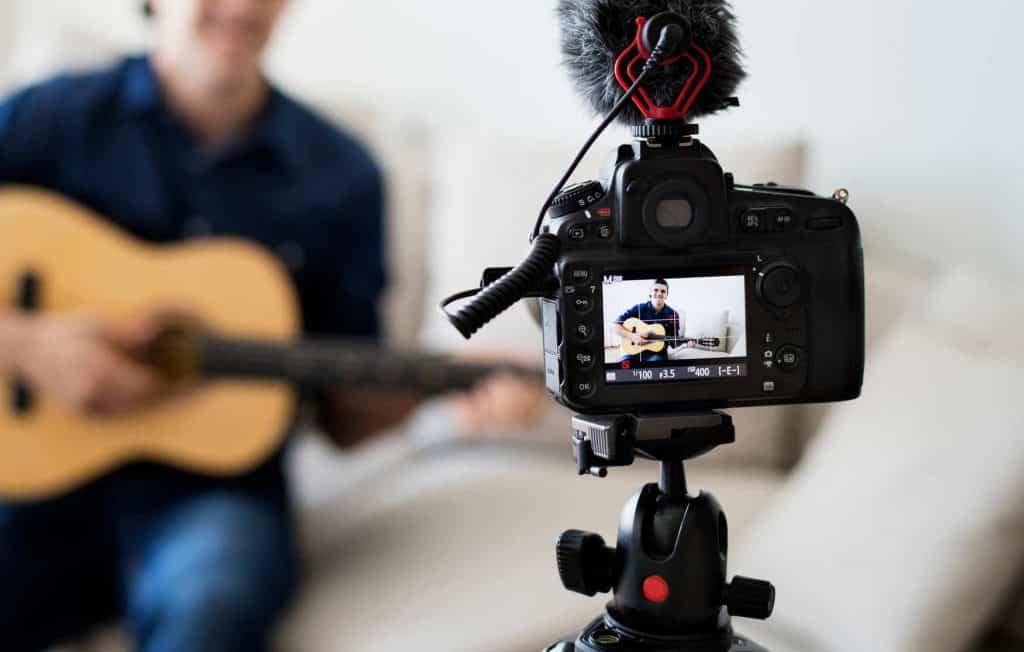 Personally, I found that simply playing for 45 minutes of dedicated practice then resting for 15 worked well, especially if I planned to work on a different specific task (e.g. scales, orchestral extracts, complex parts of my solo pieces) for each 45-minute block.
Record and watch your practice sessions
Most musicians find this uncomfortable, but it's so important! It is a fact that recording your practice sessions – and crucially, watching them back again afterwards – is the most efficient method of identifying and correcting errors and ensuring the fastest possible progress. You'll get a greater sense of your skill level this way. And however embarrassing it may feel when you do it, it's much better to realise for yourself than to be corrected by your teacher (or worse still, your colleagues). Remember – you can't become a virtuoso overnight!
As a bonus, listening and evaluating your own recordings, and working out the following steps, will also help you develop invaluable teaching skills!
Whilst you're recording, why not trying playing along with a metronome too? It's great to build up rhythmic discipline during our practice, especially throughout the trickier corners!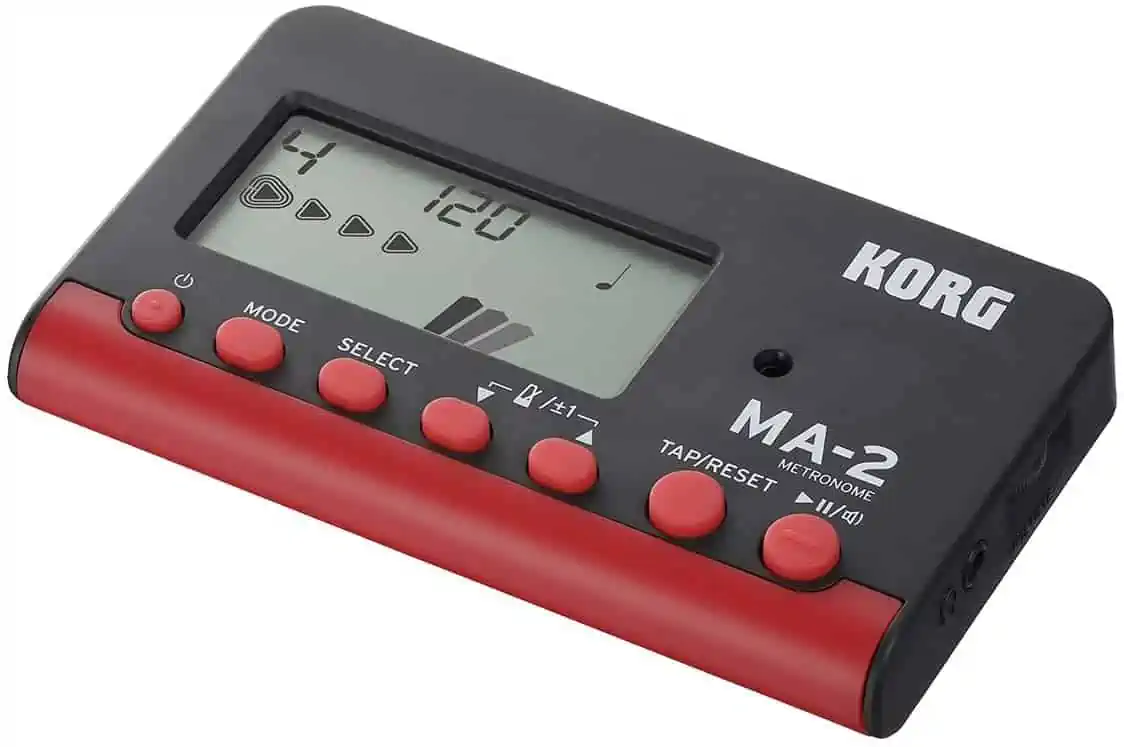 Best Multi-function metronome
DESIGNED FOR: 400 hours of continuous operation
COMES WITH: A larger and more easily readable display
FEATURES: Timer, enhanced volume, and a useful 'sound-out' mode
When you check the price above, you'll see there are loads of great places to buy this item.  Our personal favorite is Gear4music.
It is the largest music retailer in the UK and fast becoming the most respected online music shop in the US too.  Their customer service is excellent, they have competitive prices, really fast shipping, and usually have the longest guarantee.
Most professional musicians use Gear4music, so there is no reason why you shouldn't too!
Attend concerts and learn from them
Live performance is the cornerstone of music, and there is no better inspiration than seeing professional musicians in action on stage! Make a point of attending as many performances as you can. The enjoyable experience of being able to listen as part of the audience is precious in developing your own skills: use it to pick up tips about what works well and what is less effective. Go along with a musician friend, if possible, and compare your thoughts on the performance.
The music industry is enormous and as a musician, you may be having to focus on writing and recording a vast array of styles and genres even while working with one specific orchestra or band. Therefore, take every opportunity you can to attend performances of a wide range of music, especially music you know less about or find less attractive. 
A hallmark of professional musicianship is being able to find the music in anything you may be called upon to perform (whether in or out of your comfort zone) – a skill that often requires serious practice over the long haul!
Listen to music and analyse it
Live or recorded, listening to music is one of the most effective ways to develop an understanding as to how to perform like a pro. As a classical musician, reading from the score is often my starting point when learning a new piece of music, but I seek ways to hear it in performance. Listening to the pieces you are learning will enrich your creativity by exposing you to various interpretations and encouraging you to develop your technical skill.
 As discussed earlier, the recording process is an excellent way of monitoring your progress! These videos will give you a great idea of how others tackle various musical challenges, and deciding what you do and don't wish to emulate in your own performance will also develop your evaluation skills.
Music analysis is often taught in schools and colleges or as music theory. The ability to formulate a basic understanding of how a piece of music is structured will give you valuable insight into how to perform it. However, don't panic if you missed out on your music theory lessons! In simple terms, it is helpful to think about the following:
What is the central theme of the piece? How is it presented the first time it occurs, and when does it come back? Do I want to play it differently each time?
What key am I in? Does it stay the same throughout, or what does it change to and why?
Rhythm: is the metre of the piece regular or irregular? Does the time signature change?
How does the composer use dynamics and articulation, and to what effect?
Preparation for Auditions and Performances
Auditions and performances are vital to joining the music business, but they can make even the most confident musician nervous! It's never enjoyable to be pushed outside your comfort zone, but the keyword here is "preparation". Here are a few tips:
If possible, choose your music wisely, and select an audition programme that capitalises on your strengths as a musician while minimising any weaknesses.
For both gigs and auditions, learn the music thoroughly and carefully, making sure you know the whole piece (how any accompaniment and/or other orchestral parts fit) as well as your own individual part. This will encourage you to perform live with great stage presence and a great sound
Practice performing! Stage a mock audition during a lesson, or go and play to another musician or friend. If possible, find musicians you haven't played to before. As well as asking them for feedback, try to evaluate for yourself which elements of your performance went well or badly under pressure.
Make sure you are confident about the logistics of the day itself – allow plenty of time to get to the venue, make sure you eat correctly and try to get a good night's sleep beforehand.
Be polite! A smile and a "thank you" to the people you meet- musicians and non-musicians alike- go a long way in the music industry, and it is a fact that being seen as easy to work with will make people more willing to offer you paid gigs.
Build Up a Good Network of Fellow Musicians
This one is the fun part! Most musicians are sociable creatures and generally enjoy spending time together away from the pressures of the industry. I have some wonderful memories of days (and nights) out with fellow musicians over the years, especially when working with a touring band or orchestra. However, building and maintaining a good network of fellow musicians will also help you progress through your career. 
A good musician friend will offer you advice, help you make decisions, and may even pass on some work! And of course, developing solid relationships with your colleagues is a constant source of creative inspiration too.
Understanding the Business Side of Being a Professional Musician
Less enjoyable, but essential! Achieving success as an artist isn't just about practice, rehearsals and concerts. Every great musician should have a greater sense of the business side of the music industry. Make sure you keep accurate records of both your earnings and expenditure right from the very start of your career and make sure you understand your tax obligations for each country in which you work as well as the one in which you live. Many musicians use software such as QuickBooks to record everything as conveniently as possible on the go, and an accountant will provide additional security that everything is in order.
Try to get the details of every engagement in writing before agreeing to perform, and make sure you are clear about the cancellation fee policy with whoever is booking you. Organisations such as the Musicians' Union, the American Federation of Musicians or the equivalent in your country, will tell you what working conditions you are entitled to expect and can offer assistance with recovering fees or performance royalties if things go wrong.
It can be tempting to work for free, especially when establishing a career early. Don't! Spend that time on your own practice instead. As well as devaluing the industry as a whole, if you become known as someone who works for "exposure" you will find it difficult in the future to command the fee you are worth. The music business has a long memory!
Know When to Upgrade Your Instrument
"A bad workman blames his tools," said my mother, every time I complained that I couldn't get the sound I needed out of my first student instrument. While this is true to an extent, as soon as I upgraded to a professional quality instrument, I noticed an immediate upswing in the quality and quantity of work I was being offered. The very experience of playing became immensely more enjoyable too!
Your instrument is the most significant investment you will make in your career- it is the voice of every musician! Try to play on the best instrument you can afford at all times, and keep your eyes and ears open for colleagues who might have instruments for sale and could be willing to offer a better deal to someone they know. When choosing an instrument, don't be afraid to take your time trying out a variety. If possible, it can be beneficial to get advice from your colleagues and teachers about what suits you and your playing best.
Move Out of your Comfort Zone
Once you have established a career you are happy with, it is tempting to want to simply sit back and enjoy it! However, the music business constantly changes and evolves to respond to new ideas and situations. 
A musician needs to be able to change with it to thrive. Look at what musicians around you are doing creatively and take inspiration from it. Be proactive in learning new techniques and genres of music- or even a new instrument related to your main one- in addition to those that are most familiar. A flexible and versatile musician will never be out of work!
Establish an Online Presence
A professional-looking, easy-to-navigate website and well-curated social media accounts are essential for the modern musician. These may include a Soundcloud account or YouTube videos etc. They make it easy for people to contact you with offers of work and for you to connect with other musicians in your area and across the world, as well as presenting an inspiring perspective on your musical activity. 
Try to focus your content on what makes you and your musicianship unique rather than simply regurgitating your CV. Augmenting posts with images is an excellent way to achieve maximum engagement from your audience.
12 Tips On How To Become A Professional Musician


Summary
Becoming a professional musician is no easy task, but the rewards of a career in the music industry can be well worth the hard work needed to get there. I hope you enjoyed this article and that the tips here will help you get underway!