So, you have decided you would like an acoustic drum set and now want to make sure you are clued up with insider knowledge before buying your first drum set or maybe even an upgrade. We will walk you through our acoustic drum kit buyers guide and by the end you will know everything you need to know and maybe even a little bit more!
On a standard five piece drum kit there is a bass drum, snare drum and three tom toms (high, middle and low, these are also known as rack toms). There are three key cymbals: the hi-hat, crash and ride cymbal. You can have more or less of any of these components to suit your style and requirements.

To position and use each of these components we use hardware. This consists of cymbal stands, tom tom stands/legs, a snare drum stand, a bass drum pedal and a drum stool, or as us drummers like to call them, thrones!
The Shell. This is the main body of the drum, apart from the heads this can have the biggest impact on the drums sound. Most are made from wood, but metal and acrylic shells are also popular.
Batter Head. This is the top head, where we strike the drum. It sits on top of the shell and is held in place by the hoop.
Hoops. The hoops hold the heads in place. They are usually metal, but wooden hoops are also available and give the drum a warmer tone.
Tension Bolts. These go through the hoop and into the lugs to keep the hoop firmly in place. They tighten the head to your desired tension.
Lugs. These sit on the shell of the drum for the bolts to thread into.
Resonant Head. This is the bottom head. Generally, it is thinner than the batter head and as such is not stuck, as you would go straight through it!
Snare Lever. Only found on a snare drum and used to press or release the snares to the snare head.
Snares: The snares are the metal coils pressed against the snare head, which give the snare drum its distinctive sound.
What to consider when buying an acoustic drum kit
The following five topics cover our drums buying guide. They should help you narrow down the options and create your shortlist. The biggest and most expensive options are not always the best way to go.
This is, of course, one of the more obvious points to double-check. Drum sets take up more floor space than we sometimes think, and you don't want to get home and immediately have to sacrifice part of your brand new set-up!
It is also worth noting that it is essential to consider ear protection even in a large room. Playing for a sustained period of time will negatively affect your hearing.
Shaw ER20 Ear Plugs
Essential for loud environments
Essential for: loud environments

Suitable for: Beginners
Musically appropriate combination
Different drum sets suit different genres and different venues. A larger kit will suit bigger venues as it will project your sound over a bigger distance. Whereas a smaller kit doesn't produce those big sounds, so is suited much better to more intimate venues.

Different drum heads and cymbals are also suited to a particular sound and style.
When you have set your budget, and are looking through the drum menu, try to keep tabs on what is included in the deal. Are cymbals and hardware included? Are they only selling the shells? This is a big one to double-check as this means you will only be buying the drums themselves, and you will need to factor in hardware and cymbals on top!
Budget kits generally produce a low-quality sound because of the materials used in the shells and the drum heads' quality. However, this does not always mean that it doesn't give you everything you need. This may be a good option for you as a first drum kit. If your child would like to give drumming a go but you're not quite sure of their commitment, a less expensive option could be a good option.
BDK-1 Full Size
Starter Drum Kit
Great for beginners on a budget
Suitable for: Beginners

Design: Full-Size Drum Kit
Some drum brands are known for their high end, more expensive drum sets, such as DW and SJC. Some specialise in budget kits such as Gear4music and Millennium, and some cover the spectrum such as Pearl and Yamaha.
Please don't try and save money by missing out on a few bits and buying them further down the line. Like most things, makes and models change, making it more difficult to create a usable, good sounding and looking drum kit.
The answer to this lies with what you want to play. Do you play grooves that incorporate many rack toms, or do you focus more on the snare, bass drum and cymbals? The cymbals are not included in the number of a 4, 5 or any size piece kit.
The configuration can change with any of these kits (I'm referring to the position of the rack toms here). One up, one down. Two up, one down. One up, two down, e.t.c. If you are unsure what is best for you, then the safest option is a five-piece kit, two up, one down, as this will cover all bases.
If you are a beginner and looking to work through a graded syllabus, you will find that a 5 piece kit is essential to playing exactly what is notated. However, if you are not interested in grades, you can opt for whatever you like.
The drum shell material has a significant impact on the drum sound. Wood typically gives the drum a warmer sound than one made of metal or plastic. When making the shell, thin plies are bent with steam and glued together. The more plies used, the better the drum sounds.
Here is a list of different woods used for drum shells and the characteristics they each bring to the drum sound. Sometimes, drum manufacturers only use one type of wood to make the entire shell, but sometimes multiple woods are used. The shell can be painted, stained or wrapped in a finish of your choice that protects the shell and makes the drum aesthetically engaging.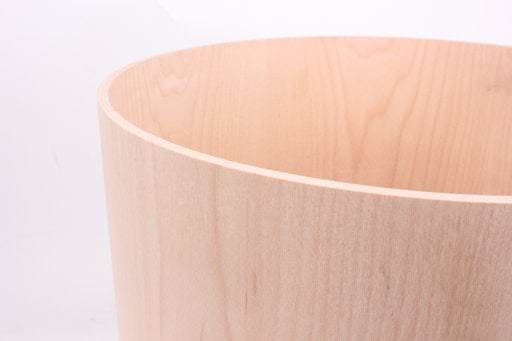 Birch
This is one of the harder woods manufacturers use for a drum shell. It is particularly good for loud playing and has a bright, sharp attack.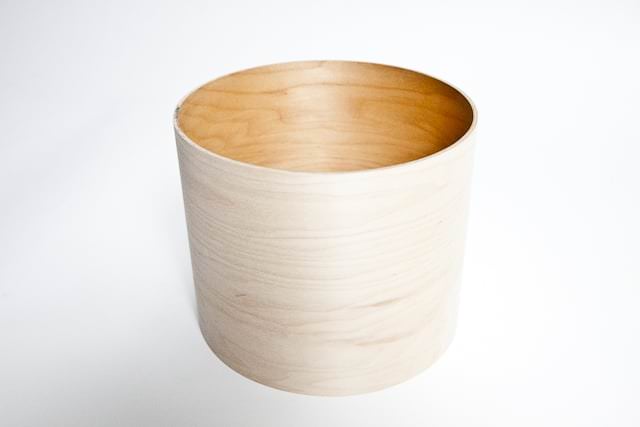 Maple
Maple is one of the most popular choices for drummers due to its warm and versatile sound.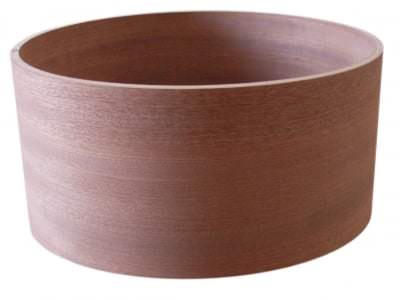 Mahogany
This is one of the rarer options. It is one of the softest woods used, which gives the sound a much lower tone.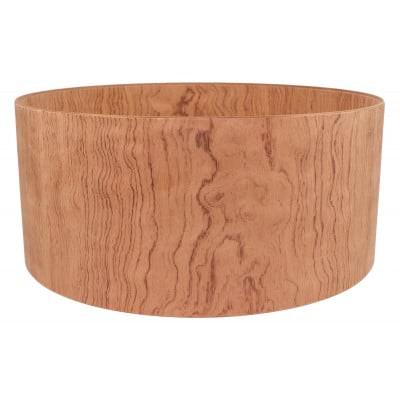 Bubinga
Also known as African Rosewood, this exotic wood is often used as an inner ply to give the drum a punchy sound.
There are two primary types of drum kits, electronic drum kits and acoustic drums. If you are unsure which is best for you, check out our article Acoustic vs Electric Drums. Within the acoustic drum kit category, there is a wider choice. This is great for us as not only does it help us achieve the right sound but also stops us lugging around too much gear for those smaller gigs.
Below is a list of the three main types of drum kits.
Jazz kits are designed to create tight, open sounds. They also tend to be smaller, not just in the physical size of the drums but a reduced number of drums. When you buy a drum kit, there will be options to buy a 4 piece or a 5 or 7, e.t.c. The bass drum and snare drum are a given within those numbers; the rest of the numbers are the tom toms.  This Tama kit is perfect for the beginner:
Tama Superstar
Classic
Great for beginners on a budget
Suitable for:Jazz players

Design: Light Emerald
A rock kit is much bigger, which helps create big, deep tones. The tom tom diameters on a rock kit usually start at a minimum of 12" and go up to an 18" floor tom. You would most probably want at least a 5 piece kit to learn some tasty fills.
Gretsch Catalina
Great for drummers after that
Classic Sound
Suitable for: Rock players

Design: Satin Deep Cherry Burst
Fusion Kits can cover a broader spectrum of genres. The shell pack typically consists of a 20" bass drum, 14" snare drum and 10", 12" and 14" rack toms. You can cover a whole host of sounds with the right drum heads.
Pearl Decade
Great for evolving drummers
Suitable for: Evolving drummers

Design: Slate Black
There is an even wider choice beyond these three options. We also have drum sets based on these set-ups but labelled as a 'junior kit'. This is often an excellent option for a smaller beginner, often without losing the quality that we sometimes find in a drum kit that has been labelled as a 'beginner drum set'.
The three cymbals we use most are the ride cymbal, crash cymbal and hi hats. You can buy the cymbals as a set or individually if you would like a more customised set.
The hi hat cymbals are the smallest out of these and are two cymbals operated with a pedal at the bottom of the hi hat stand. This allows the drummer to create many different sounds.
Zildjian A Quick Beat
Hi Hats
Great for a wide range of styles
Suitable for: Professional Drummers

Design: 16" K Custom
The next in size is the crash cymbal. Along with the kick drum, we use the crash cymbals to accentuate moments in the music (or 'stabs' as we call them) and mark the beginning of sections.
Zildjian K
Custom Crash
Great for playing and recording
Suitable for: Professional Drummers

Design: 16" K Custom
The biggest cymbal on the drum kit is the ride cymbal. The drummer will keep a steady rhythmic pattern on the ride.
Sabian HH
Raw-Bell Dry
Ride
Great for loud playing without losing definition
Suitable for: Jazz, Rock and Blues

Design: 21" Hand Hammered
There are many other effects cymbals which include the splash, china, chopper and stacker. These cover a much more extensive range of sounds and tend to be used by more advanced drummers as they know how to use them in a musically appropriate way.
A fairly new option in the cymbal world are 'low volume' cymbals. A great choice if you need to practice but don't want to annoy your neighbours!
Zildjian Low Volume
Great for practice sessions
Suitable for: All Drummers

Design: 14" Hi Hats, 16" Crash, 18" Ride
After the main accessories of drum sticks, hardware, heads and bags, the most important bit of kit is a drum key. This is a vital tool to tune your drums and can also be used on memory locks on hardware. Don't waste your time trying to find a spanner to fit the bolts; they're super cheap and make life much easier.
Drum sticks vary in material, length (measured by number) and width (measured by letter). There isn't really a system of entry-level sticks and sticks for advanced players like we see in drum kits. When you start learning, you need to get used to the weight and feel of the drum sticks from the outset. However, smaller sticks such as the Vic Firth Kidsticks are good for particularly small hands, but these will no doubt be outgrown quickly.
Vic Firth Kidsticks
Great for children with small hands
Suitable for: Children

Design: Hickory & Colourful
By far the most popular sticks are the Vic Firth 5A's. They are versatile and durable. As you progress in your playing ability, you may want to try out a different style of stick, and there are plenty to choose from. There are many signature drum sticks made for famous drummers that are now readily available for us all to buy.
Vic Firth American
Classic 5A Hickory
Drummer's go-to drumstick choice
Suitable for: All Drummers

Design: Hickory, Wood Tip
Drum hardware – stands etc.
Your drum kit is completely unplayable without hardware. It positions your drum kit where you want it. Drum kit hardware includes a hi hat stand, cymbal stand, snare drum stand, bass drum pedal, tom tom mounts and of course, a throne. It is definitely worth buying good quality hardware, and it will last much longer and be much more reliable.
You can buy a whole host of different types with slightly different features. Hi Hat stands most commonly have three legs, but you can buy some with only two. The main two types of cymbal stands are those with or without a 'boom' arm. This allows you to position your cymbal above a drum or even another cymbal. And snare drum stands often have different ways of altering the angle.
Drum thrones have two main characteristics: how you can adjust the height and the seat itself. To adjust the height, you can either opt for a throne with equally spaced keyway rods (where you choose which allow for a range of settings). A threaded steel rod, which allows you to customise the height. And there are also hydraulic thrones for quick adjustments.
The type of seat you have will undoubtedly affect how comfortable you are. Seats come in different shapes and materials. From perfectly round to saddle style and vinyl to cloth, they all offer their own benefits.
Gibraltar 9000 Series
Great for portability
Suitable for: Drummers wanting to travel light

Design: Saddle Drum Throne
For those drummers who may be taking their drum sets here, there and everywhere, there are lightweight options such as the DW Drums 6000 Series.
DW Drums 6000 Series
Great for portability
Suitable for: Drummers wanting to travel light

Design: Ultra Lightweight Hardware
Double-braced hardware is the way to go for those who are hard hitters and feel you need something particularly sturdy.

The piece of hardware with the most options is the bass drum pedal. There are two types of bass drum pedals, single and double. As a beginner, you would only start with a single pedal. Later down the line, especially if you want to learn heavier rock and metal grooves that feature a lot of bass drum, you may want to consider a double bass drum pedal. It may take up more room, and you may want to look at a two-legged stand for your hi hats.
Yamaha FP7210 Kick
Drum Pedal
Great for entry-intermediate players
Suitable for: A range of styles

Design: Beater angle adjustment
There are then a further four separate categories of pedals. Chain drive, double chain drive, belt drive and direct drive.
Chain Drive – Despite being found on beginner drum sets, this is not always a lesser quality pedal than the double chain drive. It is the most common pedal amongst drummers as it is often less expensive and is quick and responsive.
Double Chain Drive – This is more durable than the single chain and helps stop the pedal from moving from side to side.
Belt Drive – As the name suggests, the chain has been replaced with a durable belt. Belts are much more rigid than the chains, which gives the player a higher response.
Direct Drive – These pedals have a solid connection between the beater and the footboard. This gives you the greatest control and speed. Although this is disputed between drummers who play with their heel up and those that play with their heel down.
The drum heads sit on the top and bottom of each drum and usually come as part of the deal. As a beginner, the heads are not a deal-breaker, as long as they don't have any holes in them. As you progress and really want to start sounding your best, good quality heads can make all the difference.
The top head is called the batter head, and this is the head we strike. We call the bottom head the resonant head. Resonant heads are thinner, we don't strike them; otherwise, there won't be a drum head left!
Evans HD Dry Coated
Snare Head
Great for live and studio playing
Suitable for: A range of styles

Design: 14" 2ply head
Again, like most parts of the drum kit, the batter heads come in a varied range. You can get clear, coated, fibreskyn, calftone and many more. The differences in these heads can give you dryer, more open, brighter or warmer sounds.
Protection is super important, especially if you are transporting your drums around. Drum case bags are a great way to do this as they are lightweight and easily stored.
Some bags are simply made with durable material. Others have durable material on the outside and have a fleece lining for added protection, which is reflected in the price range.
Protection Racket
Drum Bag Set
Great for transporting
Suitable for: Rack toms with suspended mounting systems

Design: 5 piece Fusion Set
Shell packs v complete drum sets
This one is down to your circumstance. Are you looking for a simple set-up to get you going, a new kit to help you achieve that next level, or have you already got parts of a drum set you would like to keep and only need the shells? Shell packs usually only include the bass drum and tom toms. This is a good idea for any drummer looking to upgrade their drums and already have the hardware and cymbals.
Buying a shell pack will give you much more freedom and choice when you come to look at the wider kit. It makes it much easier to customise your sound. This is a good option for experienced musicians as they will have come across particular brands and models they like and do not like.
There is often a financial saving when purchasing a drum set bundle deal. However, you may not necessarily end up with the hardware and cymbals that you would like.
The time it will take you to find and choose exactly what you want will take considerably more than if you were to buy a complete drum set. It may be worth it in the end, but it is certainly something to consider.
Drum kits for beginners – what to look for
When buying a drum kit for a beginner, it is just as important that you end up with everything you need as it is when you are a professional. You don't need high-end gear, just the essentials, which are reliable and reasonably priced.
It is a good idea to start with the snare drum when you begin learning. You will no doubt be itching to use more and more of the kit as you progress, which is why it is a good idea to buy a 5 piece drum kit with cymbals and hardware from the very beginning. For more info for beginners, check out our drums for beginners guide.
Entry-level drum kits tend not to sound very good, but this is not important at this stage. The most important thing is that the very sight of your drum kit makes you excited and want to get on it and start practising. Therefore, finding a drum kit that looks great is a good place to start.
Avoid unbranded drum kits as they will not be sturdy, particularly if you have a younger child that may not have good coordination; they may strike a drum head too hard and break it as some of the cheap options are paper-based.
As you get better and better, you may start thinking about going up a gear with your drum set. It is easy to chop, change and insert new items of any part of the drum set. Snare drums and cymbals are often the first to be upgraded, especially if you have brought an all-inclusive deal, as these items can often be of lower quality.

Good quality hardware should last a long time but can still be upgraded when required. The beauty with hardware is that it all looks very similar across the different brands.
Acoustic drum kit buyer's guide


Summary
We have taken you through the fundamentals and what to look out for when buying an acoustic drum set. If you can, try before you buy! It is a great idea to hear how the drum set sounds and check how comfortable you are when sitting at it, and you could, after all, be sitting at it for a very long time! Please make sure you double-check what is included in the deals on offer, so you're not left disappointed at the end.
BDK-1 Full Size Starter Drum Kit
Great for beginners on a budget
Pearl Roadshow 5pc Fusion
BDK-1 Full Size
Starter
Drum Kit
Great for beginners on a budget
Suitable for: Rack toms with suspended mounting systems

Design: 5 piece Fusion Set
Pearl Roadshow
5pc Fusion
Great for a range of styles
Suitable for: Beginners

Design: Full-Size Drum Kit
Yamaha Stage
Custom
Great for developing drummers
Suitable for: Beginners

Design: Full-Size Drum Kit