Learning how to play drums is one of the most exciting journeys we can go on. It can seem daunting at first, not knowing which drum kit is best for you and how to approach those first steps. This drums for beginners guide will put your mind at rest and get you started on your musical adventure.
Firstly, well done for finding us and getting to this stage. Let's get to grips with your grip, break down those technical terms and make starting your beginner drumming journey as easy as possible. By the end of this article you'll be clued up on how to read music, and know all about the drum equipment that will turn you into a superstar drummer.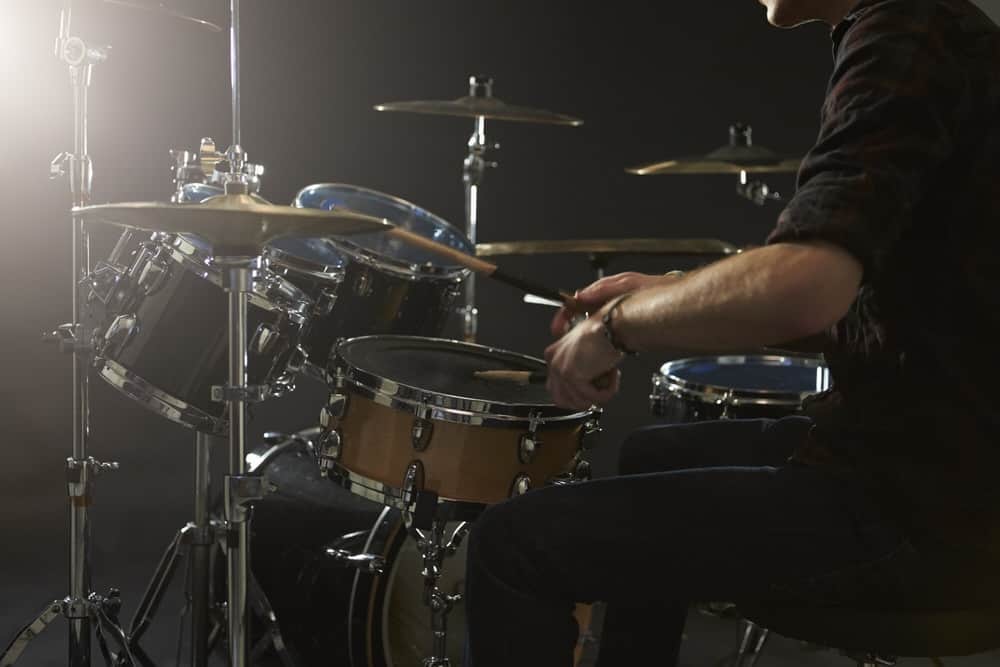 The snare drum sits in the centre of the drum kit and is possibly the most recognisable sound of the drum kit. As a beginner this would be the first drum that you would start with, learning how to read notation and working on your grip.
The shell of the drum is typically wood (often mahogany, birch or maple) or metal (where it could be aluminium, copper or brass). Occasionally, plastic and even more experimental materials are used.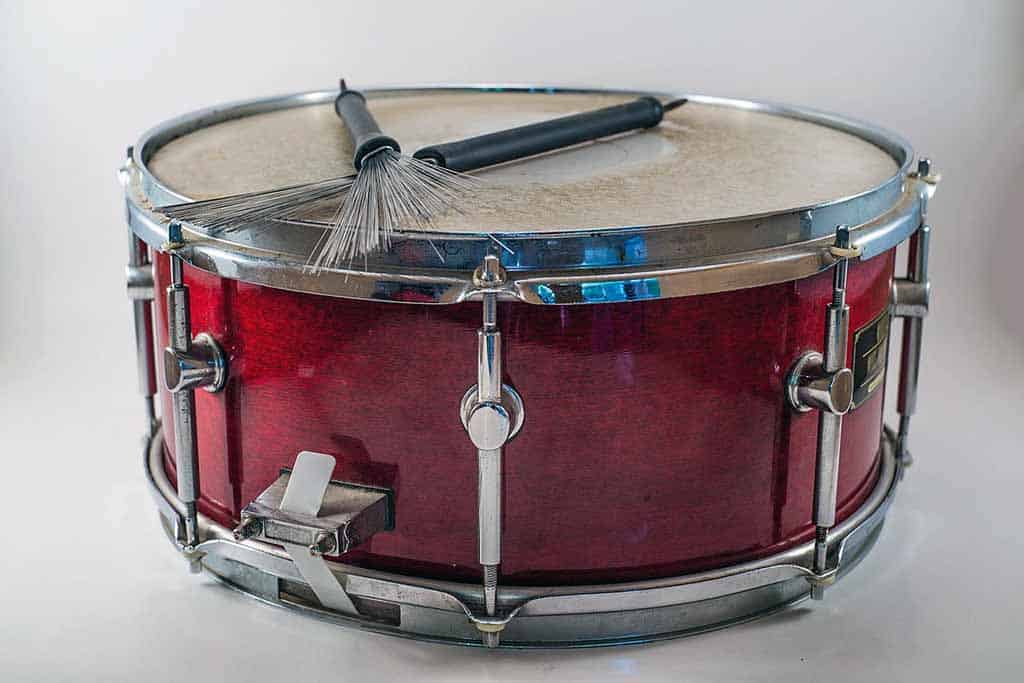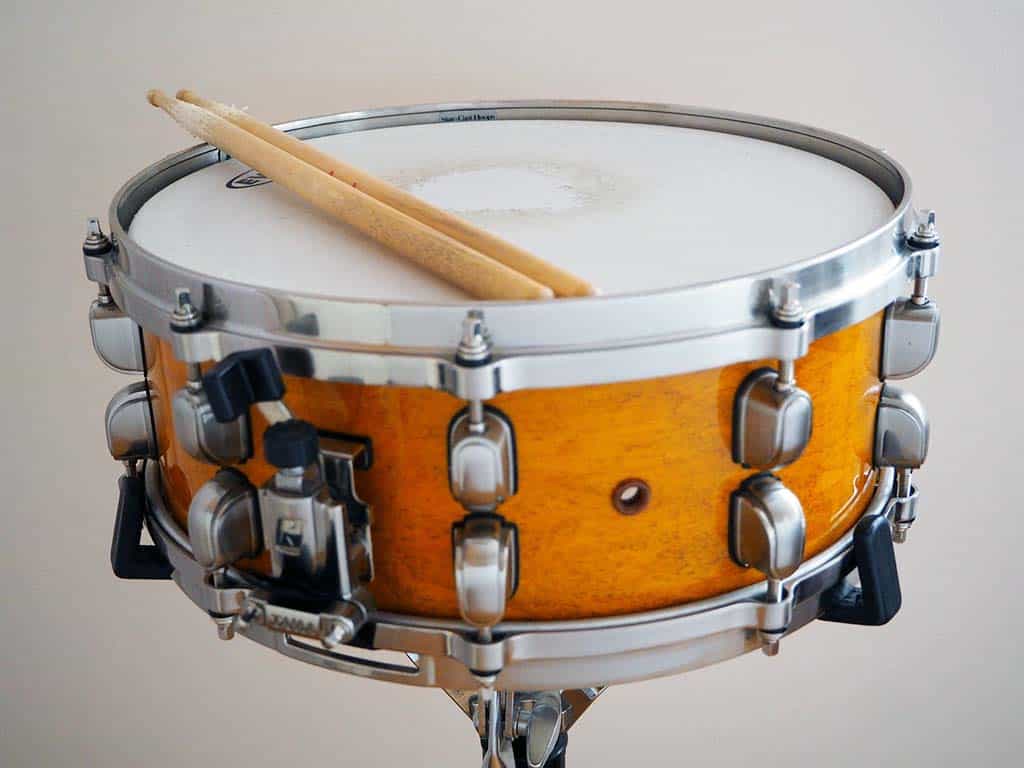 The snare wires (underneath the drum) give the snare its distinctive sound by vibrating on the snare head (underside head).
The rims sit on the top and bottom of the drum and keep the heads firmly in place. They are usually die-cast or triple-flange metal, but wooden hoops are also an option, which give a warmer tone to the sound.
The manufacturer pairs the rims and shells depending on each of their personalities, but of course it is all down to preference.
The Bass drum, also known as the kick drum, is the largest drum, as well as being the only drum that you play with a pedal.
The bass drum provides a solid foundation when playing a groove. Using the bass drum pedal makes the sound punchy, which is pivotal in timekeeping within a band as you can't miss it!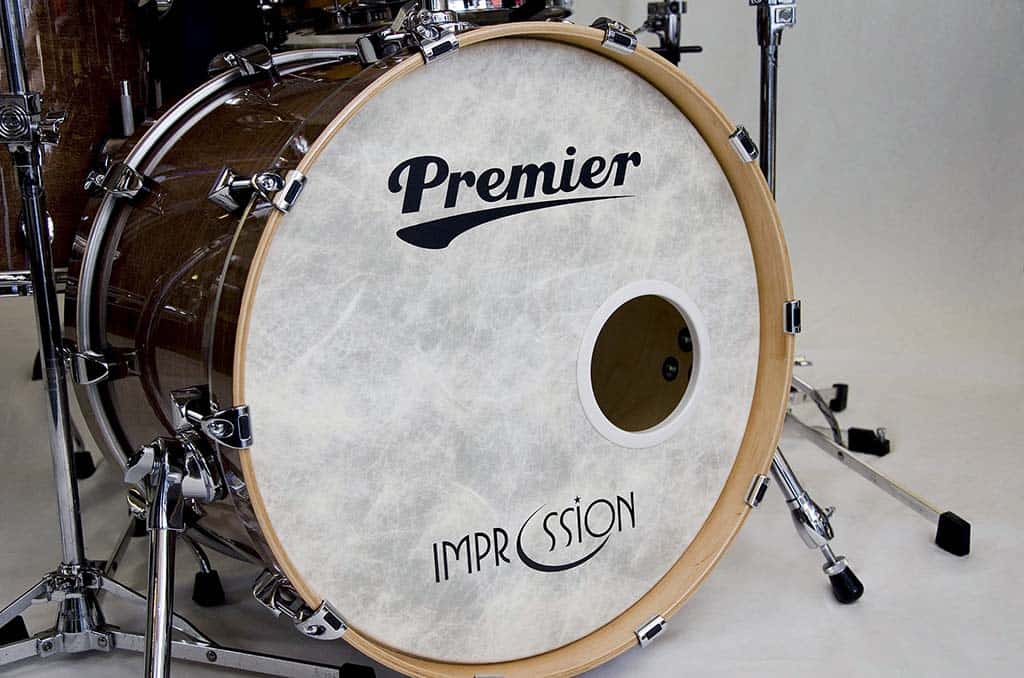 On a standard five piece drum kit you have three tom toms: high, middle and low tom (often known as the floor tom), their names relating to their pitch. The high and middle tom are usually mounted above the bass drum, with the floor tom sitting to the right of the drummer. We use the toms to play drum fills (fancy patterns!) following a drum beat.
The hi-hat consists of two cymbals which can be opened and closed with the hi hat pedal. This allows you to play a variety of sounds when you hit the top one with sticks.
There are many other cymbals, but the main ones are the Crash and Ride.
The crash cymbal is used to mark the start of a section in a song or accentuate particular rhythms or moments.
The ride cymbal can be used in many drum beats, however you want to use it!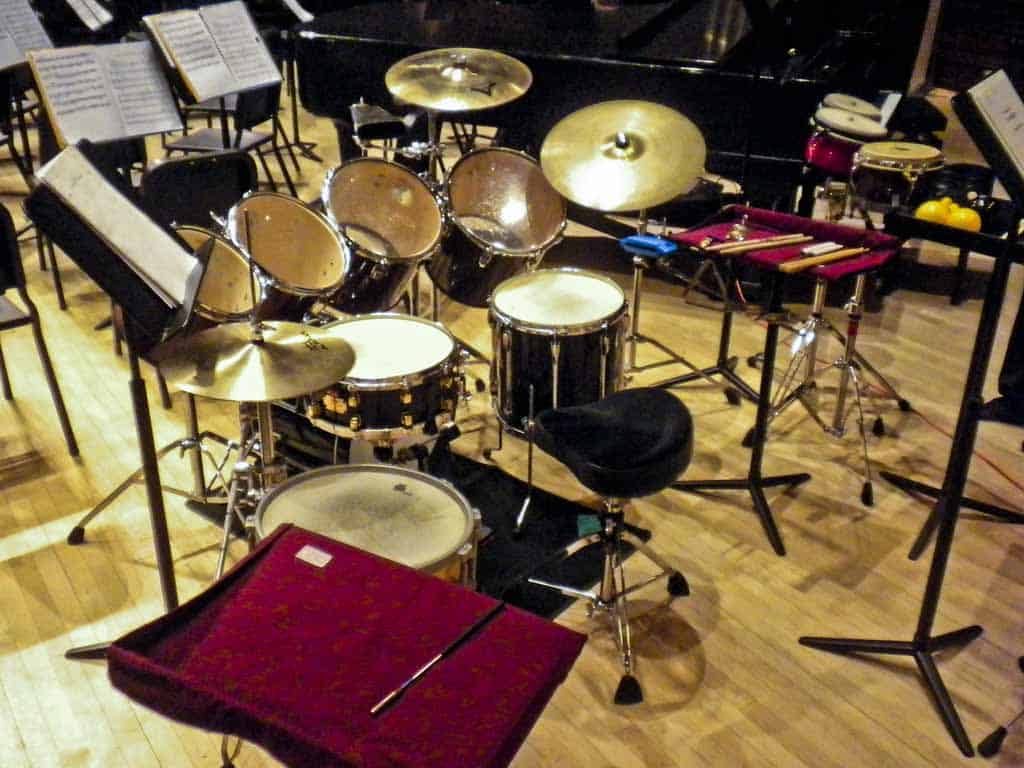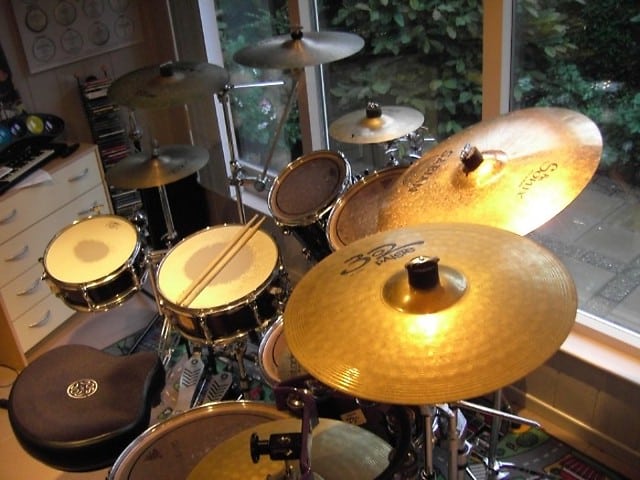 Some drummers set up their drum kit differently depending on whether they are right or left handed. The important thing is that every part of the kit is in easy reach.
As a beginner, the best set-up to get started would be the bass drum sitting in the centre with the high tom and middle tom above it and the floor tom sitting on the floor on the right hand side.
Your snare sits just under the high tom.
The hi hat goes to the left of the snare and the ride above the middle and floor tom.
The crash can go between the hi hat and the high tom.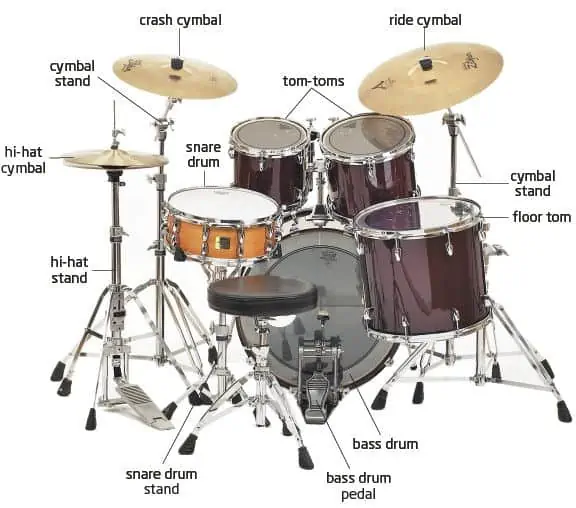 First of all you will need to make sure you have a drum key. This is a specific key to adjust the bolts that feed into the lugs on your drum.
Sabian Drum Key
A must-have for every drummer
Suitable for: All drums with standard square lugs

Design: Ergonomic
To get a consistent good quality sound, it is important that you tighten each bolt to the same degree.
Once you have placed the batter (top) head on the drum and put the rim on top, tighten each bolt finger-tight. From here you can use your drum key to gradually tighten each bolt.
Start with one bolt and then tighten its opposite, move to the right and continue this process until you have reached the pitch that you are after.
Keep playing and listening to the sound as you go along. The sound should be the same when you strike near each bolt.
The best drummers are also great musicians. Keep your practice interesting and relevant by using a combination of warm ups, drum exercises and songs as well as learning to read drum notation and playing by ear.
If you have a drum teacher, practise what they have told you to practise, it will get you to that next step so much faster!
Being able to count rhythms is key to overcoming being able to play a challenging rhythm. Start off simple, counting crotchets and quavers and then playing them.
Practicing every day, little and often, will always produce better results than once or twice a week for long periods of time. Regular focused practice will improve your dexterity, muscle memory and reading of drum notation at a much quicker rate
You could also read our dedicated article on How To Practice Drums here.
Playing the drums can be as physical as playing sport. With this in mind, spending five minutes every time you start playing as a warm up is vital. It is also a great opportunity to work on other aspects of your playing such as timekeeping and technique.
You don't need a whole drum kit to warm up, a simple drum pad is a great tool!
Playing rudiments and simple exercises to get each limb moving will not only warm you up but improve your coordination too. Good metronome apps will aid your warm up, especially in the early stages.
There are many instructional videos and online lessons available. Check out this great beginner warm up on Youtube.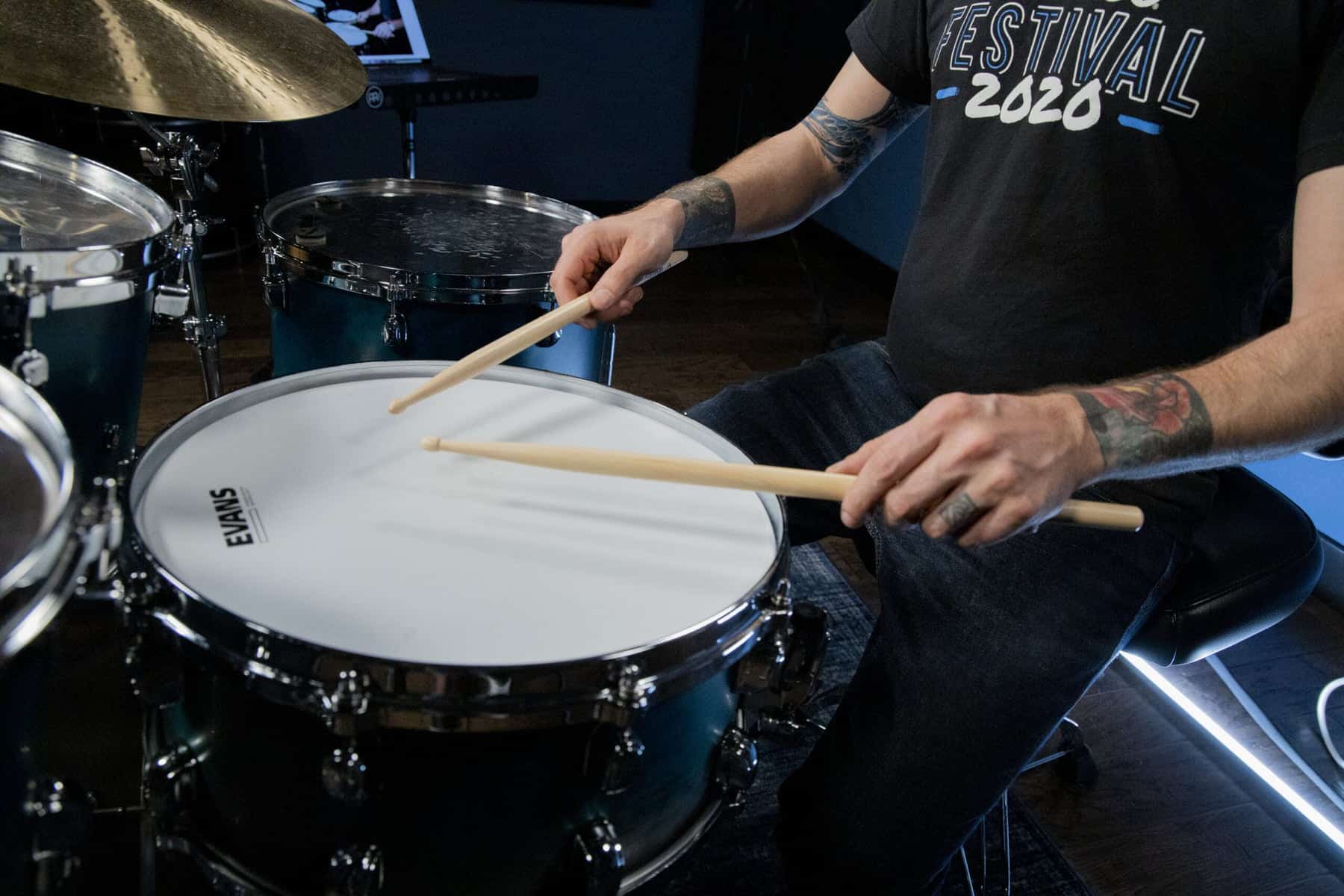 Taking care of your drum kit
Taking care of your drum kit is as important as learning how to play it. There are various accessories that can help keep it protected and looking fresh.
If you are planning on taking your kit to different venues then cases are a must. These come in hard or soft options and will protect your drums from knocks and scrapes.
The hard-case options tend to be bulkier, so if you have limited storage space soft-cases may be better for you.
Complete Drum
Bag Pack
by Gear4music
Case type: Soft

Extra Feature: 2-year warranty & 30-day money-back guarantee included
The TedScore™ is our unique system of scoring products. The professional musician who wrote this article combine many things, from the product build, manufacturer's reputation through to feedback from other users, to create our famous TedScore™.
You may also consider using a drum mat to keep your drum kit from slipping (as well as protecting your new wood flooring!).
Meinl Drum Rug
Black MDRBK
Suitable for: All drum kits with one bass drum

Price Level: Medium
Naturally, with a regular bashing, wear and tear will occur on each drum head and at different rates – we use the snare much more than the middle tom or floor tom for example.
Typically you should change the drum head every six months but they may last longer depending on how much you use them.
The best way of knowing is, when they start to sound flat they probably need replacing.
Drum equipment for beginners
Drum sticks are an extension of your hands, and you want them to feel comfortable and completely balanced. They come in a whole range of sizes so if you can get down to your local drum shop to have a look and try them out then that's great.
Most drumsticks are made from Hickory, but they also come in Maple, Birch and Plastic to name a few. Many sticks come with nylon tips which can help achieve more definition.
Vic Firth 5A drumsticks are considered by many to be the best all round stick, and are thought of as an industry standard. For those with small hands, a Vic Firth 7A may be a more suitable choice.
You may also consider using a heavier stick in your practice, as this is a great way to build up your muscles
Vic Firth American
Classic 5A
Hickory Drumsticks
The "go-to" drumsticks for students and professionals
Material: Hickory

Price Level: Medium
Vic Firth American
Classic 7A
Hickory Drumsticks
High quality lightweight drumsticks
Material: Hickory

Price Level: Medium
Metronomes make repeated clicking sounds at an adjustable speed. It develops our timekeeping skills and sense of pulse.
Playing all types of rhythms in time with a metronome is a fundamental skill needed to be a top class drummer.
As a beginner, get used to playing simple rhythms in time with the metronome at a steady tempo, first with your right hand, then with your left hand and finally using both hands. Incorporating metronome practice from day one will help you learn how to keep a steady beat and save you all sorts of problems further down the line as you play more complex rhythms.
Here is a fun and interesting video showing you a few ways of making the most out of your metronome.
Korg MA-2
metronome
Multi-function compact metronome
Up to: 400 hours of continuous operation

Display: Larger and more easily readable display
The TedScore™ is our unique system of scoring products. The professional musician who wrote this article combine many things, from the product build, manufacturer's reputation through to feedback from other users, to create our famous TedScore™.
As a drummer, your ears are as important as your hands and feet. Your hearing is priceless. There are a range of ear protectors to choose from. The higher-end products are molded to your ears and can come with different filters, but a decent pair of one size fits all ear plugs can be just as beneficial.
You want to be able to hear everything you are playing, but at a quieter volume, and the ER20 Ear Plugs are an affordable option.
Vibes High-Fidelity
Earplugs
Essential protection for your ears
Suitable for: All musicians

Best Feature: Filters specific frequencies to retain/balance sound quality
The TedScore™ is our unique system of scoring products. The professional musician who wrote this article combine many things, from the product build, manufacturer's reputation through to feedback from other users, to create our famous TedScore™.
A practice pad is a great accessory for all drummers. They can have the same feel and response as a normal drum. Pads are great for keeping noise to a minimum, keeping the neighbours happy, practising in front of the television, and even easy to travel with.
Gretsch 12"
Practice Pad, Orange
Ideal for all drummers
Playing surface: Silica gel

Price Level: Medium
This is certainly an aspect of playing the drums that you want to get right early on. You can get away with poor technique at the start but it will come back to bite you! The way you hold the drum sticks affects your stamina, control, power and speed. Having a solid technique will also save you from an injury.
There are two ways of holding the drumsticks; Matched Grip and Traditional grip.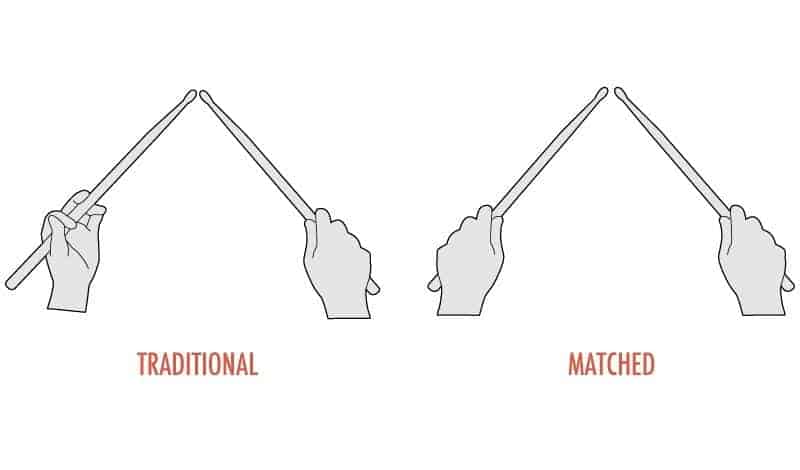 Essentially you hold the drum stick the same way in both hands. Your thumb and index finger should be on opposite sides of the stick. We call this a fulcrum (pivot point).
There are three variations of matched grip; French, German and American, each with their own advantages.

With French grip the palms of your hands face each other, with your fingers doing the majority of the work when moving the stick. Because of this, it can be easier to play more intricately as well as playing at faster tempos.
For German grip, the palms of your hands are parallel to the drumhead, when you rest your sticks on the drum, you should have a clear right angle. The movement comes mostly from the wrist, and this can make for a huge dynamic range because you have the full use of your arm.
American grip has taken the best bits of both the French and German grips. If you pick the sticks up, you're probably holding them naturally in the American grip. Your palms neither face down to the head or to each other but at a 45° angle. This allows you to use your fingers for those complex passages, together with your wrist for power.
Traditional grip originates from military drumming. As they suspend the drum from a sling, the angle of the drum requires a change in grip to avoid striking the rim of the drum. It is widely used in jazz drumming.
Your right hand remains in matched grip, and your left hand changes to traditional. Rest the stick between your thumb and ring finger. The fulcrum is between your thumb and index finger. Keep your other fingers relaxed so you do not choke the drum stick. This grip also requires you to rotate your forearm.
How to play drum rudiments
Rudiments are a fundamental part of drumming. Simply put, they are different patterns with your hands. They will help you hypnotize your friends with the most complicated looking drum fill and get you out of sticky situations when playing intricate passages.
Beginner drummers start simple by playing single strokes, double strokes and paradiddles on the snare drum with your metronome. Then you can start to experiment around the drum kit adding the bass drum and hi hat into the mix.
Paradiddles
Singles Strokes: R L R L
Doubles Strokes: R R L L
Paradiddles R L R R  L R L L
R = Right Hand
L = Left Hand
Try to memories the rudiments as you learn them so you can concentrate on what you are playing and how they sound. We want each hand to produce the same sound, so keeping an equal weighting in each hand is important.
How to read drum sheet music
Being able to read drum notation opens up many doors further down the line, like being able to play with all kinds of ensembles and musicians where reading sheet music would be a prerequisite. Start with simple crotchets and quavers before attempting something more challenging.
As with all instruments, drum notation is based on pitch. The lower the sound, the further down the stave (five lines) it sits. Each drum and cymbal has their own space or line. Drums are given round noteheads whereas cymbals are marked with crosses.
For a more in-depth article on reading drum notation, click here.

Drum Tabs differ from sheet music as it is specifically for playing the drums. When reading drum tabs, the layout is different. You may find this more confusing than sheet music. As well as being spread out, it tells you when not to play something (using the dash) as well as telling you when to play.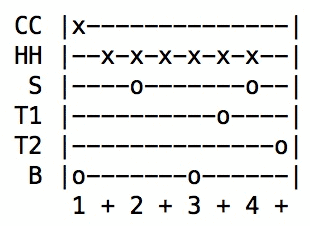 The parts of the drum kit have been abbreviated and given their own line. Where there is an 'x' marked, you play a cymbal, and where there is an 'o' marked, you play a drum.
Different symbols can tell you to play the instrument in a different way. For example, an 'o' on the HH tells you to play an open hi hat, and a 'g' on the drums tells you to play a ghost note.
Here are each of the abbreviations:
CC – Crash Cymbal
RC – Ride Cymbal
HH – Hi Hat
S   – Snare Drum
T1 – Tom 1 or High Tom
T2 – Tom 2 or Middle Tom
FT – Floor Tom
B –   Bass Drum
HF – Hi Hat Foot
Groove
The groove is the main drum beat in the song. It sets and maintains the tempo and style.
Fill
A fill is typically played at the end of a section and leads into the next. It can be as simple or as complicated as you like but should always be in the same style as the song you are playing. An easy way of creating your own fills is to start with your rudiments and play around with them. Get creative!
Tempo
Tempo is the musical term for speed. We measure it in beats per minute, bpm for short. For example, at the start of a song it may say ♩= 120. This translates into 120 crotchet beats per minute. To hear this accurately, you can set your metronome to 120. As drummers, we often get asked to play with a click track. This is comparable to a metronome, but can adjust to tempo changes. They are often used in performances to ensure the tempo does not change from show to show. Tempo can play a big part in your drum lessons as it is such an important part of being a drummer.
Tip, Neck, Shaft, Butt
These are all parts of the drum stick. The tip is at the very top, the part of the drum stick which is used the most for striking the drums and ride cymbal. The neck is often used to play the hi hat and crash cymbals. You hold the drumstick on the lower half of the shaft. And the butt is the very end of the stick.
Bell
The bell is referring to the centre of the cymbal – also known as the 'dome'.
Rim Click/Cross Stick/Rim Shot
These are different ways of playing the snare drum. A rim click (or cross stick) is where you place the butt of the drumstick onto the drum head and then bring the stick down onto the rim (whilst keeping your fingers out of the way). A rim shot is where you strike the drum head and the rim at the same time (with the same stick). Both of these techniques create completely different sounds to the normal sound of the snare drum, which makes it such a versatile part of the drum kit.
Trashy HH
To play trashy hi-hat simply means to allow the two cymbals to move and jangle around as you strike them. This creates a sloshy and trashy sound, great for building up to a chorus and creating a much thicker sound. The way to achieve this is to lift your foot off the hi-hat pedal slightly.
Let ring/choke
This is referring to your cymbals. 'Let ring' means to let the cymbal ring and not do anything to stop the sound. 'Choke' is the opposite of 'let ring', this is where you play the cymbal and as soon as possible catch the cymbal in your hand to stop it from sounding.
Ghost Note
As the name suggests, this is a note that you barely want to hear. It is usually played on the snare drum and requires a greater degree of control in your technique.
Buzz Roll
This is the easiest roll for beginner drummers to start with as you let the drumstick bounce an indefinite amount. You need to keep hold of the drumstick in the fulcrum whilst allowing the stick to bounce naturally but also applying enough pressure to bounce the stick at the speed you require.
Drums for Beginners


Summary
Hopefully, we have settled your mind and you now feel much more confident taking the next step to play drums. The most important thing is that you enjoy playing the drum set.  If you have any questions or suggestions, make sure you write below!
No drummer should be without one!
Vic Firth American Classic 5A Hickory Drumsticks
The industry standard for very clear reasons!
Gretsch 12" Practice Pad, Orange
Ideal for practicing whenever the mood takes you!