Brass instruments are incredibly eye-catching – they're shiny, they can be very loud (but also, in the right hands, very soft!) and some of them are pretty big. The phrase "bold as brass" does not exist for nothing, but how to choose the right brass instrument can be a more complex problem.
Brass instruments can sometimes be less popular than string or woodwind instruments like the flute or violin – but they don't need to be! A set of wheels or a smaller version can make them portable, they're some of the most versatile instruments, and their slightly lesser popularity can be an attraction in itself for someone looking for something a bit different. Best of all, all brass instruments except trumpet are endangered species instruments – meaning there are often deals on school lessons or instrument purchase, and lots of playing opportunities.
This article looks at how you might decide, gives you some information about each instrument in the brass family, and tells you what to do if you're still undecided at the end of it all!
What should I consider when choosing a brass instrument?
Musical instruments can be pretty big considering humans are expected to hold them! But nowadays, most instruments can be adapted for smaller players.
First, a myth. Some people assume brass players need "lots of puff", and think this is something we can only get from being big and tall. But there are plenty of small and even asthmatic people who breathe well and play amazingly – you just have to learn how to breathe fully!
All brass instruments are equally appropriate for all ages, from a suggested minimum of 6 (adult front teeth are desirable, but not compulsory). You may worry about an instrument being "too big", but lots can be done to mitigate this. Here are some practical solutions.
TYPES OF BRASS INSTRUMENTS
With these solutions, the only factor unsolved is that some kids can get self-conscious about dragging something heavy around, or frustrated they can't lift it.
You could also suggest smaller brass instruments (cornet before horn, pBone before tuba), aiming for them to progress when they're bigger. Just remember, the best-laid plans can often go awry – starting on the "wrong" instrument can put somebody off music altogether, though conversely, they might adore it and never switch! Just check how they're enjoying it in a few months. The "right" instrument is one you love!
When students first pick up any brass instrument, I often notice they have a predisposition towards low notes or high notes – i.e. a quite loose or somewhat tight embouchure (lip position). Their range can then develop from this.
However, you can also use this as a "lip test". Always put your lips quite loose? You'll probably get on great with the large mouthpiece of the tuba or trombone, both of which have a low range. Constantly pitching everything high? You might do well on the trumpet's smaller mouthpiece.
Weakness on one side, trouble lifting weight, a limb that isn't fully formed or another disability might influence your instrument choice.
I have taught several horn players with no right hand (the left hand operates the three valves, so teachers often suggest it), and some people have right-handed instruments made after a stroke so they can play one-handed.
Amazing jazz trombonist Mark Bassey has missing fingers on one hand and no forearm on the other, but uses an adapted slide handle to play.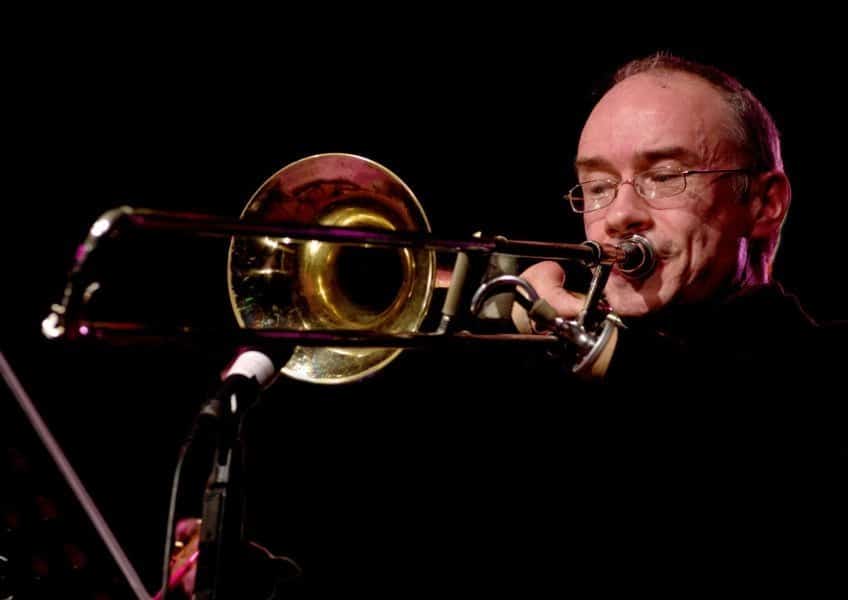 If you move the little finger hook on trumpets to a different part of the tubing, you can play left-handed. You can also get a weight-bearing 'pogo-stick' for trombones (e.g. for arthritis or hand problems) – and there are similar gadgets for horn (HornStick) and trumpet (ErgoBrass).
While you should always try an instrument out for yourself and sound out your doctor if appropriate, there are many adaptable options in the brass family. The horn is a good one-sided instrument, the trombone requires no finger movement and the pBone or the trumpet are lighter options.
Want to see something amazing?
Here's a video of Felix Klieser, who has no arms and plays the horn with his left foot as a soloist all over the world.
First brass instruments differ in price, with a beginner trumpet or a pBone (plastic trombone) being the cheapest and a tuba being the most expensive.
However, buying your first instrument isn't compulsory. Schools or music services often have spare instruments or cheap hire; many music shops offer hire or rent-to-buy schemes. And later, many charities offer young musicians instrument funding.
Plus, if you rent or get instruments funded through your student life, horn-playing or tuba-playing can cost the same as playing the trumpet: unless you're an adult learner paying for everything yourself, all instruments can be equally affordable.
Buying your instrument anyway? Here's a cost guide.
COST OF BRASS INSTRUMENTS
The most important thing when choosing an instrument? Whether the player likes it. If someone has their heart set on the trumpet and you give them a tuba because you think they'll be a natural, they might not fall in love with it. Hard work and passion count as much as talent!
We can always give reasons against a choice (my arms are too short for the trombone, my little boy isn't academic and apparently the horn is really hard, my husband loves jazz so maybe I should get a trumpet instead of the tenor horn he wants for Christmas) – but sometimes we just can't explain why we love the sound of a particular instrument the most.
There are exceptions to every example just listed – exceptions who might not be where they are today if they had made a supposedly "logical" choice. Make your decision from the heart rather than the head – music is meant to be fun!
Let's look at the brass instruments you might choose...
The trumpet is one of the smaller, higher-pitched brass instruments. It features in jazz ensembles, orchestras, pop and wind bands, with the cornet also featuring in brass bands, and there's always more than one – a whole section. (You might also know the flugelhorn, sometimes misspelt flugel horn – this is a kind of trumpet used for a mellower sound).
For small children, the cornet is the usual choice instead of the trumpet; it has a slightly different tone but the same fingerings. The cornet is more compact, perfect for small hands. I wouldn't recommend the pTrumpet, a plastic trumpet – the valves (buttons) don't work well, and they still cost around £100/$140. Most real brass student instruments start at around the same money – in fact, the one I recommend is only around £150/$180.
The trumpet is versatile, small and additionally, there are plenty of role models to inspire you (from Louis Armstrong to Alison Balsom). Check out our Beginner Guide to Learning The Trumpet for the next step!
The trombone is the biggest brass instrument in terms of arm span: instead of valves (buttons) like other brass instruments, it has a movable slide. Beginners normally start on the tenor trombone, like the one we recommend here.
The trombone features in orchestras, jazz, pop, brass bands etc, so it's really versatile. And if it's too big, you can get a handle to help you reach the longest positions.
There is also a lighter trombone for kids – the plastic pBone. They work really well, are almost indestructible and are cheap!
Even smaller is the pBone mini – an alto trombone in Eb. We'd recommend switching to the full size when your child wants to play with others (most 'real' trombone parts are written in concert pitch, not Eb plus the normal pBone is higher quality). But the pBone Mini is perfect for a tiny trombone enthusiast!
The trombone plays in many styles, has options for all sizes, and has a cool slide! See here for more.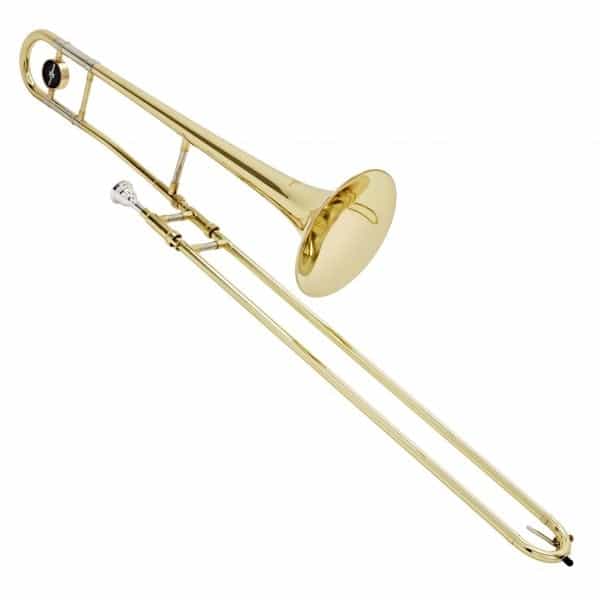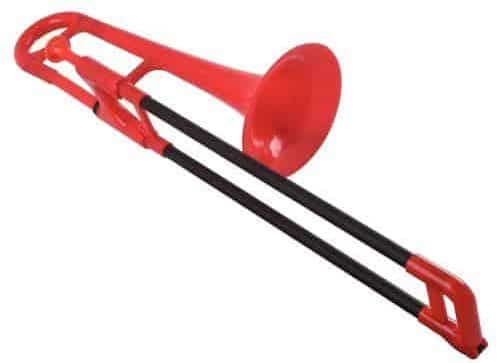 The tuba is the lowest mainstream brass instrument and has a round, jovial sound. It is normally played sitting down.
Though there's normally only one per orchestra, tubas are an "endangered species" so most amateur groups are on the lookout for someone (or in the case of a brass band, an entire section!). There are some jazz opportunities, but fewer than trombone or trumpet.
Tubas are more expensive than the rest of the brass family, starting at £800-£1000. However, sometimes schools will offer free lessons or instrument hire to encourage take-up, so they don't need to be expensive.
(There are some second-hand options too but be warned – many "tubas" on eBay are actually euphoniums and tenor horns, which might result in a nasty surprise!)
Many people are put off by the tuba's size, but you can get cases with wheels for easy transport. Additionally, the weight isn't actually lifted while playing: it's rested on the lap.
The smaller option is the euphonium, which is still low but an octave higher. It rarely features in orchestras, so if you enjoy orchestral music in particular, this might not be right for you. It does feature in brass bands and wind bands though – and a few professionals manage to make their living playing it!
The tuba is the biggest, lowest instrument, with lots of opportunities available and the euphonium as a smaller option. Have a look at our Beginner's Guide to Learning The Tuba for more information.
The French Horn is a curled-up instrument, lower than the trumpet but higher than the trombone. The valves are usually played left-handed, with the right hand or arm supporting the bell. It has rotary valves (valves that go round rather than down like other instruments) and the bell points backwards, giving it a mellow tone.
There are lots of chances to play with other musicians – with four horn spaces to fill in an orchestral section, the french horn is very in-demand! And they have fewer bars rest (less time off!) in orchestras than other brass players.
French Horns don't normally feature in brass bands, so if a local band is your inspiration to play, look elsewhere (orchestras, wind bands). While some french horn players do play jazz or in pop bands, there are fewer opportunities than for trumpet/trombone.
The French Horn has a reputation for being "hard", and it's true that sometimes progress is sometimes slower at the beginning than on other brass instruments. Someone I know took their Grade 8 by the age of 12, and many people who start the french horn as a second instrument also find it perfectly manageable, but even as a professional musician, my first year of playing was slow! It gets a lot faster afterwards.
If you or your child finds the french horn heavy, try using a HornStick (sold by specialist shop, Paxman). This allows students to rest the weight on their lap.
Smaller children can use the more compact "kinder horn". You can also choose between single (lighter) or double (heavier but easier to play high and low on) horns, which is covered in my article here. This model, a Student French Horn by Gear4Music is a superb starter instrument, and doesn't cost the earth…
The French Horn is in demand, always busy in an orchestra, and suitable for all ages and sizes. Check out our Beginner's Guide To Learning The Horn for more helpful advice.
The tenor horn looks like a tiny tuba with different proportions, and is much higher-pitched.
They appear chiefly in brass bands – so if you love the music and the camaraderie of brass band contests, they're a good choice. You'll only rarely find them in an orchestra or jazz ensemble so bear that in mind!
The tenor horn is great for brass bands, the most compact instrument described here and good fun. We don't have any other articles about it (yet) but why not check out Owen Farr playing some ferociously hard music here…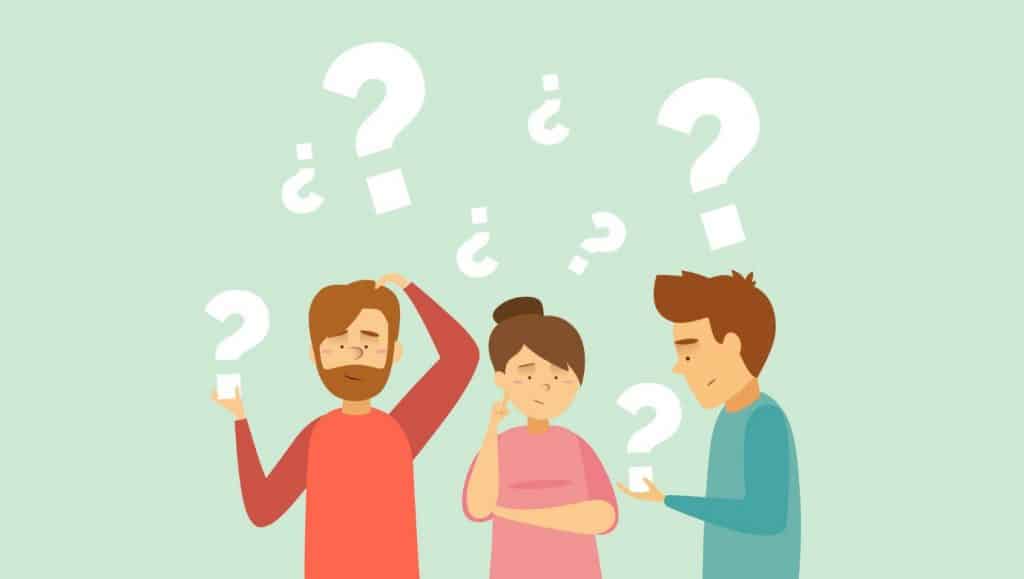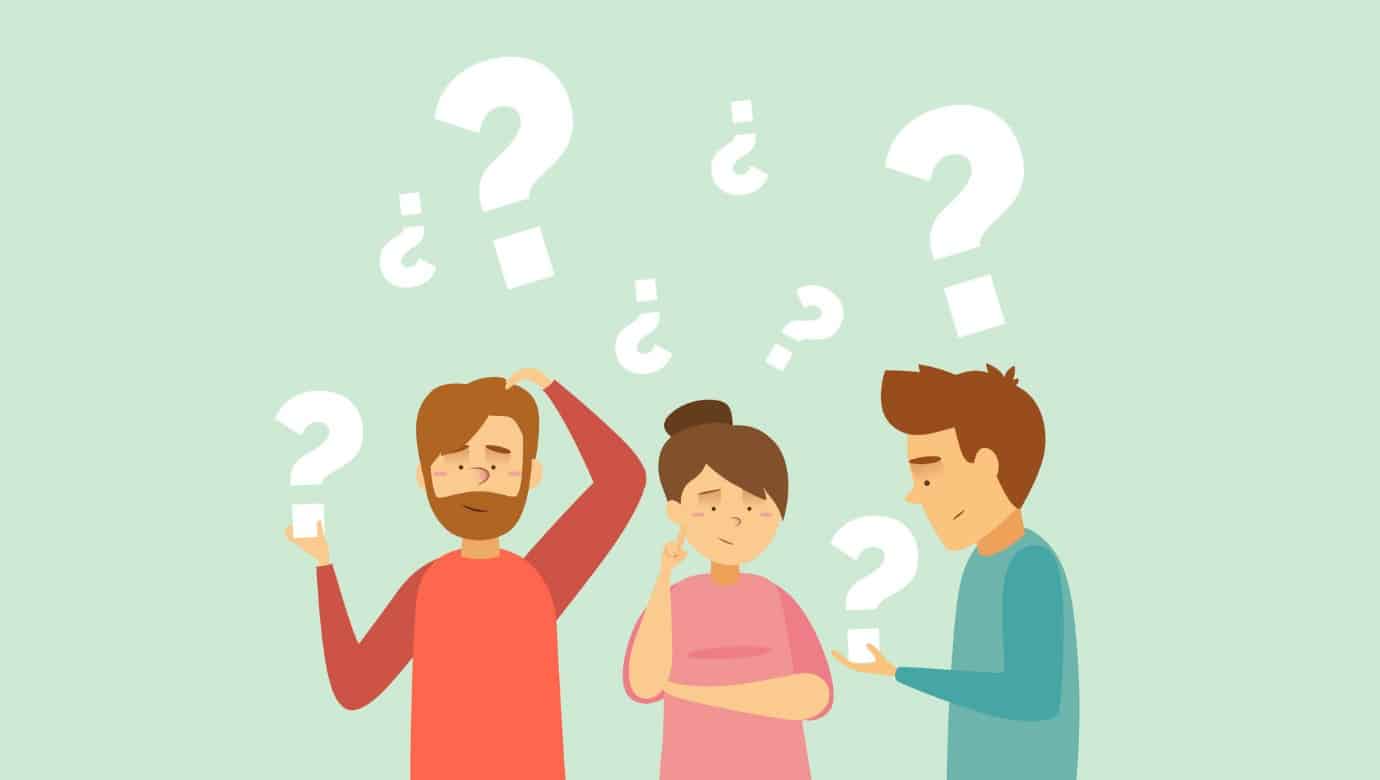 What if my child is still undecided?
Stuck on how to choose the right brass instrument? They need to try the instruments out.
I ended up playing the horn after a brass instrument demo. We all tried different instruments and the teacher chose what he thought the best one for us was.
Many schools have a brass teacher (as opposed to separate horn/trumpet/trombone teachers), so if you ask nicely, many would be happy to bring in instruments for a trial lesson.
Most private teachers teach two instruments (often horn/trumpet or trombone/tuba). So one possible way to organise a try-out might be to approach two teachers and between them try everything out.
You can also rent an instrument; music services will often loan instruments temporarily. Instrument shops may rent you something for a month, or let you take away instruments "on approval" (i.e. on trial), although most have a one-instrument-at-a-time policy, and if you take lots of things on approval without ever buying, it's polite to at least buy some instrument accessories in the shop!
Many orchestras have child friendly concerts, many with a pre-concert tryout session. The mouthpiece is sanitised for each player, and the pros are on hand to teach your child how to hold the instrument and make a sound. The concerts themselves are also a chance to see an orchestra in action!
If you have an older child or you're an adult, a concert where the brass section has a lot to do is a more sophisticated solution – check the pieces out on Spotify before you buy tickets!
YouTube videos are also a great resource for kids' concerts. As for instrument introductions, the Ted's List YouTube channel has lots of videos covering all brass instruments – and most filmed at the world famous Abbey Road Studios…
Whatever you choose – happy hunting!