Are you looking for a good piano posture diagram? Well, look no further. Not only do we have a fabulous diagram that shows how to sit at the piano, but we also have a brilliant video filmed at the world-famous Abbey Road Studios by our very own Founder of Ted's List, Robert Emery.
All beginner piano students need help gaining good posture – so get it right when you begin playing, and your life will be easier as time goes on.
Being able to play the piano comfortably and having the correct posture will eventually go hand in hand. But to start with, what is technically a good posture may feel uncomfortable. Our aim with this article is to turn that uncomfortable into a comfortable position for you. 
You may also want to take a look at our dedicated 'How to place hands on a piano' article.
Firstly nails. Sorry ladies, but if you have long nails, you'll need to chop them off! Cut your nails if they are long. I am sure you do not want to hear the clicking of your nails while playing. This is non-negotiable and is just something you'll have to learn to live with!
Next, your hands. You should have a curved finger position, similar to the natural curve they hold, while your arms are hanging loosely from your shoulders. When you raise your hands to the keyboard, imagine a ball in your hands. The size of the ball depends on the size of your hand – somewhere between a ping pong ball (small children) or a tennis ball (larger adults).

Another technique is to try tightening your hands into a very tight fist, then letting them slowly release. The way your hand looks in the released position is how it should fall onto the piano keys.
The first knuckle – closest to your fingernail – should not bend backwards while striking the keys. This is typical especially with the pinky finger, and is a prevalent issue that needs to be sorted immediately.
Your thumb should be straight, with only the side edge resting on the key. You will play with roughly the last third of your thumb.
Your hands need to have a relaxed arch whilst making sure your curved finger stays rounded. Make sure your forearms are parallel to the ground.
The wrist should not bend up or down; it should be in a straight line with the forearm. Almost like you could roll a marble from the crook of your elbow/arm down to the fingers without any rollercoaster hills up or drops down.
Some of the muscles used to move your fingers cross your wrists or are also linked to wrist motions. By keeping a neutral wrist, the muscles in your hands will be able to divert their energy most efficiently and effectively from your forearm and into moving your fingers.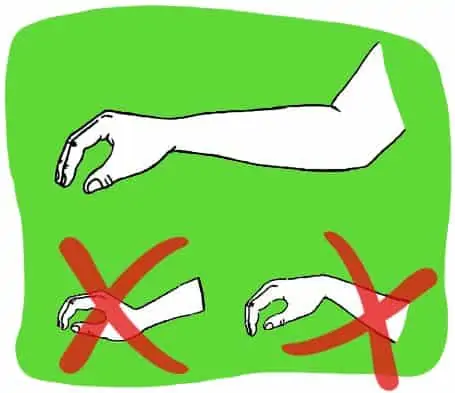 Where to sit on the piano bench
You need to play comfortably, and sit as relatively towards the front half of the piano stool as possible without feeling unstable and like you'll fall off. When I sit down on my piano bench (apologies if you now imagine this!), my bones in my bum are towards the front half of the piano stool, which means that hardly any of my legs/thigh are touching the seat. I feel stable and crucially have the flexibility needed to move around the seat when I want to.
I don't want to be seated so close that my elbows are behind me in terms of space between me and the piano. Elbows should rest slightly in front of my body when viewed from the side.
It all feels very natural, and like any new body position, you need to experiment and give yourself some trial and error time. You'll find your natural position eventually!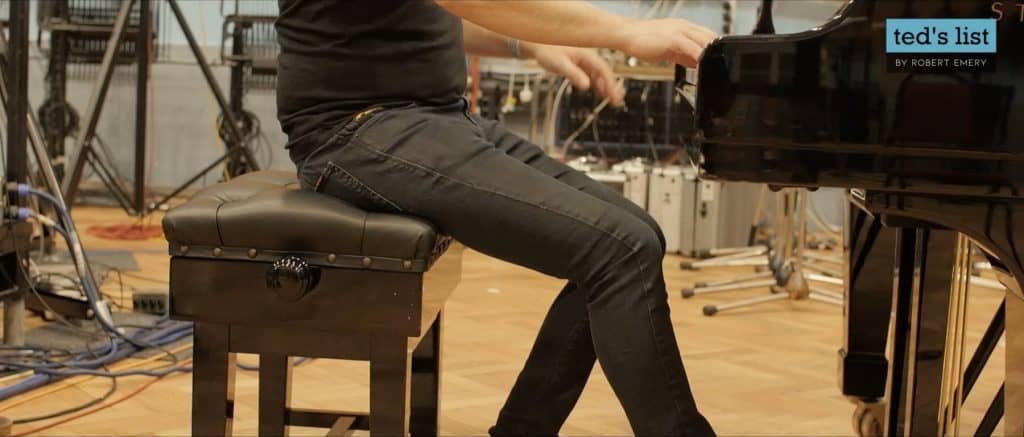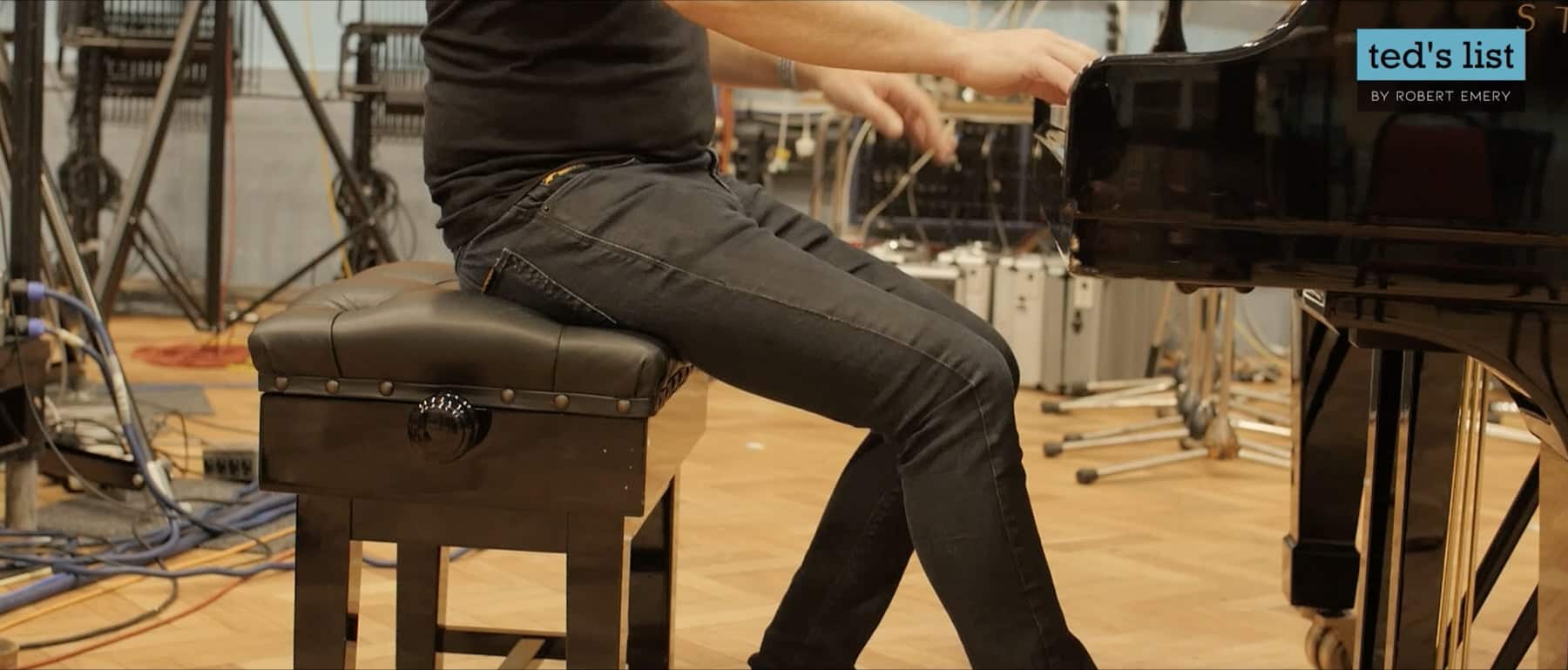 How tall should the piano bench be?
Your forearms should be parallel with the flow. To achieve this, you may need to raise or lower your bench. There are many adjustable benches on the market, so there is no excuse not to have one!
The best height allows the elbow/upper arm to fall freely from the shoulder and allows the forearm to be parallel to the floor when the forearm and hand are in their natural shape — the way they are when the hand is hanging at the side.  This way, you can reach all the keys and see the sheet music!
There are three main types of seat.
1. Chair – this is a simple suggestion, but one which really should be avoided. Unless you have the talent and stature of Glenn Gould (which you won't!), then don't use a chair.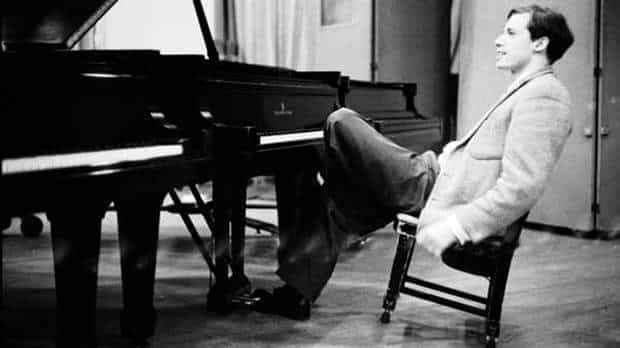 2: Fixed height piano bench – if you already have one of these, chop it up for firewood. It's a bit like buying a car, where the driver seat doesn't move to make sure you can drive safely. Because of the wrong driving position, you'll not be able to see clearly, and eventually, you'll crash! The same goes for the non-adjustable piano stool…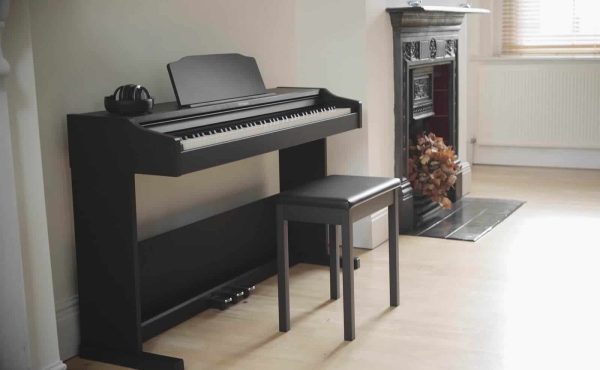 3. Adjustable piano stool – yes, you guessed it. The only thing that your bottom should be sitting on whilst playing the piano is a fully adjustable piano stool (or piano bench – they are the same thing!). It doesn't matter how wide the seat is, just so it's adjustable.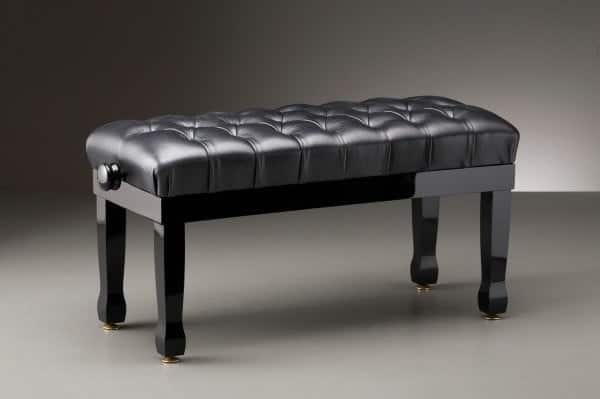 One reason to have an adjustable piano bench is to support your body by making sure the feet can touch the ground.
The feet should be resting on the floor while playing. Knees can be slightly lower than the bench to help allow free movement at the hip.
If the feet are not reaching the ground, use a stool or stack some books to fill the space. If the student requires the use of the pedal, you will want to consider a pedal extender. Otherwise, books will work just fine for children as they grow into the piano.
We also have a dedicated 'How tall should a piano bench be' article that could be useful to you.
Best piano bench under 100
Adjustable Piano
Stool by Gear4music
Very affordable, high-quality piano bench
Seat: Leatherette top provides hours of comfort

Colours: Matte black or premium white finish
When you check the price above, you'll see there are loads of great places to buy this item.  Our personal favorite is Gear4music.
It is the largest music retailer in the UK and fast becoming the most respected online music shop in the US too.  Their customer service is excellent, they have competitive prices, really fast shipping, and usually have the longest guarantee.
Most professional musicians use Gear4music, so there is no reason why you shouldn't too!
The best piano bench under 100 is this fantastic fully adjustable piano stool by Gear4Music. It's comfortable, sturdy, and you can get it in black or white. You'll be able to play the piano like a pro in no time at all!
Roland RPB-500
Piano Bench
Best piano stool on the market
Key Features: Superior cushioning

Key Features: Hidden storage compartment
When you check the price above, you'll see there are loads of great places to buy this item.  Our personal favorite is Gear4music.
It is the largest music retailer in the UK and fast becoming the most respected online music shop in the US too.  Their customer service is excellent, they have competitive prices, really fast shipping, and usually have the longest guarantee.
Most professional musicians use Gear4music, so there is no reason why you shouldn't too!
The TedScore™: 9.5/10
The TedScore™ is our unique system of scoring products.
The professional musician who wrote this article combine many things, from the product build,
manufacturer's reputation through to feedback from other users, to create our famous TedScore™.
Piano stools don't get much better than this. It's the perfect piano bench for any pianist, beginner or professional. It has a solid wood construction with a premium Rosewood finish. Not only does it look beautiful, but it's practical too. It even has a hidden storage compartment!
Have curved fingers, so you play with the 'pads' of your fingers.
Make sure your knuckles don't collapse.
Feel like you have a ball/orange under your hand to get that lovely arch
Make sure your wrist is neutral – it's not sticking up or bending down.
Your forearm should be pretty parallel to the floor, with maybe a gentle slope down from the crook of your elbow to your wrist.
Your elbows should be slightly in front of your body. If they are by your side or behind you, you're too close to the instrument.
Sit with your bottom close to the front of the piano bench, set at the right height.
Have a reasonably straight back – but make sure you feel comfortable at all times
Have your feet touching the floor. If you're too little for that at the moment, then put some books on the floor for your feet to rest on.
Preventing injury is a reasonably simple thing to do. Read this article, then make sure you put it all into practice. And then, most importantly, keep yourself in check over the coming months. Bad habits will appear, and you'll not notice at first.
I advise you to video yourself once a month to look at your posture and position. If you see something you don't like, fix it before it becomes ingrained in your body.
If you do this and listen to your body, you'll be able to prevent and avoid injury.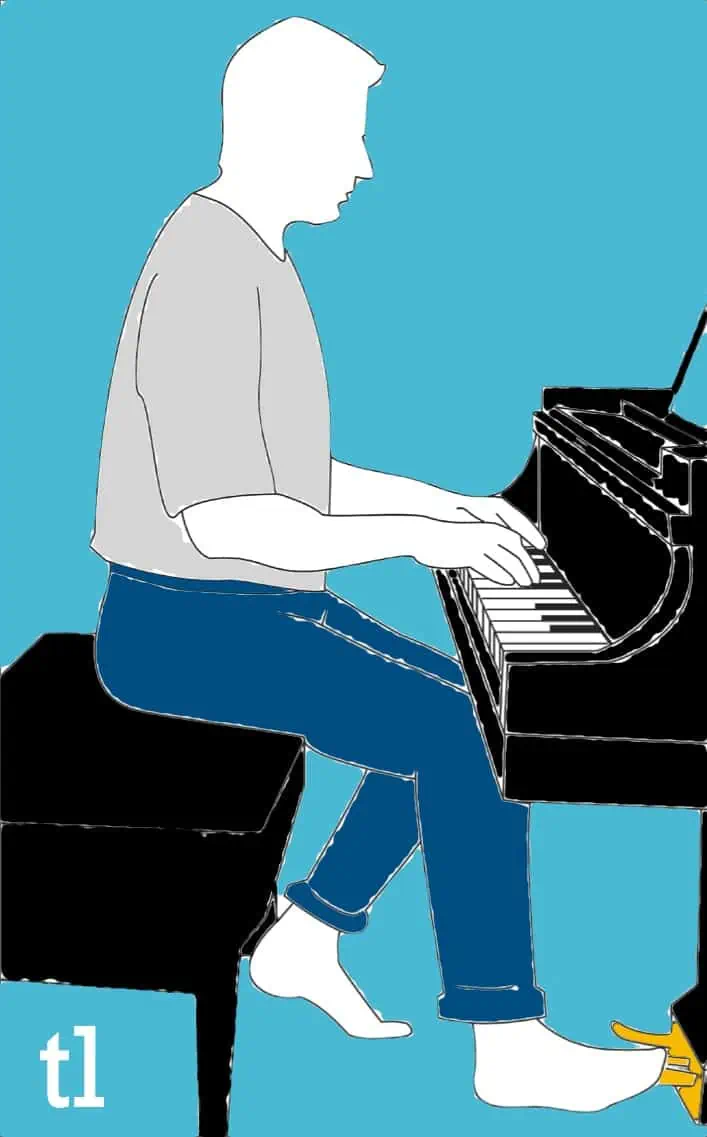 Piano posture diagram


Summary
Having the proper posture when you start playing will help you long term build good habits to help your piano playing. Remember, sitting at the piano will feel odd initially, but that doesn't mean it's wrong. It just means it's an unusual new feeling for your body.
Building the right posture takes time, but once you have found the best position, your upper back, arms, fingers, wrists, and upper body, in general, will thank you for it.  Plus it'll help you create a beautiful sound!
If you're wondering where to go next, visit our 'Best YouTube Channel To Learn Piano For Beginners' article.  And if you have any questions or suggestions, make sure to drop me a comment below.