Finding the right size string instrument can be daunting, but fear not! In this article we will guide you through the options available for choosing the right string instrument sizes, so that your child begins their musical journey with their perfect instrument.
The correct instrument size for your child
"Does it really matter?" I hear you ask, and it most certainly does!
The best size string instrument for your child will depend on many things: their height, their arm or body length, the size of their left hand, and finger length to name just a few. Choosing the incorrect size of instrument can cause all sorts of issues, ranging from slower musical progress to physical discomfort.
We will now discuss the considerations for each string instrument in turn so that you can confidently choose the best instrument size for your child.
VIOLIN vs VIOLA vs
CELLO vs BASS
The following issues are common to all the instruments in the string family:
Violin, Viola, Cello, and Double Bass:
When in doubt, size DOWN. While it is tempting to give a child "room to grow", an instrument that is too big can cause physical issues and impede musical progress.
Consider accessories! Your string instrument should come with a bow and a good quality case or cover. You will also need some rosin for the bow and your teacher should advise which sheet music to get.
Many shops and online retailers offer a rental scheme for string instruments, which enables children to swap instruments as they grow, moving smoothly through the sizes. They are also an excellent source of advice and customer service.
Most string instruments use fractions to describe sizes: 1/10, 1/8, 1/4 etc. The exception is violas, where the length of the instrument's back is measured in inches.
Good instrument brands for beginners include Stentor, Hidersine, Eastman and Primavera, all of which are available across the size range from my favourite online music store, Gear4music. They provide a 2-year warranty on all products, and a 30-day money back guarantee.
In an ideal world, it is best to try out a variety of instrument sizes in person. However, we recognize this is not always feasible and it is also possible to order an instrument online to be delivered. The information below will ensure you always make the best choice.
I love all string instruments, but if you're still not sure which one to choose, watch this rather funny video filmed at Abbey Road Studios: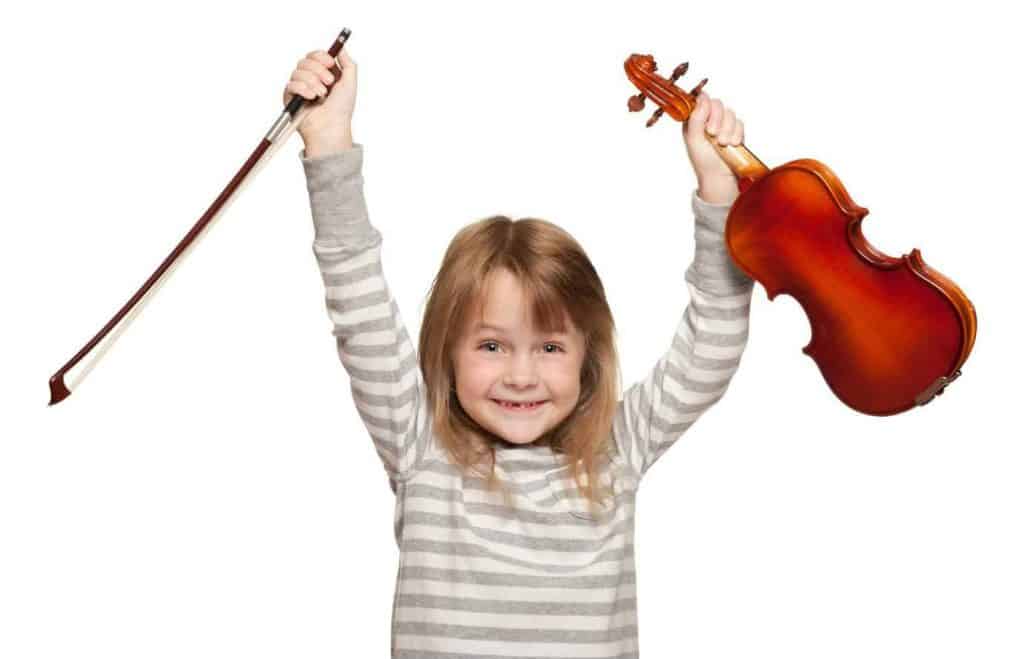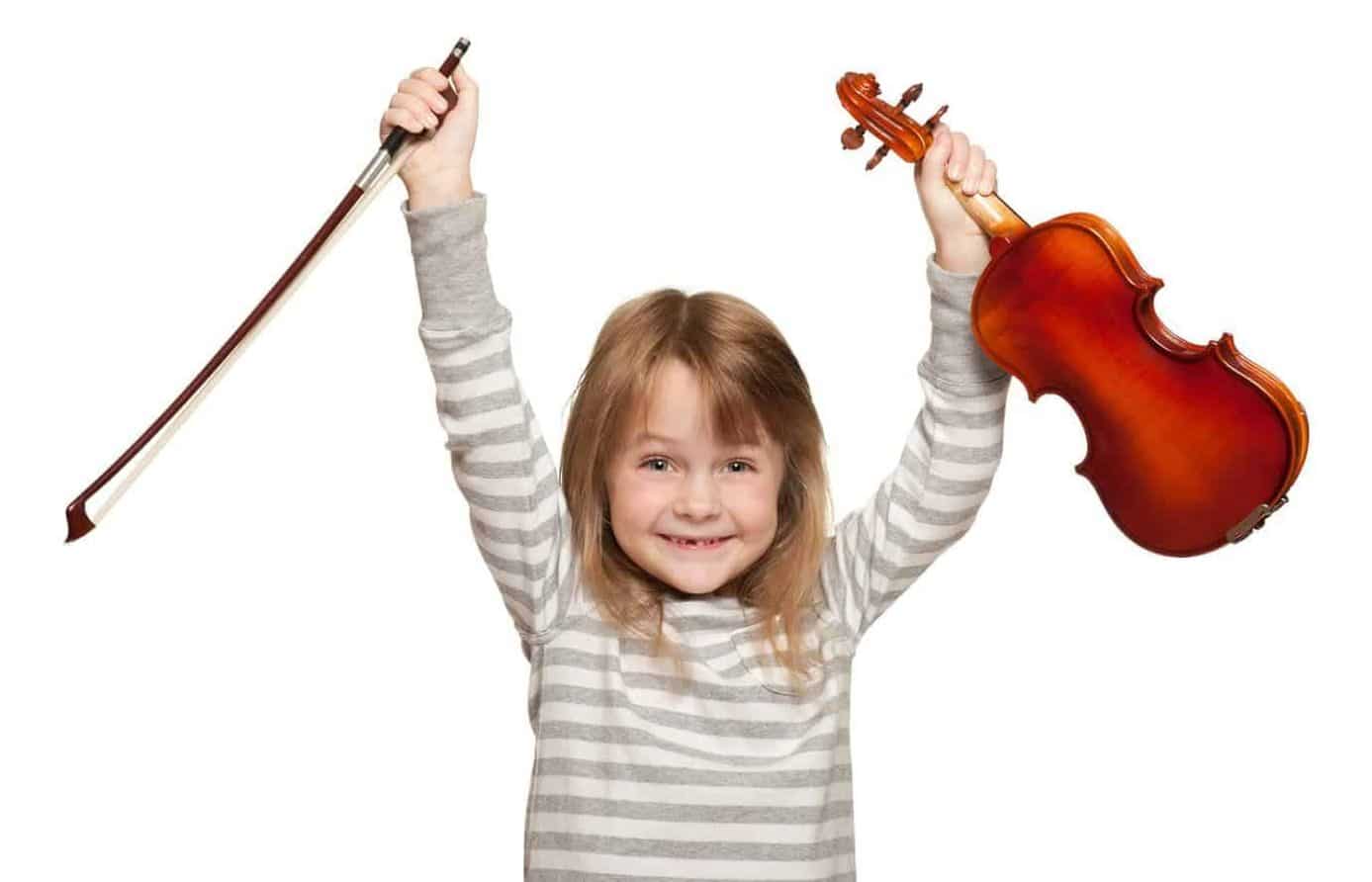 "Under the chin" string instruments offer the widest range or string instrument sizes of the family. Children regularly begin learning from as young as three so it is possible to find instruments to suit even the smallest of fingers and hands relatively easily.
For both violin and viola, when the child holds the instrument under their chin they should be able to comfortably curl the palm of their hand around the scroll with only a slight bend in the arm. You may also need accessories such as a pad or shoulder rest to support the instrument in the correct place on the shoulder and avoid strain on the child's neck.
Music teachers are also an invaluable source of expertise in this regard and it is in their interests to ensure their pupils are correctly set up. If you already have a teacher, definitely take their advice!
The following measurements should give you a good idea which size to choose:
| Age of Child (years) | Arm length (cm) | Violin size (fraction) |
| --- | --- | --- |
| 3-5 | Under 35.5 | 1/32 |
| 4-5 | 35.5 | 1/16 |
| 4-6 | 38 | 1/10 |
| 5-7 | 42 | 1/8 |
| 7-9 | 43-47 | 1/4 |
| 9-12 | 48-51 | 1/2 |
| Small Teen/Adul | 52+ and small hands | 3/4 |
| 11+/Adult | 56 or longer | 4/4 |
| Age of Child (years) | Arm length (cm) | Viola size (fraction) |
| --- | --- | --- |
| Under 6 | 50cm or less | Use ¼ size violin with viola strings |
| 6-7 | 50-56 | 12" (or half size violin with viola strings) |
| 7-9 | 56-57 | 13" (or ¾ size violin with viola strings) |
| 9-12 | 58-62 | 14" (or 4/4 violin with viola strings) |
| 10-12 or Small Adult | 62-64 | 15" |
| Adult | 63-66 | 15.5" |
| Large Adult | 66+ | 16-16.5" |
For a more comprehensive article on what size viola you need, click here.
But as violin is the most popular string instrument, we created this handy little video (filmed at Abbey Road no less!) explaining violin sizes:
Similar to violins, cellos are also available in a wide range of string instrument sizes for even the very youngest children. However, young cellists are increasingly rare these days, and you may well find yourself obliged to order a cello for your child without being able to see it first. Fear not! That's where I come in to save the day…
Everyone has their own sizing method when it comes to the cello, but in our opinion the best way to find a good size is to start with the child sitting with their feet comfortably flat on the floor, and their knees bent at a 90 degree angle. Holding the cello body between the knees, the upper rim of the cello (where the neck and the body meet) should touch the breastbone, the lower corner should touch the knee, and the neck should be a few inches away from the left shoulder. The table below provides a useful guide in terms of age and measurements: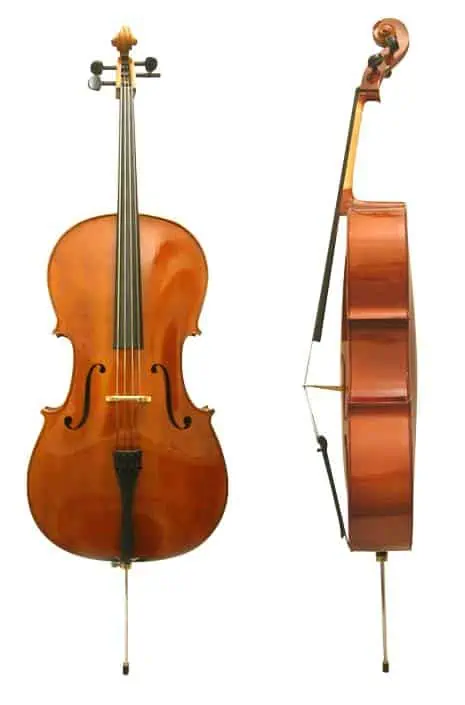 | Age of Child (years) | Arm length (cm) | Height | Cello size (fraction) |
| --- | --- | --- | --- |
| 3-5 | Under 41 | Under 91 | 1/10 |
| 5-6 | 41-46 | 91-110 | 1/8 |
| 6-7 | 46-51 | 110-123 | 1/2 |
| 8-10 | 51-56 | 123-140 | 1/2 |
| 11-13 | 56-61 | 140-152 | 3/4 |
| 14+ | 61+ | 152+ | 4/4 |
The largest string instrument of the family, the double bass is always slightly taller than its player, and most younger students will need help carrying it when they begin learning. However, thanks to developments in music education over the last few years, a wide range of mini basses is available to give young beginners as easy a start as possible.
Age of Child (years)

Double Bass size (fraction)

5-7

1/8

7-9

1/4

9-13 (or small adult)

1/2

14-18

3/4

Adult

4/4 (only if very tall/large hands,
otherwise stick with a 3/4)
When sitting or standing in their playing position, the player's left hand should be at eye level when playing in the first position (about 15cm down from the top of the fingerboard).

String instrument sizes


Summary
Whatever the size and shape of the player, there is a string instrument to suit them! The information in this article will enable you to make the best choice with confidence.
Good luck, and don't forget to comment below…