Are you looking to improve as a harpist and musician? Then look no further than these 10 top tips on How To Play the Harp, where you can learn to master a piece correctly and quickly!
Choosing repertoire is an exciting part of learning the harp, and there's nothing better than feeling the spark of excitement that inspires you to practice.
Choose music that's within your technical ability but, more importantly, choose music that makes you happy, because an audience will feel that enjoyment when you perform.
Performing for an audience instead of just your teacher is an important part of learning an instrument for reasons such as gaining confidence in yourself, improving stage presence and learning to think on your feet (expect the unexpected!).
Get to know your local churches, where concerts happen regularly, and music societies. Once you start looking you'll find many performing opportunities in the community.
Think of a public performance as something that requires practice, and the more you do it the better you get at performing for an audience.
I know what you're thinking; you don't have time to warm up. You want to get straight into learning your new notes. We all do, but ensuring you have warmed up will enable you to perform at your best.
Warm ups don't need to be fast, but try covering a variety of techniques that occur in your pieces. These can include scales, arpeggios, chords, jumps and harmonics. You can experiment with varying rhythm in order to keep your mind engaged.
As well as warming up your hands and fingers before playing, think about posture, and other parts of the body that need warming up, including your feet, neck, shoulder, wrists and fingers!
Write Down Practice Goals
Always go into the room knowing what you're going to practice, in which piece and how. You will soon notice the quality of your session improving and you won't need to spend so much time at the harp.
Identify the phrase or technique that's causing problems, and decide on a way to improve it. Always ask yourself "is this the best way of improving it?".
It's easy to get carried away in the music when you practice, and you may not have a huge amount of time during the day, so knowing which parts amd techniques need improving before you start will help you work efficiently.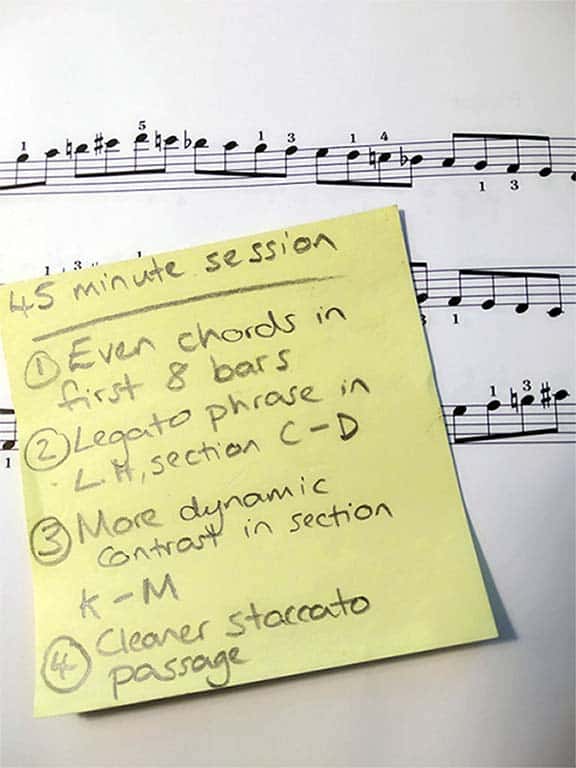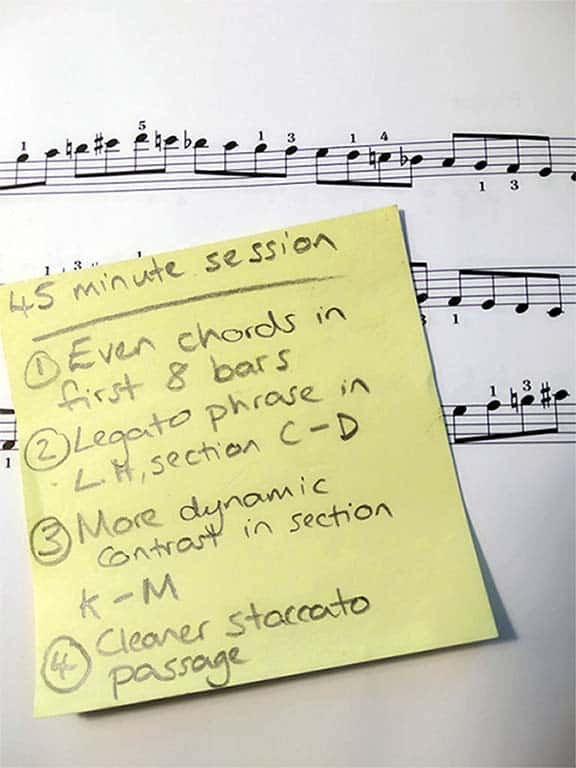 As musicians and players, we naturally tend to start practicing a piece from the beginning resulting in a great opening, but have you tried practicing the ending notes of the piece and working your way backwards?
You'll often find the ending phrase of a piece more challenging than the beginning sections, so it's good to get a head start on tackling that triumphant finale.
You may need a strong mind, but slow practice is an excellent way of committing a piece to fingers and mind.
The slower you're playing each note the more time you have to think about fingering, hand position, harp technique, articulation, rhythm, and phrasing. Before you know it, you can already play the piece from memory! 
Start small, with focus on small sections such as the first phrase of the piece. This will gradually build your confidence until you can eventually tackle the whole piece.
Remember, both hands may need individual attention!
This is where a metronome comes in handy! Begin with a speed that's roughly half the marked tempo, and when you're ready to move to the next speed, increase the tempo by 5 bpm.
Korg MA-2
metronome
Multi-function compact metronome
Up to: 400 hours of continuous operation

Display: Larger and more easily readable display
There aren't many instruments that require foot and hand movement simultaneously, but the harp is one of them.
Pedal harp: it's always good to practice our feet alone, in the same way you would practice one hand at a time and try to find ways of perfecting your pedal technique.
Marking up your pedals: It's entirely up to you where and how you place pedal markings on your score, but the best tip for clean (no buzzing or jarring) pedal changes is spreading them out as much as possible.
Once you've marked your score with the correct pedal changes, practice moving the pedals alone whilst humming the written notes. That way you don't need to concentrate on your fingers and hand movements at the same time as the rhythm of your feet!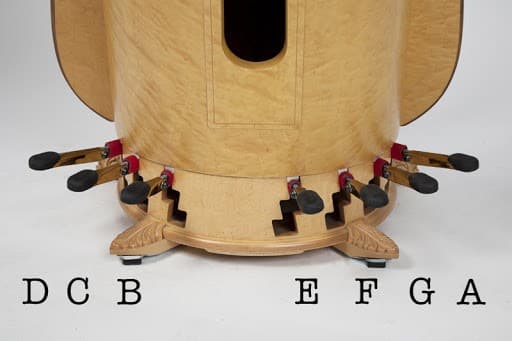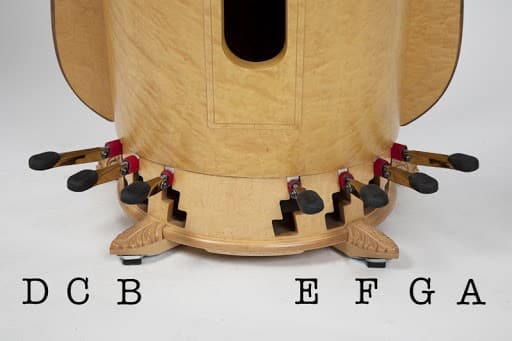 Harpists spend a lot of time working on their sound, and that sound will most likely differ from harpist to harpist.
From the moment you start your warm ups, listen to each individual note ensuring there isn't a nail zing or a finger buzz in sight, and don't stop listening and striving for THAT sound.
How about recording yourself playing? No need for fancy equipment, your phone is perfect. Listening to yourself without the distraction of playing will open your ears and mind to another level.
Don't overwork your brain and body.
Find a length of practice session that works for you. Be strict with yourself and stick to it.
There's no benefit in trying to power through a two hour practice session, because at some point your brain will begin to get fatigued, and meaningful practice will then be impossible.
Start with a phrase or two and if you find you need to walk around for a minute in order to refresh your mind, do!
'Relax!' is the worst thing to say to a tense person!
When you're playing the harp have you ever thought about your lungs? No; why would you if you use your hands and fingers to play?!
When we are tense our breathing can become shallow, which directly impacts the way we play due to the tension in our muscles. Whilst you practice slowly, one note at a time, try taking deep breaths in and out in order to instill the habit. Breathing is something else we need to practice, believe it or not!
How to play the harp – 10 top tips


Summary
These top ten tips will get you started on your journey with the harp. Keep them 'in the bank' and don't forget to add to it with every discovery you make when you practice.
Learning to play music takes time and patience, keep striving for excellence and remember to enjoy yourself!