What Gear Can Help With Your Singing
Congratulations! You are about to learn to sing...
Finding what things can help with your singing can be exciting, if not a little daunting. As part of our 'Beginner's Guide To Learning To Sing' series, this section will help you start your journey as you mean to go on.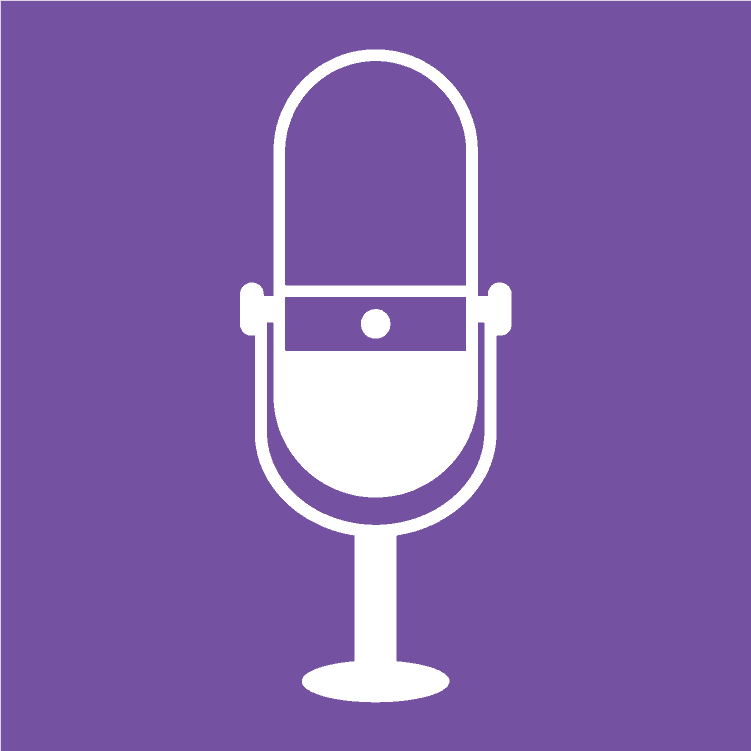 Things you should know before Singing
You have decided to learn how to improve your singing, and one of the best things about choosing to study voice is that you don't have to buy an expensive instrument! 
You carry around your voice with you wherever you go, and you can open your mouth to let your voice pour out at any moment, without having to carry a heavy double bass or to make sure that your piano has been tuned. 
So, in reality, there aren't too many essential items on your shopping list as a beginner singer.  However, there are a few things that you might buy to help you get started….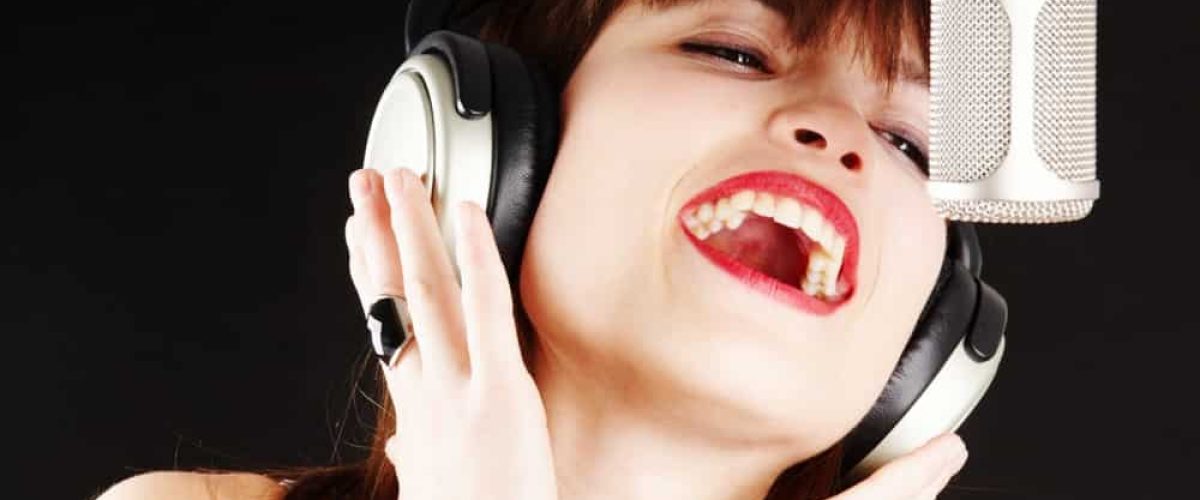 Firstly, we always recommend to students that they buy a folder to keep all of their music together in so that they always know where it is.  Buy something bright and fun! Make sure that it is portable so that you can take it along to lessons and rehearsals. 
Never throw music away, even if you think you have finished working on a particular song.  You never know when you might need it again. Perhaps you'll want to perform it again at a later date, or sing it for yourself so that you can see how much improvement you have made.  It's always so great singing something with ease that you once found difficult.
If you don't have a piano or keyboard at home it is worth either investing in a small, cheap keyboard or a keyboard app for your phone or tablet. Some of these apps you can download for free if you can cope with there being some adverts. 
Even if you have no plans to learn how to play the piano it can be so useful to be able to at least find a starting note on the keyboard for your practice at home. You might be practising with backing or guide tracks, but sometimes you may only need a starting note. Get your teacher to tell you what that note is and how to pick it out on the piano. 
It's incredibly satisfying to be able to play short tunes on the piano too, you may even end up being able to play along as you sing!
Deciding what music to buy is as different for each person as choosing your perfect meal at a restaurant. There are so many music shops and downloadable music resources available, so you can choose any piece according to your voice type, age, musical preferences and ability. 
Be guided by your teacher with where to start on this.  Remember that you may not always start out singing your favourite aria or pop song but that with steady practise you can work up to emulating your favourite artists. 
Be brave and try out different genres of music, you never know what type of music you might fall in love with if you don't try.
Also, remember that the best musicians and singers have a varied musical background and knowledge and they let all of this knowledge feed into how they perform in their chosen way. 
It's also super fun finding new music and stretching yourself to try different things with your voice.
Music Theory Tuition Apps/Books
We always suggest to beginner musicians that they might want to learn how to read the music. It helps so much as a student to be able to find notes, play the tune you are learning on the piano (or other instruments), or even just to be able to follow the notes as they go up and down. It is invaluable to be able to read rhythms and other directions that a composer might have written in a score. 
Therefore, we think a beginner music theory book or app to work on alongside any vocal or instrumental practice is always something to consider, even if you don't ultimately want to become a virtuosic violinist or even professional singer.  
Learning how to read the music on the page, even a little bit, is such a satisfying thing to do. It's a whole language which can open so many doors and ideas that you can use to become the best performer or even composer that you can be. 
Your teacher will be able to suggest a music theory course that is suitable for you. 
Remember, as with any language it is hard to learn as you start out, but once you start to get the hang of it, it becomes so much fun and will aid your learning of songs exponentially.
Another useful purchase is a music stand.  Make sure that the stand allows you to place your music at eye level so that you can keep your posture whilst practising.  
Great posture is a key ingredient to any practise and how you look at your music can affect this.  You don't want to be bending over or sitting or standing awkwardly so that you don't feel as perfectly aligned as is possible.  
Remember when your body is aligned well it functions at its best, so it stands to reason (no pun intended!) that if your posture is good you will sing better.  
You should invest in a stand that can hold a heavy music book, or a tablet if that is what you are reading from, without collapsing.  We really like the Cahaya stand below…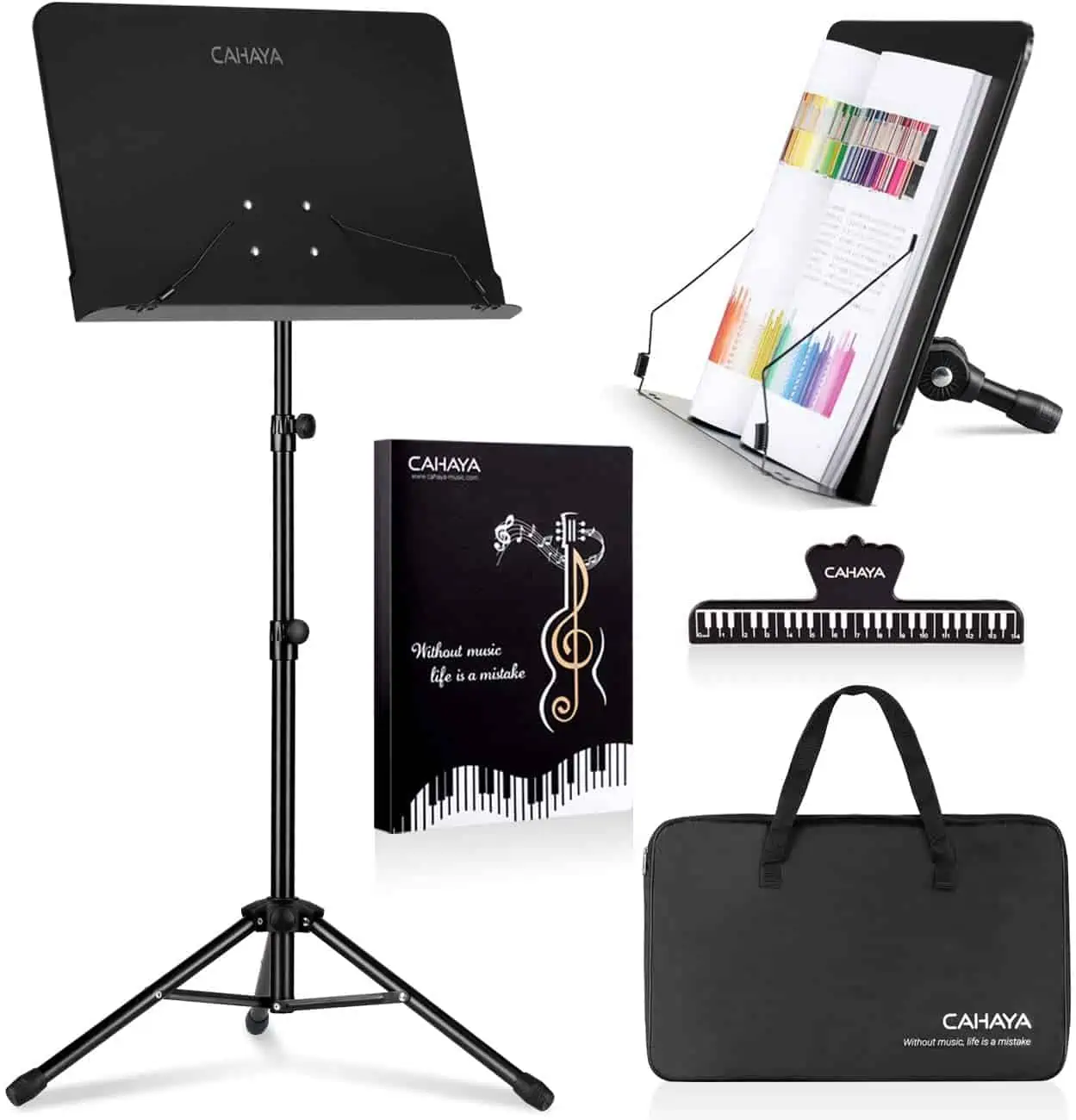 Amazing Kit at an amazing price
BEST FEATURE: Seriously well-made & sturdy
INCLUDES: Light | Carry Case | Sheet Music Clip
FEATURES: A carrying bag and a sheet music folder
Cahaya Portable Music Stand
When you check the price above, you'll see there are loads of great places to buy this item.  Our personal favorite is Gear4music.
It is the largest music retailer in the UK and fast becoming the most respected online music shop in the US too.  Their customer service is excellent, they have competitive prices, really fast shipping, and usually have the longest guarantee.
Most professional musicians use Gear4music, so there is no reason why you shouldn't too!
Whilst you haven't had to buy your instrument as a singer, you do want to treat your voice as if it's an expensive purchase.  Something that many professional singers wouldn't be without is a portable steamer.  
When you are sick or your voice is very tired, you can count on steaming for a short time to help to feel better by getting hydration directly to your vocal cords.  
Steaming over a bowl of hot water is fine, as is standing for a while in a hot shower, but buying a small vocal steamer means that the hydration goes straight to where it helps.  Lozenges or cough sweets are tasty but they don't really help.  If you have a sore throat or are losing your voice: STEAM, STEAM, STEAM and STEAM again!
You might be practising or eventually performing with backing tracks. In this case, a small speaker might be a wise purchase, but as a beginner, this doesn't have to be anything fancy.  
Initially, of course, you can just play tracks through your phone. You might not even need anything like this at the beginner stage, and it's great to sing acapella!
What Gear Can Help With Your Singing - Summary
Realistically as a beginner singer, you don't really need to spend a lot of money on anything. The best investment for you will be on time and practise and in finding the best teacher to suit your needs and who will help you to reach your goals. 
Another investment you can make will be listening to a wide range of singers in as many genres of music as possible, and to work out why you do or don't like a person's voice qualities, choices to emphasise certain words or phrases, the way they use dynamics or how they tell a story.  
Why does a certain type of music appeal to you above others? Can you put this into words to help you make informed decisions about the songs you want to learn? The more you can listen and understand what you like, the more you start to understand your own voice and the choices you have as a singer at any level.
Gain Access To A Myriad Of
Amusing Musical Things
Every Friday, I send out a unique email with all the four most awesome things I've reviewed or used that week.
The email really can be about anything; books, music and songs, tracks, gizmos, teaching tips – so long as it's pleasurable and interesting and great, it'll finish up on the email!
Receive easy access now by pressing below.
Read the next post in this series: