Despite being very similar, these two instruments have very different roles in the musical world. Hopefully this article will help you to decide between them. When you look at the main differences between the flute and recorder you'll find pros and cons for each.
Flutes and recorders in history
These instruments are often easily confused! This is because for a long time they were both called flutes. Throughout the 17th and 18th century the word flute was used to describe both, which must have been very confusing!
Eventually transverse or german flute was used to describe our modern day flute, whereas the recorder was sometimes called flute douce or an english flute. I'm definitely relieved that the names are standardised now so we have finally put an end to this confusion!
Both instruments have a long history as archeologists have found bone remains which they believe were used as wind instruments as long as 35,000 years ago. This makes them some of the oldest around!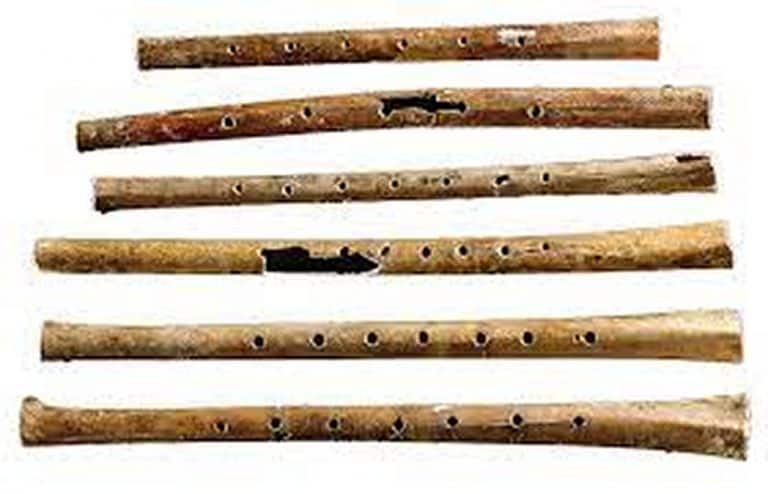 Flutes and recorders were both popular with composers in the medieval, renaissance and baroque times and have lots of fantastic music written for them from this time. Vivaldi wrote many concertos and J.S Bach also wrote for both.
The flute was used in orchestras throughout the classical and romantic period, although was not used as a solo instrument as much as in earlier times. There is a wide range of music by modern composers for flute, encouraged by the use of the new boehm system.
The recorder was neglected through the classical and romantic period by most composers and was removed from the standard woodwind section of the orchestra. However the revival of historical performance and modern composers writing for recorder again means that it is now popular again.


Uses of the flute and recorder in different types of music
The modern flute is a member of the woodwind family and plays in a standard modern symphony orchestra. It has been used from the baroque period right through to present day with our modern instrument. It is also used in wind bands and woodwind quintets.
There is a wealth of music for flute and piano, and it is also often paired with the harp too. You can also form choirs with just flutes. They usually include piccolos (covering the high pitches), alto and bass along with the standard C flute.
As well as classical music, flutes are often found in jazz and folk music. Recently they have also become popular in pop and rap music. American pop artist Lizzo is famous for playing the flute during her concerts.

Modern composers often use extended techniques when writing new music for the flute, making use of the boehm fingering system and open holes.
In medieval times, the recorder was often played alongside other popular instruments such as Sackbutts and Viols as well as ensembles of many recorders called Consorts.
Baroque composers used the recorder in large ensembles and also as a virtuoso soloist.
As a modern wind instrument, the recorder is often used by film composers to set the scene to an earlier time, particularly around the medieval times. It can also be used to show a rustic or old fashioned setting. Films with fantastic recorder writing include some of the later Harry Potter films.
Composers are also beginning to write solo music for the recorder again, as well as including it in various ensembles. Often the recorder is used in unusual ways including a range of extended techniques.
Flute v recorder: Similarities
Flute v recorder: Differences
Flute v recorder playability
If we want to get competitive then we should really have a pros and cons list for each….
Making a sound on the flute is just like blowing across a glass bottle. The trick is to keep your lips relaxed and in neutral shape. Then you blow through a tiny open hole between your lips. It can sometimes help to imagine you are saying the word 'pu' to find the right shape with your lips.
Try making a noise with just your head joint first. Cover the end of the head joint with one hand and put the flute in the middle of your lips resting just under your bottom lip. Make sure the hole on the lip plate is pointing up towards the ceiling.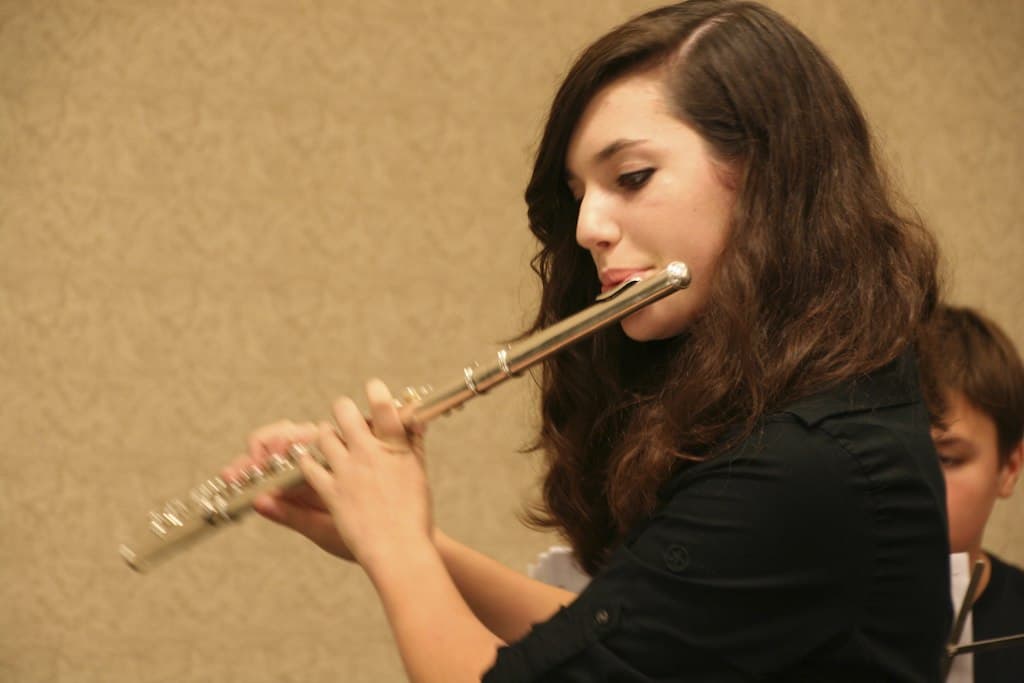 Once you can make a sound on the flute you can play different pitches by pushing and releasing the keys. As a general rule, the lower the note you want, the more keys you press down.
Breathing well is very important for flute players as you need a lot of air to make a good sound. The better your breathing is, the easier it is to play.
Like all wind instruments, recorder players use their breath to produce sound. The recorder requires a gentle blow to get a beautiful mellow note. If you blow too hard then you will get a harsh sound or it might squeak! Think about blowing your air in a constant, even stream over a long note. Try without any fingers over the holes first.
You can change notes on the recorder by covering different finger holes. As a general rule, the more holes you cover, the lower the pitch will be.
It is important to remember that your left hand should be at the top of the recorder, this can feel unnatural for most (right handed) people. Don't worry, you soon get used to it!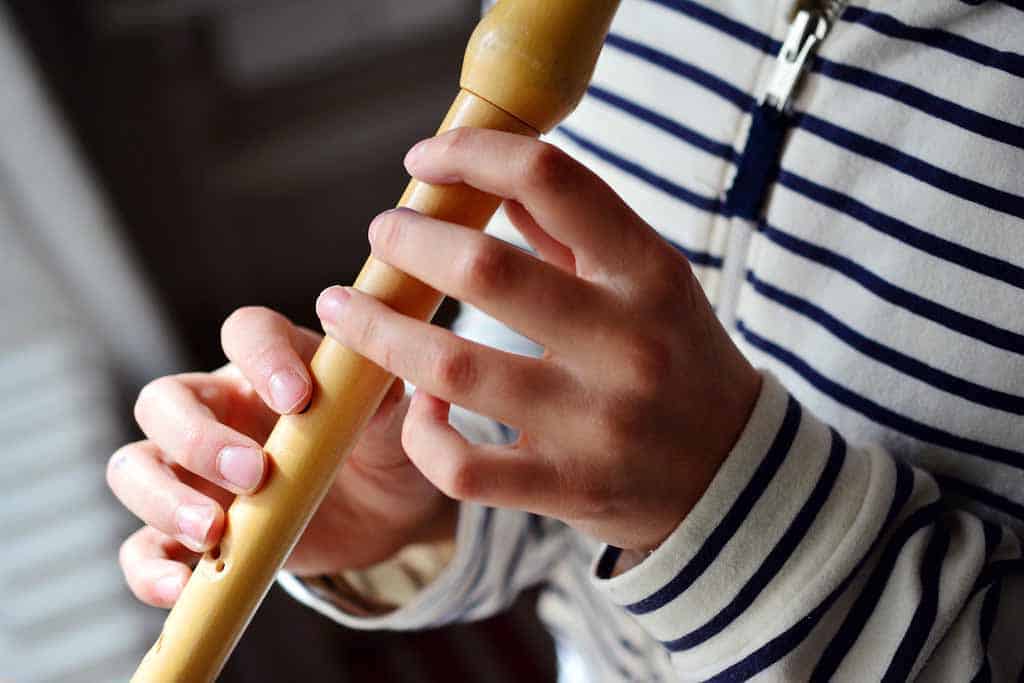 Which is easier to learn: flute or recorder?
The flute is definitely more difficult to start with as it can take a few lessons to make any sound at all. It can also be harder to hold as you have to hold it out to the side instead of in front of you.
However I do think it can be more difficult to make a beautiful, clear note on the recorder as it can be easy to squeak when you are a beginner.
So both instruments have their challenges….
Which is best for a child to learn?
The recorder is the best instrument for young children up to around 7 years old. You can play a note on the recorder straight away, so they won't be discouraged which should help with persuading them to practice.
You can buy very affordable recorders for beginners made out of plastic or resin, but wood is best. The recorder I recommend is this one.
Recorders are often used to introduce small children to playing an instrument. I started learning recorder when I was 6 and it was a great introduction to reading music and improving finger coordination. Often children will be given the chance to play recorder in group lessons at school.
However if you are looking for an instrument for an older child to begin then the flute is also a great option! It is easier to find ensembles for young players to be involved with a standard orchestral instrument. With the recorder it can sometimes be difficult to find a good range of ensembles to play in.
Flutes also have a wider range of repertoire to choose from, particularly more pop and jazz tunes which can be a big selling point for young players.
If you're looking for a flute, I'd recommend this Yamaha: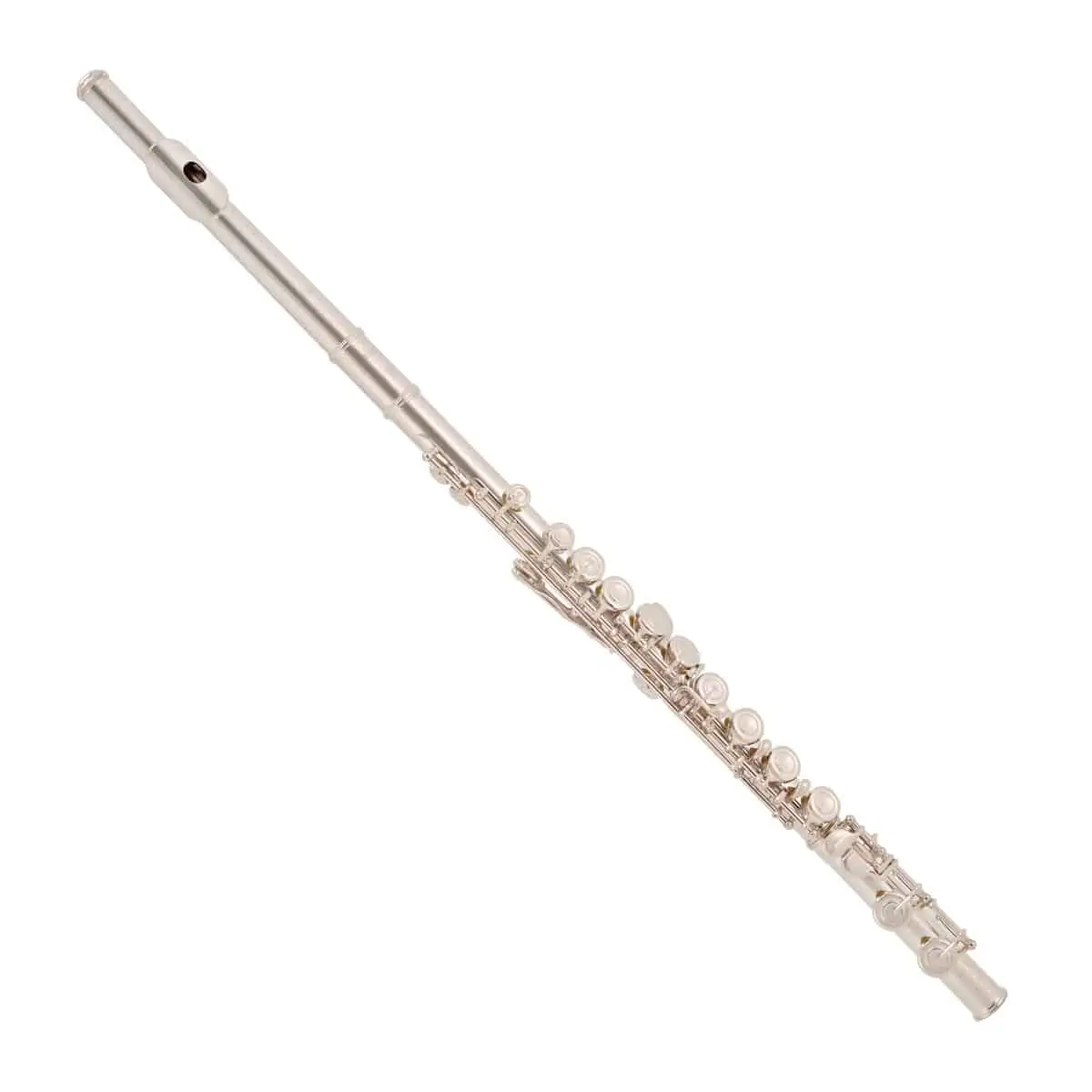 Best for beginners
DESIGNED FOR: Beginners Who Want A Quality Instrument
COMES WITH: Text
FEATURES: Silver plated throughout which offers great sound quality for a beginner instrument
When you check the price above, you'll see there are loads of great places to buy this item.  Our personal favorite is Gear4music.
It is the largest music retailer in the UK and fast becoming the most respected online music shop in the US too.  Their customer service is excellent, they have competitive prices, really fast shipping, and usually have the longest guarantee.
Most professional musicians use Gear4music, so there is no reason why you shouldn't too!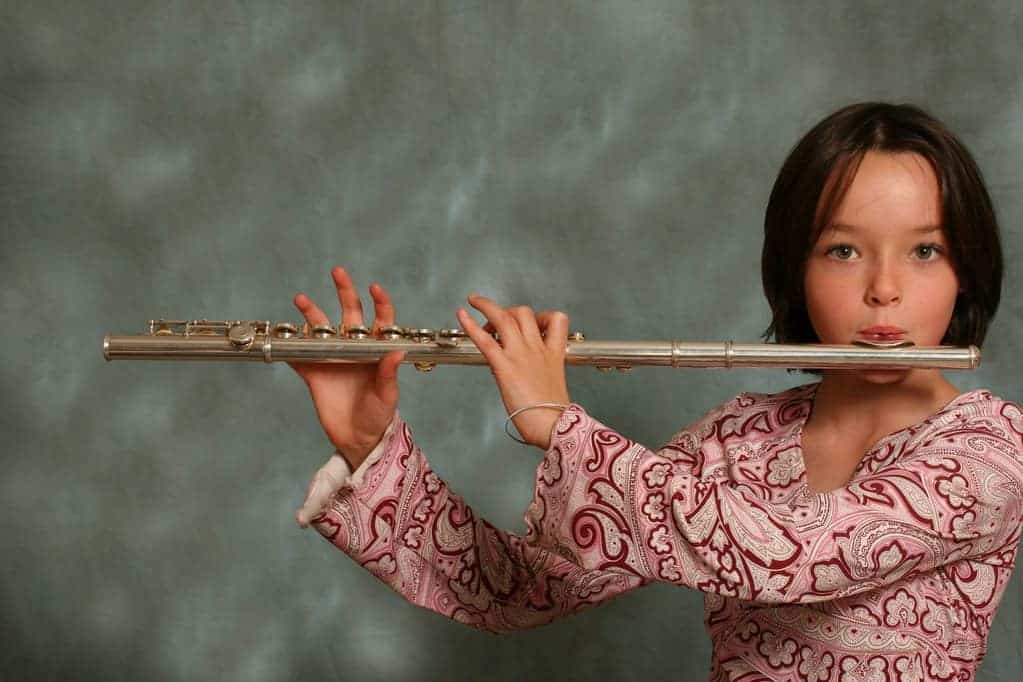 Flute vs Recorder


Summary
We've compared two very common instruments. Both are very popular with beginners and often learnt by children due to their small size.
Recorders have a bit of a reputation problem as some people think of them as only instruments for children but this is definitely not true. They have so much wonderful music written for them!
Flutes are very popular because they can be played in many different styles of music, including jazz and folk, and Lizzo has made them even more popular recently!
Although both instruments are fantastic options, my personal favourite is the flute as you have a much wider range of ensembles and music to play with. In my opinion playing with others is what music is all about so this has to be the winner for me. Not that I'm biased or anything as a flute player myself…