Welcome to my open, honest and unbiased review of LALAL.AI (www.lalal.ai) – the new kid on the block for splitting audio stems.
Is it a complicated tool?
Do you need a DAW to be able to use it?
Is it worth the money?
Well, read on to find out the answers to these questions, with some interesting audio examples…
LALAL.AI is an AI-powered music separation and vocal remover service that can extract different stems from songs with high accuracy and speed.
It enables users to remove vocals, drums, bass, piano, electric guitar, acoustic guitar, and synthesizer tracks from a song, claiming to be able to do so without compromising quality.
It's an online tool that uses machine learning to automate the whole process, and users can upload their song files to the platform via their website or their downloadable app.
Who and what is lalal.ai useful for?
LALAL.AI is a helpful tool for musicians, producers, and audio engineers who need to extract individual tracks from a mixed song for various purposes, such as remixing, sampling, or mastering.
It also benefits karaoke enthusiasts who want to remove vocals from a song to sing along with the instrumental track.
I've also read that some content creators use it to add background music to their videos or podcasts without violating copyright laws. However, I'm not 100% sure if simply removing an element from the original track stops the violation of copyright laws, so I'd caution against that!
One of the amazing things about LALAL.AI is the simplicity of the tool.  It's so, so, so super easy that anyone from amateur to professional can use it.
Simply follow these steps:
Go to the LALAL.AI website here and sign up. Don't worry, this part is free – and the tool gives you 10 mins and 50mb for listening (without downloading). 
Download the Desktop app from the Tools & API section, or to use the browser version, click on Products and Stem Splitter.
Upload the song that you want to extract individual tracks from.
If you're using the desktop app, it'll look like this: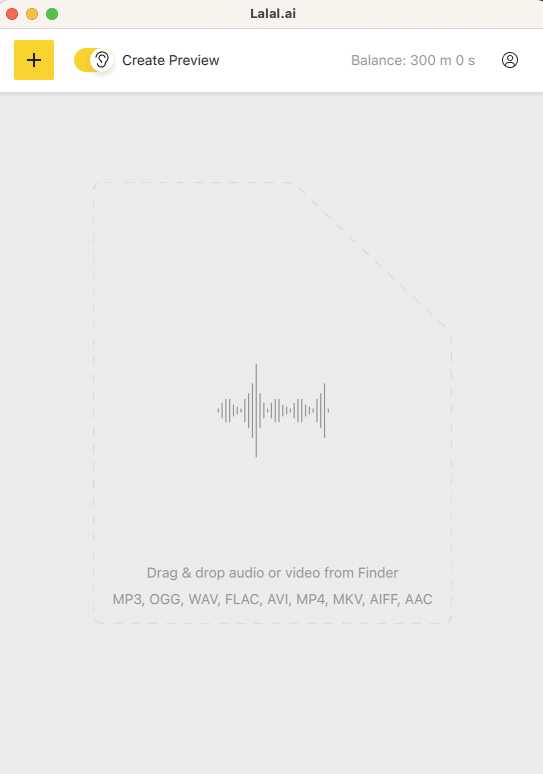 Either drag & drop the file, or hit the + button.
Select the tracks you want to extract, such as vocals, drums, bass, piano, electric guitar, acoustic guitar, or synthesizer.
Again, if you're using the desktop app (which I'd recommend as it feels more 'professional' than the browser app), it'll look like this: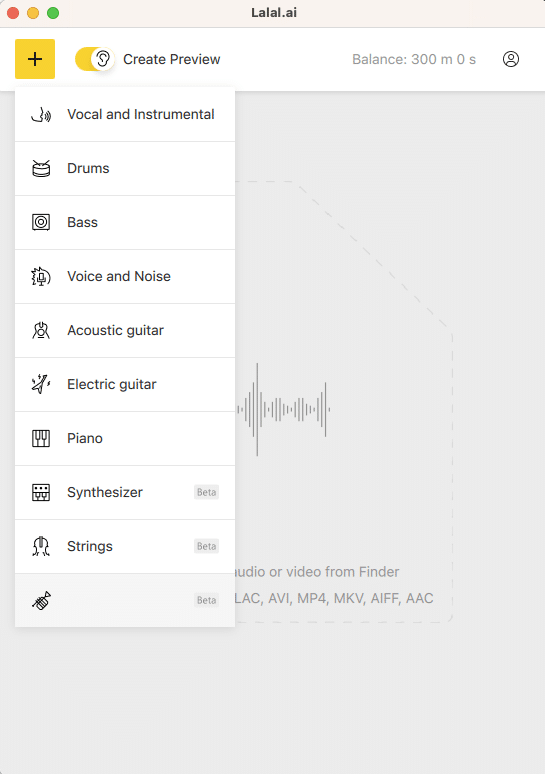 You can see at the time of our reviewing, the Synth, Strings and bottom option (which is Wind) is still in Beta.
Wait!  It only takes a few seconds while the AI processes the song.  It's not even enough time to make a cup of tea! 
First it'll upload…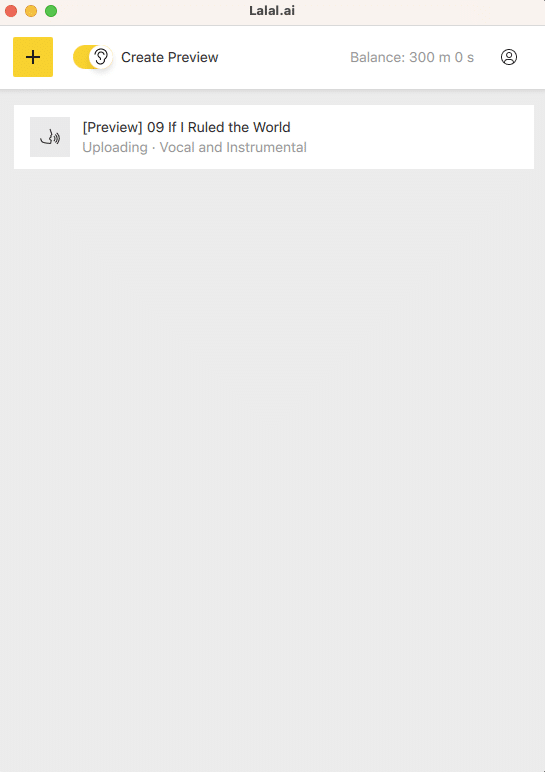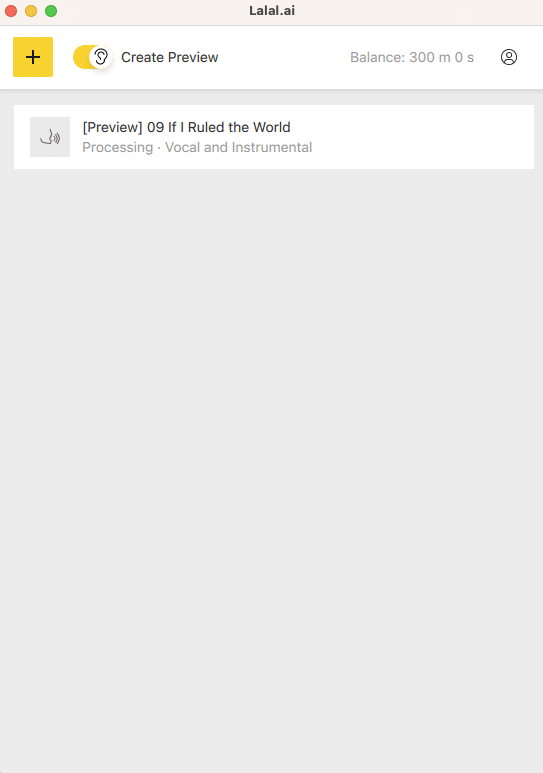 When it's completed, you'll get a notification and two buttons to click: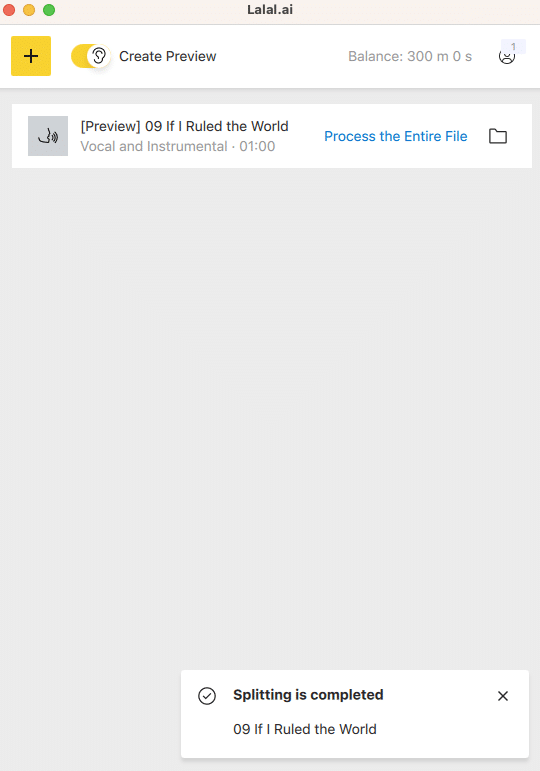 Process the entire file – you can see I have 300 minutes in my balance. If I process the entire file, it'll dock my minutes from my balance.
The folder icon – this is really what you want to hit first.  It'll open up the folder on your computer that has downloaded two files.

The reason you want to press the folder icon first and NOT the 'process entire file', is that you can listen to the first minute of the tracks that have been stemmed out.  This doesn't cost you any credits from your balance, and you can do this as many times as you want to.
It's essentially a way of you testing if LALAL.AI has done a good enough job for you to use up your credit balance.
If, and only if you are happy with the results, should you press 'Process the Entire File'. When you do this, it'll do exactly as it says on the tin, do the whole file (and not just the first minute).  This is then taken from your credit balance.
There is no step six! There are no other options, or preferences for you to deal with.  It really is as simple as that!

What stems can be split? And what are the results like?
To test out LALAL.AI, I decided to use tracks I have not only mixed, but also orchestrated, arranged and conducted.  They are all challenging tracks – an orchestra is more difficult to handle than a band, especially when all the elements on the track were recorded at the same time, in the same space.
If anything is going to put the software to the test, it's these tracks…
I'm not sure when you'd want to use this, but assuming you're unhappy with the bass playing, this should work well.
This is the 'least special' element for me about LALAL.AI – there are many tools to remove background noise and pops from pure vocals.  
I suspect like the wind above, this will do an OK job – but not perfect.  It could be useful for toning down the guitars.
Same as the acoustic guitar above.
I don't use synths much in my music, so I haven't tested this. However, I guess it could come in very useful if you're unhappy with your synth programming.  Although I'd be interested to know how it identifies with things like synth strings and brass, for example.
Does Lalal.ai actually work?
Well, as you can hear above, yes, LALAL.AI absolutely does work.  
In fact, it's amazingly clever. I  really have no idea how it does what it does.  Removing the vocals is one thing, but making the backing track continue like a vocal was never there… well, that's really clever!
Does it work WELL ENOUGH though to use on the professional circuit…?
My Final Thoughts - Would I Recommend It?
Like any tool, how you use it makes the difference between it being completely useless and really useful.
Something like this doesn't quite get 100% of the way.  If you remove vocals, you can still hear artefacts and strange things.  
If you remove the wind, it cannot tell what is wind and what is brass.
If you remove and isolate the piano, there are some strange phasing issues.
However, that doesn't mean this tool isn't worth it, because I think it is.  If for example, you're removing the wind or brass, I assume it's because you want to replace it with something else.  With some clever mixing, it's perfectly possible to end up with a track that sounds like it never, ever had wind or brass on it.
Likewise, if you want to remove the vocals to create a backing track, you'll need a little skill editing what LALAL.AI has spurted out.  You may need to remove some strange artefacts or phasing or overdub something else onto the track to make it 'come alive again' – but it is perfectly possible to end up with a backing track that sounds like it never had vocals on it.
So would I recommend it?  Absolutely.  It's great fun to play around with, it's the easiest tool I've ever used, and whats more, it's very cheap compared with some super expensive plugins.  So visit LALAL.AI today, and have a free play around!