It's a complicated question, but what is the best music notation software? Well, when it comes to music notation software there are a lot of choices on the market. Many of these options also cater to different needs, ability levels or even different instruments. So whether you want to write sheet music, want something that's easy to use or you want to create sheet music for a professional band to play, you'll find some great options listed below.
Take a look through our reviews to find out which notation software is the perfect match for you.
MuseScore
Best Free Option
PURCHASE: Totally Free

DESIGNED FOR: Students
The TedScore™ is our unique system of scoring products. The professional musician who wrote this article combine many things, from the product build, manufacturer's reputation through to feedback from other users, to create our famous TedScore™.
The TedScore™: 
7.5
Musescore is a free music notation software that allows you to write 'professional quality' scores for instruments including guitar, piano, bass, drums, keyboard, singers, orchestral instruments and much more.
Aside from being actually free (rather than offering a free trial with limited features) notable good features include the option to link a MIDI keyboard which you can use to input notes.
For many younger students this is a great way to write their music out because they will often learn to play before they can read. Having Musescore convert their playing into notation also helps them to learn how to read too.
If you don't have a MIDI keyboard then you can also use the virtual piano that is built into Musescore as a means of note entry.
Musescore also comes with a list of handy key-command shortcuts which help you add notes, articulations and detail to your score quickly.  A huge pro of Musescore's key command system when compared to Sibelius is that it can be used completely with the standard keyboard that comes with a laptop, whereas Sibelius requires an additional alphanumeric keypad.
Many of these are built to imitate the note entry system that has been part of the market-leading notation software, Sibelius, for years (which we'll discuss later) and once you get used to these key commands you may well find that you ditch the virtual keyboard all together in favour of this much quicker option.
Whilst Musescore can import MIDI from other popular recording softwares like Logic, Cubase or Ableton, it struggles to make these MIDI files sound realistic because the samples that Musescore uses to play your music back aren't great.  in fact, they're pretty terrible.
But remember, you usually get what you pay for – and as Musescore is free, you can't complain too much! Musescore is a great option for students or anyone on a budget; but as we'll see later on, it does lack some of the hugely useful, time saving and powerful features that the paid options provide.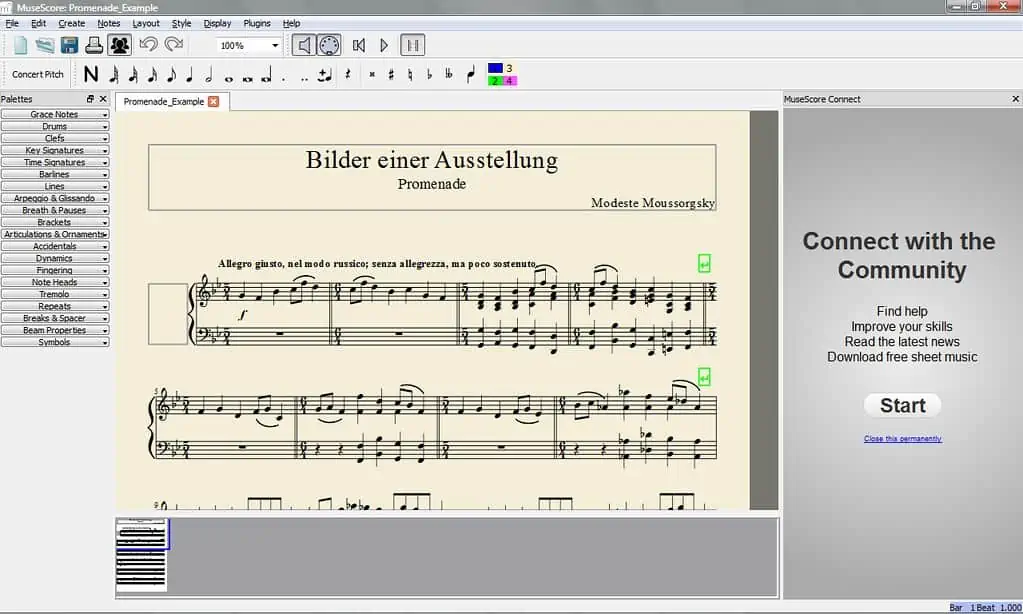 NoteFlight
Software We Don't Recommend
PURCHASE: Freemium

DESIGNED FOR: Beginners
Noteflight could be thought of as a "semi-free" notation software. Yes, there is a free option but it only offers limited features which, when compared to Musescore, is frustrating.
With the free option you can still do a lot. You can print entire scores, share your scores publicly and import MIDI.
Don't get me wrong, these are great and very useful features but when you see that the paid option includes features like separating a full score into individual parts (vitally important for band rehearsals!), transposing parts and being able to share your compositions and scores both publicly and privately then you can see why it could be hard to be totally satisfied with the free option.
Like Musescore, Noteflight has its own system of shortcuts and key commands which make it very easy to use once you've taken the time to learn them.
However, the biggest issue with Noteflight for free users is that you can only use the online version if you're a Mac user. That means no internet connection and you can't work on your scores.
Granted a quick Google search does show plenty of websites offering a Noteflight app but these websites don't appear to be affiliated officially with Noteflight so it would be best to avoid them and the app.
There are also a few issues when using it online too.
It's a very demanding program to use in an internet browser and the performance does lag at times.
Whilst making a few test pieces I noticed that some of the articulations I wrote in aren't always played by Noteflight when I listen back to my pieces.
And the interface did seem complex when compared to Musescore or Sibelius.
Whilst Noteflight is a great piece of software and well worth your attention, I feel it does fall through the cracks a little.
If you want a feature loaded program that's free, then it's probably better to use Musescore without any restrictions. And if you want a powerful notation software and you have money to spend, then some of the options below are a far better bet.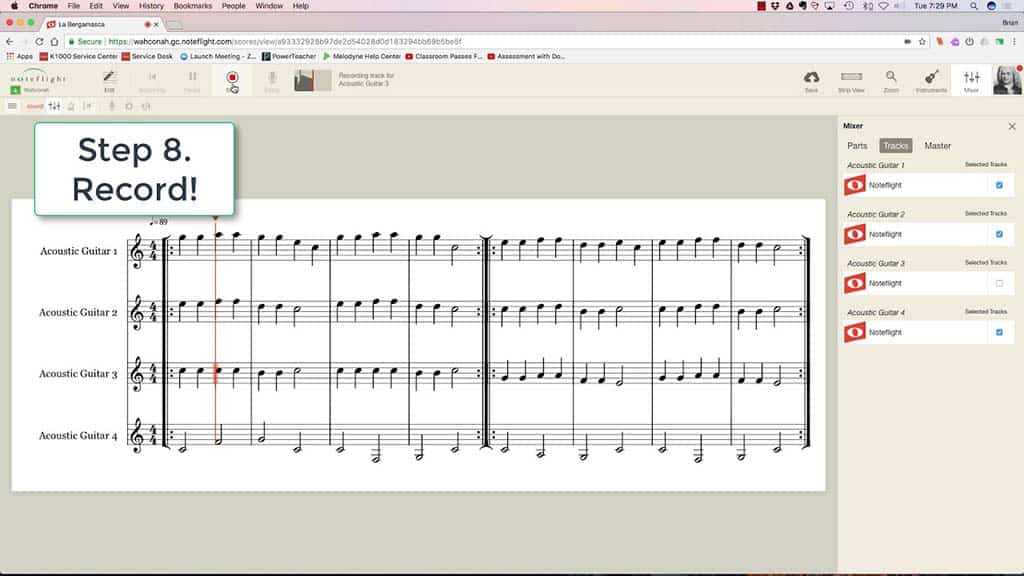 Sibelius
The Best Notation Software. Period.
PURCHASE: One-off or subscription

DESIGNED FOR: Everyone from beginners through to professionals
The TedScore™ is our unique system of scoring products. The professional musician who wrote this article combine many things, from the product build, manufacturer's reputation through to feedback from other users, to create our famous TedScore™.
The TedScore™: 
9.6
 Sibelius has been the industry standard music writing software for decades and there's one good reason for that.
It's outstanding.
Whether you want to create a comprehensive full score, a quick guitar chart with notation and TAB or even a lead sheet for your next jazz gig, Sibelius is likely to be the best tool for the job.
Like the other options we've reviewed so far, Sibelius comes with a huge set of ready made score templates which you can write into (a huge time saver) but the real value of Sibelius lies in the many small features that have been added to make the program easier to work in.
For example, you can view and edit your score in portrait mode or in panoramic mode.
Panoramic mode turns your score into one endless long line which saves you having to constantly scroll from the bottom of one page to the next as you would in portrait mode.
Sibelius also has special features that allow you to easily add lyrics, chord symbols, chord diagrams for guitarists, dynamics and playing instructions in seconds through the use of its incredibly comprehensive key command system.
One of the drawbacks of Sibelius is that the key commands used to enter notes still need you to have an alphanumeric keypad to use it to its full potential, but you can easily find apps online for both Android and IOS which will turn your phone into one.
All scores in Sibelius can be transposed in seconds, parts can be separated into individual scores in an instant, and for teachers who want to export just a few bars to use in their teaching material there's the option to do that too.
Because Sibelius has been around for such a long time the developers have had the time to refine and perfect it to the level that other new softwares simply haven't yet reached. And nowhere is that more evident than the pricing structure.
In years gone by Sibelius used to offer a student version at around $100/£80 and a full version which was several hundred.
Sadly this priced many students out of owning a copy because it was simply too expensive.
However, Avid (the developers of Sibelius) have recently switched to a subscription model which allows you to pay monthly, quarterly or yearly and you can own the full version of Sibelius for around $10/£10 a month.  Or you can get a special offer at the moment on a 1-year licence here.
You receive all the latest updates as they come out, you get access to the vibrant online community of users and composers, and you can add extra plugins to expand on Sibelius' already endless capabilities.
Whilst it's not free, it's worth strongly considering if you're a keen student and have aspirations of becoming a professional, because if you learn Sibelius now then you'll know how to use a tool that will help you get work in the future.
And when you consider that Noteflight comes to roughly $9/£7 a month, you really see the value in having the industry leading software for only a little bit more.
When it comes to scoring and music writing, there's nothing better than Sibelius.
Notion 6
Best for Playback
PURCHASE: One-off

DESIGNED FOR: Students and composers
The TedScore™ is our unique system of scoring products. The professional musician who wrote this article combine many things, from the product build, manufacturer's reputation through to feedback from other users, to create our famous TedScore™.
The TedScore™: 
8.8
Notion 6 by PreSonus provides a very unique music notation software choice for many students and composers.
As was mentioned earlier, a large problem that faces many composers and music students is that the sounds notation software packages use to playback your music often sound pretty terrible. Notion 6 also has its own sample library range which can be used too.
This does make a huge difference. All of a sudden your scores will sound much more realistic and your music will frankly sound a lot better.
And when it comes to easily creating a score, Notion 6 has some great features going for it.
Notion 6 can be used on mac, PC, phone or tablet so you can write music literally anywhere.
There's also a handwriting recognition software that enables you to write using a mouse of bluetooth pen. No more learning shortcuts if you don't want to.
Notion 6 also comes with access to the Notion 6 score library which is an excellent educational resource for young composers and students to study the work of the greats.
It's very much the all singing all dancing music notation software but beware.
Because it is such a heavyweight program to run it can slow your computer down a lot. Many users have reported this issue in online forums. So whilst it is incredibly easy to use, it seems the best sheet music can come at the price of your computer speed.
Dorico
Best for Cubase Users
PURCHASE: One-off

DESIGNED FOR: People who already use Cubase
Dorico is a notation software made by Steinberg, who many know as the developers of recording software Cubase.
Other recording software programs have had some sort of music writing software included for some time. Logic Pro has Logic Score and Pro Tools has Sibelius.
Dorico is Steinberg's answer to the above, and is fantastic software if you already use Cubase.
It has many very powerful editing and formatting features, a very intuitive set of key commands which are quick to learn, and it seamlessly integrates itself into your Cubase workflow.
As with all good music notation software you can create sheet music using your MIDI keyboard too.
Playback sounds realistic, as you are able to use the same samples that you would use in Cubase, and it's very easy to create professional looking sheet music using the templates.
If you already use Cubase then you will find Dorico very easy to use. Especially if you write music for films because you can switch between your Cubase session and score easily whilst also keeping the film on screen.
Whilst Dorico on its own can't do anything that Sibelius can't, it is still a very robust program to compose music or to create sheet music with.
Finale
Best for work on Broadway
PURCHASE: One-off Fee

DESIGNED FOR: Professionals in USA
Finale offers a wide range of music notation software applications, which combine together to create a software ecosystem that has one goal; to help you write the best music you can.
There's Finale which is notation software, Finale Printmusic which helps you print professional looking scores, Finale notepad which is free software for Windows only, and also Finale's inbuilt music sharing platform.
As a music notation software Finale (currently on version 26 at the time of writing) has been praised by many as the industry standard for many years. There's good reason to do so too.
Finale is incredibly powerful and does create scores which are stunning, which is why it has gained praise from students all the way up to professional composers like Justin Hurwitz, who wrote the musical "La La Land".  In fact, in the USA and particularly on Broadway, it's the standard notation software.
Despite Finale's wonderful ability to notate music, it is often criticized for being too complex.
And, at the time of writing, there's no subscription option which would make the price tag of $600 more palatable to young students or amateurs.
It is a fantastic tool but for such a high price you really need to ask yourself if it's worth the investment.
Which Software Should You Buy?


Summary
Ultimately, you should consider what you will use this notation software for. If you write music just for your own enjoyment that never gets performed, then one of the free options would be perfect – and we would recommend MusiScore. 
However, if you are a keen music student or you write music that will be recorded or performed, then one of the professional standards such as Sibelius, Dorico or Finale is a worthwhile investment.  And the software that is stable, easy to use, and is the most popular worldwide is Sibelius; and that would be our top choice.