Learning to play a wind instrument is fun and rewarding, but as a beginner it can be tricky to decide which woodwind instrument is right for you, and which is the easiest wind instrument to learn.
Choosing which wind instrument to play is sort of like trying to decide which sport to play. Each one has its unique challenges, depending on your age, size and level of dexterity. 
Each woodwind instrument has its own special characteristics; the clarinet and saxophone both use a single reed, and the oboe and bassoon are double reed instruments. The recorder is played vertically, while the flute is held horizontally. 
Some wind instruments specialize in classical music while other wind instruments crossover into jazz and pop genres. 
So What Is The Easiest Wind Instrument To Learn?
Some beginner woodwind instruments are easier to learn than others, depending on your age, size and level of dexterity. Let's have a look at how those factors can make things easier or more challenging to learn specific wind instruments.
Depending on the size of your hands, it may be tricky to reach and cover the keys on certain wind instruments. Someone with small hands might have trouble covering the tone holes on a clarinet, and not completely sealing the holes can prevent notes from speaking and/or cause some unpleasant noises to occur! The flute and saxophone both have covered tone holes, which are easier to cover for young players.
Most beginner woodwind students begin playing around age 10-12, but due to the technical challenges of these instruments, it's important for students to at least have their front adult teeth. This is particularly important with instruments like clarinet and saxophone because the top teeth rest on the mouthpiece.
Depending on the level of dexterity of the student, some woodwind instruments may be slightly more challenging than others. Instruments like the flute, clarinet and saxophone are all standard beginner woodwind instruments, whilst the oboe and bassoon are more advanced instruments.
The recorder is the easiest wind instrument to learn, and also the most inexpensive instrument to play. Due to its size, lightness and ease of blowing, it is a particularly good choice for students under the age of 10.
The fingering system on the recorder is similar to the clarinet. It's common for young players to begin on the recorder and switch to clarinet or another wind instrument later on.
There are all sorts of different sizes of recorders, but the most common ones are soprano, alto, tenor and bass. Most students begin on the soprano recorder.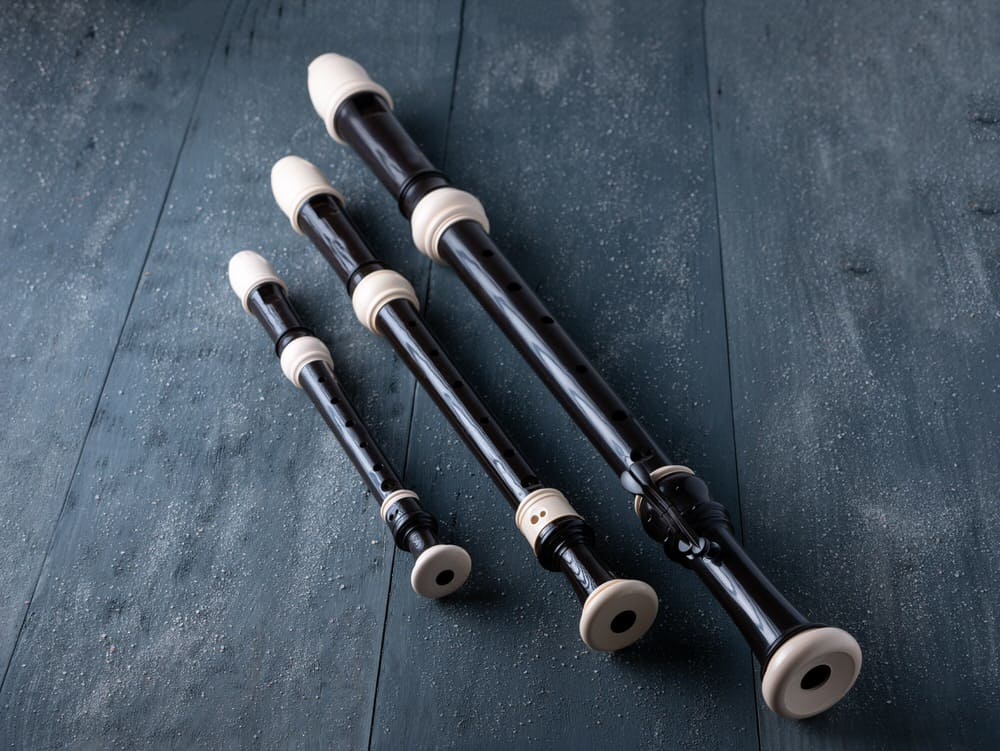 Recorders are made from either plastic or wood. Plastic recorders are good instruments for young beginners because they are inexpensive and durable. Wooden recorders produce a better tone quality than plastic ones, but they are more expensive and harder to maintain.
Depending on the brand and model, beginner level recorders cost from £2 to £30. It may be tempting to buy the cheapest one, but sound quality and intonation are much improved on the slightly more expensive models. Investing in a good quality beginner instrument may also save you money in the long run, since you won't need to upgrade right away.  For this reason, I would suggest buying the Hohner Wooden Descant Recorder it's not expensive, but it's well made.
Overall, the recorder is a good starting instrument for a young wind player, because they can learn to read music, count rhythms and work on breathing.
The flute is a common beginner wind instrument, although it requires more breath control than the recorder. It is held horizontally and played by blowing across a hole on the headjoint, or the top section of the instrument.
It may seem like a big investment, but starting out on a good quality beginner flute can actually save you time and money in the long run. Some beginner flutes are poor quality and so cheaply made that the keys easily bend out of shape.  For that reason, we recommend the Rosedale Intermediate Flute pictured below; it's the perfect balance of affordability and quality.
The piccolo is half the size of the flute but it shares the same fingering system. Because of its size, its range is an octave higher than the flute.
Most advanced flutists double on the piccolo (which means to play both instruments at different times in the same performance), but the piccolo is more of a specialty instrument than a beginner instrument. It requires lots of breath control and intonation can be tricky. Again, we recommend the Rosedale brand as seen below; it's a great Piccolo for a very good price.
The saxophone is a common beginner wind instrument. It is played by blowing into a mouthpiece with a single reed attached to it.
The saxophone's fingering system is similar to the clarinet but instead of covering the holes with their fingers, saxophonists press down padded keys that cover the holes for them. This makes the saxophone slightly easier to play than the clarinet, but the saxophone has its own unique challenges.
Most students begin on the alto saxophone, but as students progress they may double on the tenor, baritone or soprano saxophone. The tenor and baritone are larger, heavier and play lower than the alto. The soprano is smaller and plays higher than the alto. All of these instruments require different sized mouthpieces and reeds.
We recommend this Alto Saxophone by Gear4music – although it's one of the cheapest on the market, it punches above its weight in terms of quality and sound.
Students Be Careful
The heavy weight of the saxophone can be a challenge for young players. Wearing a neck strap can make it easier to hold up the instrument, as long as it is adjusted properly.
If you decide you'd like to give the Oboe a try – then pick a decent instrument to start with, like the one pictured below, the Rosedale Professional Oboe with an Ebony Body.  Although there are cheaper instruments out there, they just don't sound very nice!
For all of its challenges, the oboe gets some of the most beautiful solos in the orchestral repertoire, so if you're a hard working student, the oboe just might be the instrument for you!
The clarinet is a common beginner wind instrument. Similar to the saxophone, it is played by forming an embouchure and blowing into a mouthpiece with a single reed attached.
The fingering system on the clarinet is similar to the recorder, in that your fingers must cover the holes completely in order for the notes to speak. This can be a challenge for students with small hands, so the flute or saxophone could be more suitable for some students since they both have covered tone holes.
Clarinet reeds are an added expense to keep in mind when deciding which wind instrument to learn. We would suggest you take a look at these Rico Reeds – I always advise my students to use these.
A versatile instrument, the clarinet is featured prominently in both classical and jazz music.
Different Type Of Clarinets
The most common beginner clarinet is the Bb clarinet, but as students progress they may double on the A, Eb or Bass clarinet.
The A clarinet looks almost exactly like the Bb clarinet but it is tuned one half step lower and is used more in orchestral and classical music than in band.
The Eb clarinet is the smallest and highest pitched instrument in the clarinet family, and it is typically played by more advanced students.
The bass clarinet is much bigger than the Bb clarinet and sounds an octave lower. Some clarinet students end up moving to bass clarinet, but it can be challenging due to its size and it requires a slightly different embouchure.
OUR CLARINET RECOMMENDATIONS:
The bassoon, like the oboe, is a double reed instrument. It is also considered to be an advanced instrument because of the challenges of forming a double reed embouchure.
Unlike the oboe, the bassoon is a large and heavy instrument, and players use a seat strap to help support the instrument. Some bassoons have a larger hand span than others, so it is best to try an instrument before buying it.
Young students may find that a mini bassoon or a tenoroon would be more suitable for them. They're much smaller to hold and carry, and they allow children to start younger.
Bassoons are expensive.  And the model on the right (the Rosedale BSN-500) is about as 'affordable' as you can get without buying a terrible instrument! Bassoon reeds are also an expense to keep in mind.
Easiest wind instrument to learn


Summary
Of all the instruments in the woodwind family, the recorder is by far the easiest wind instrument to learn. It is also the least expensive, and a good introduction to wind playing.
That being said, some people find certain instruments come more naturally to them than others, depending on their hand size, age, and level of dexterity.
If you want to play an instrument, the best thing to do is try it out! Comparing woodwind instruments is sort of like comparing apples to oranges. What is best for one person is not necessarily best for you, so follow your heart and choose the instrument that speaks to you.

Did you find this article helpful? If so, feel free to comment or share it with your friends!