For a fact, learning saxophone music takes a long time of sacrifice, regular practice and commitment to developing your skills and knowledge of this wonderful instrument. But then, it will be more important to have a checklist of tips that guides beginners during their earlier stages and processes of improving their skills.
Well, we have listed some of the best tips to help you learn these skills and practices more easily, productively, enjoyable and efficient. If you are a beginner, apply these routine practices when learning to play your saxophone and you will realize a change in your skill. The article below is meant for beginners. It is like a beginner saxophone guide to aid you as you begin learning the sax trade.
Are you eyeing a project that will ensure 100% growth in your playing? Make a solo transcription of a popularly known sax player.
Do you understand the meaning of transcribing? Trans means to move, while scribe means to write down. Therefore, if you write down the names of sax players' notes, you are changing them from a form that can be listened to on a readable page.
You can begin with a tune familiar to you; find out if you can understand the notes and try writing them down. You are required to listen attentively to every note because you, as the learner will benefit hugely.
As a beginner, starting with a straightforward tune is recommended, and when you have gained some experience in transcribing, you can learn more difficult tasks.
Research shows that learning with backing tracks makes everything more interesting and musical than playing exercises and scales alone.
It is also more important to practice without depending on a backing track; it is much more important when working on an unfamiliar track to avoid distractions and increase your work's accuracy.
But it will also help if you try with a backup track and find which one works for you best. If you have yet to start using backing tracks, you should avoid them until you get enough experience.
Whenever you want to use a backing track, download a backing track app on your tablet, phone or computer at an affordable price on the play store.
This way, you will certainly change your perception of how to practice.
Adding a backing track to a key you are working on will make everything more relevant, and the context of your work will motivate you to play it for longer because it will become even more interesting.
Using backtracks will also expose you to working with other bands or musicians because you have to play, set a tempo and stick to it.
It would help if you had a decent sling that has a strap that is long enough so that you can be more comfortable while you are practicing.
A cheap sling tends to be uncomfortable, thin and doesn't have the foam padding that the expensive ones have.
If you are in the process of practicing and the sling makes you uncomfortable, this might put you off and discourage you.  Our recommendation is the BG Strap.  it's super comfortable.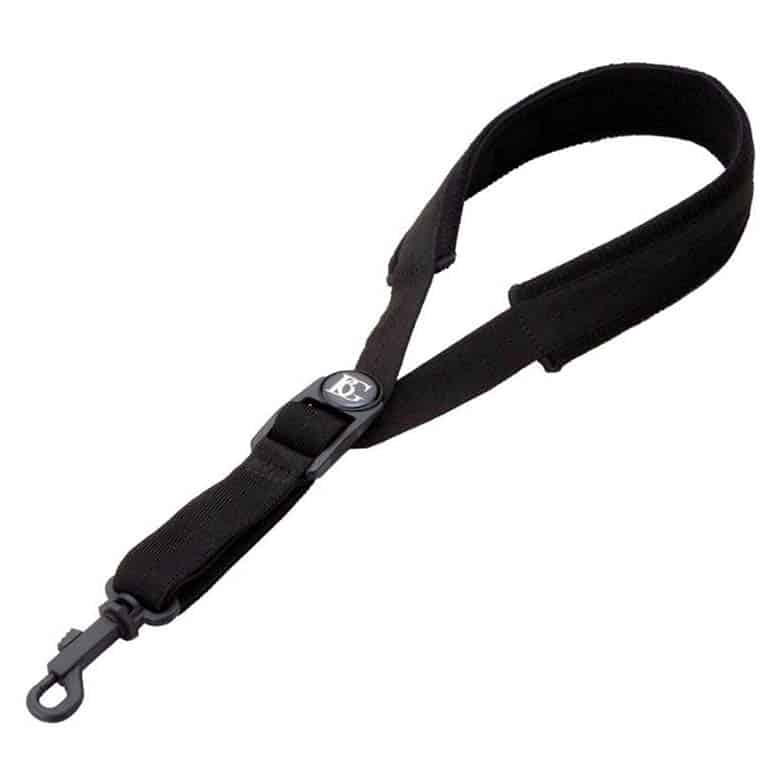 Best For Beginners and Professionals Alike
DESIGNED FOR: Alto and Tenor Saxophones
COMES WITH: Cotton Neck Pad
FEATURES: Suitable for various models of saxophone
When you check the price above, you'll see there are loads of great places to buy this item.  Our personal favorite is Gear4music.
It is the largest music retailer in the UK and fast becoming the most respected online music shop in the US too.  Their customer service is excellent, they have competitive prices, really fast shipping, and usually have the longest guarantee.
Most professional musicians use Gear4music, so there is no reason why you shouldn't too!
A vast amount of research proves that a little practice of a task or skill you aim to perfect each day yields better results than practicing for long hours without doing it regularly.
Perfecting the skill of saxophone playing requires regular practice.
It will help to put playing regularly into your schedule to improve.
It requires you to have the discipline not to skip practicing.
The reason we are suggesting shorter practice sessions is so that they don't overwhelm you, and that also makes it easier for you to remember.
Playing the sax daily for short periods will make it easier for you to remember and become a better player.
The best advice to saxophone for beginners is that repetition is the key to becoming a better player; it doesn't matter if you are not good at it at first; you will notice that with time you begin getting better; all you have to do is to stick to the routine.
Using a low-quality sax, you can boost sound quality by using a professional-grade mouthpiece.
The better the quality of the mouthpiece, the better the sound you get.
The quality and price of the saxophone you are using do not matter when you get a quality-grade mouthpiece.
So if you are on a budget and cannot afford to purchase a quality sax, there is no need to worry; you can get that cheap sax and purchase a quality mouthpiece that fixes the problem instantly.
The same applies to the reeds.  Oh, and by the way, we recommend this Yamaha mouthpiece…
Yamaha 4C
Saxophone Mouthpiece
Available for both alto and tenor sax
Designed for: beginners and students

Material: plastic
Juno by Vandoren
Saxophone Reeds
Good quality reeds
Designed for: beginners and students

Material: cane
Always playing in your house may become tiresome and boring.
A new atmosphere creates inspiration and motivates you to continue playing.
You may go to the beach, near a river, mountains and other natural settings.
Even playing in a window set up overlooking great sceneries may inspire you, which, in the long run, might create a big difference.
Playing in a natural setup may boost your morale and creativity as well as you are playing.
But you are not limited to playing in a quiet, serene natural setting alone; you can even go to a motor crossway or a busy highway; all of this depends on you and your preference.
All you have to do is choose a site that best suits your needs.
A good example is the famous sax player Sonny Rollins who practiced and played live at the Brooklyn bridge, he practiced many hours a day for three years, and later on, he recorded his album "The Bridge." it can be noted down as one of the many saxophone music benefits.
It lets you enjoy the beauty of life, nature and surrounding natural settings.
If you lack the morale to keep practicing, the best advice we can give you is to get yourself a sax stand.
After doing this, keep your sax out on display where you can always see it in your house, and keep it looking beautiful and aesthetically pleasing.
Doing this will make it easier for you to pick it up and practice at any given time.
Here we apply the principle of out of sight, out of mind.
When the sax is readily available, it will be easier for you to use it and return it to its delegated position.
Carrying your sax around when you intend to travel or go to a performance without damaging it may sometimes be a hassle.
You may want to go to practice at a remote location and find it hard to move around with the sax.
This is why you need to get a suitable case that conforms to you and your sax's needs.
You should find one that is light enough to handle or carry around.
You need to get a strong durable light one that can best perform.
Transposing means moving and posing to mask those notes that are too high for you to hit. In the long run, this will help you sound much better while you play.
Most people won't even notice what you have done. It is a very efficient technique that works for most sax players.
Getting those music notes onto your phone may become difficult, but don't worry.
Various pdf apps are available on the web can perform this task.
They do this by scanning the physical notes on paper and turning them into PDF form.
To do this, you need to get the best scanner application available.
Various scanner applications are available, but you need to get a good and efficient one.
A good application can scan effectively. Once the documents are scanned, they are given unique ID docs that help you identify them.
The scan to pdf app is one of the best applications for musicians.  Also, if you are an iPhone user, you don't have to worry since an iPhone scanner version is available for its users.