So you want to learn the Double Bass but don't know where to begin? Our top 10 tips should help you…
Learning the Double Bass is about patience. It's about being proficient not simply at physically playing the musical instrument, but developing techniques to advance quicker.
But just what is the easiest way to get started?
How do you improve without getting stressed out? How do you continue to keep having a great time but nonetheless work hard?
Well, it's all about your training strategies. Double Bass isn't the easiest music in the world to play, so it's essential to have a solid approach to practice to start you off in the right direction.
So below is a set of 10 tips to learn to play the Double Bass. Enjoy!
Get An Incredible Teacher
The first tip is the most essential: An excellent teacher is the most valuable thing in the world. They will identify your weak spots but most essentially, teach you how to improve them. They will show you the best method book for your style of learning. So if you can pay for it, get private lessons.
But how can you be sure you've got a good instructor when there are so many to choose from?
Well, the best recommendation I can give, is to ask yourself the following questions:
Do you enjoy having lessons with your teacher, or do you dread them?
Do you find yourself enthusiastic every week to go and see them?
Do they invigorate you?
Do you find yourself looking to enjoy playing daily simply because you love the experience so much?
Do they help you to understand challenging points very easily?
For those who answered yes to the majority of or all of these questions, then you've discovered a fantastic double bass teacher who meets your needs.
However, are you still trying to find that elusive person? Where do you go to find someone who could help with your double bass playing?
Well, my initial advice is usually personal recommendations. Google around, start looking on Facebook and LinkedIn to see who are your local Bass teachers.  You could also apply to join the Ted's List VIP Facebook Group, as we have many, many double bass teachers (and fellow pupils) enrolled.
If a teacher has a waiting list, don't allow it to put you off. It usually means they're great! Should this be the case, get on that waiting list, and request a trial lesson.
Whatever happens, don't freak out, or stress. Nothing is forever, so if you find a teacher and it doesn't work out, simply start looking for another! You can never be 100% sure in regards to a connection between two individuals, so just go for it!
Pressing the strings down with the left hand, holding the bow, and plucking will all fatigue your hands in different ways. Build up the strength you need quickly by practicing little and often, rather than a longer session less regularly. One practice session per day is best, even if only for 10-15 minutes, but aim for a minimum of five practice sessions per week. You'll see your bass technique improve quickly if you do this.
Invest in quality accessories
In particular, spend the extra money on some decent rosin that will help your bow grip the strings and make it easier to get the best sound. The free rosin you receive with many double bass starter outfits will not do as good a job! We recommend this rosin, the dark D'Addario Kaplan Premium Rosin with a Case – I personally use it and find it works wonders!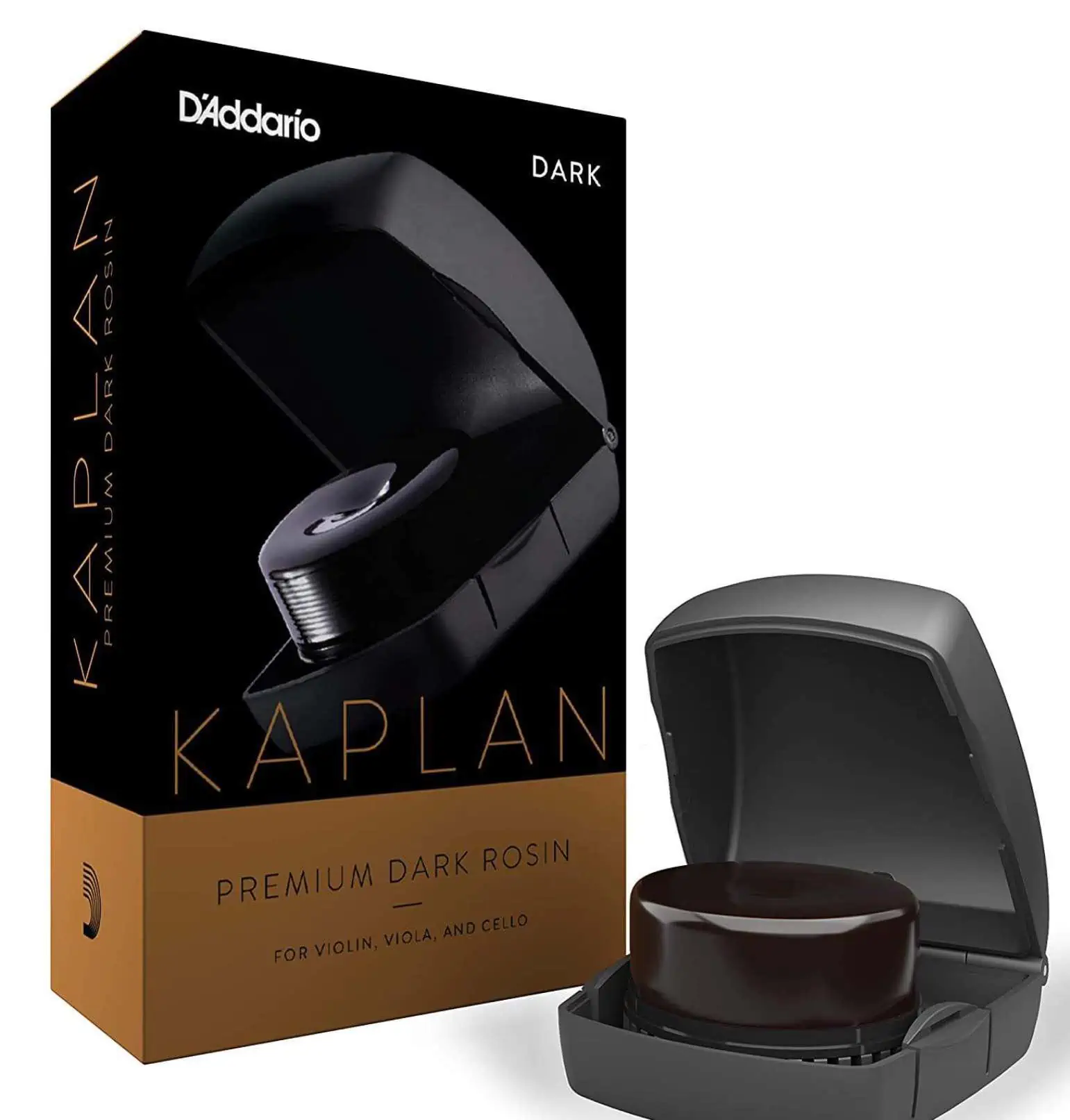 Best Rosin For Cello & Bass
DESIGNED FOR: Opening the case one-handed
COMES WITH: Premium Case
USES: The original recipe handed down from Ladislav Kaplan
D'Addario Kaplan Dark Rosin
When you check the price above, you'll see there are loads of great places to buy this item.  Our personal favorite is Gear4music.
It is the largest music retailer in the UK and fast becoming the most respected online music shop in the US too.  Their customer service is excellent, they have competitive prices, really fast shipping, and usually have the longest guarantee.
Most professional musicians use Gear4music, so there is no reason why you shouldn't too!
There are many videos on YouTube of people playing the most popular beginner pieces; listen to a few and get a real feel for what you're aiming for (and sometimes what you need to avoid!). And be it classical, jazz, or pop, regardless of the musical genre you wish to learn you should aim to listen to (or ideally, attend) as many performances as you can.
Spend time on your posture and playing position.
The double bass is a large instrument and it is easy to cause physical strain while playing it. Take the time to find a way of sitting or standing that works for you and enables you to play the double bass freely with no tension in your upper body. Once you have this sorted, ensure that you keep it consistent every time you play. Good posture will facilitate playing at higher speeds and will make you feel more comfortable playing.
Double bass playing is best with other people and due to it being in-demand, there will be a group out there keen to welcome you whatever your level or preferred style. Bass players love playing in groups; it will improve your rhythm quicker than anything else and enable you to play more confidently.
Look for fellow bass players on social media in your local area, or ask your local music service to point you in the right direction.  If you're having no luck, apply to join the Ted's List VIP Facebook Group – we have lots of bass players and teachers in the group who may be able to help you out.
Don't neglect your scales and technical work
Technique is everything. The double bass has a highly logical fingering system for your fretting hand and if you use your scales and studies to really get to grips with the shifts and which notes are available where, you will find playing your pieces a breeze!
Make it easy for yourself
Find a place at home where you can safely leave the double bass out of its case, and where you can keep all your music and accessories to hand so it is easy to get started every time you practice. As a bass player, you want easy access to your it.
Talking about a case – if you haven't yet purchased one, or are looking for a more sturdy case, the take a look at the Double Bass Case made by Gear4Music – it's seriously good value for money and I'd totally recommend it to all my pupils.
You can't learn how to play properly unless you have a music stand.
From every little element outlined in this article, obtaining a music stand is by far the simplest thing to accomplish, and thus the best tip to follow!
Investing your money on a great music stand means you can have the sheet music at just the right height for your eyes. This, consequently, helps you have the appropriate posture whilst playing your double bass. What this means is your playing technique becomes better and better. Every little helps!
Playing the double bass is hard at the very best of times, why make it trickier by battling with a cheap music stand which is always slipping down!
Using a foldable stand is ok – especially when it comes to owning one for when you are required to bring your own personal stand to a gig, recording session, or music session. In this case, we suggest this flip-style stand. However, for 90% of your time playing, you are doing so at home. And this is where we do not advise using a foldable stand.
Foldable stands have a tendency to slide down. They tend to break quickly. They have a tendency to fall over with a heavy book. So generally, they're not too dependable. This is the reason for your own home, we propose this style of reliable, durable, non-collapsible music stand…
Yes, it costs a little bit more initially, but it will be such a beneficial investment, and many good music stands can last as long as ten years. For comparison, a poorly manufactured one can break in a few months.
Overall, this is actually the finest model of music stand I've ever tried. It's reliable, has got a ton of impressive testimonials, and I even have one at home that I love…
Learning a musical instrument like the double bass is a lot like going exploring. It only truly seems like it's been worth the effort when you find new things.
However, to find new things you need to look in new places, listen to a new challenge and speak to new people.
A fantastic way to achieve this is by participating with the Bass community via a regular magazine, online forum or YouTube channel. Our Ted's List Facebook VIP Group has many musicians that help and support each other; so come and join that. I'm sure you'll meet other bass players there.
A magazine, for example, will have new columns and advice for you to read month after month and lots of the authors give out small weekly lessons detailed with new exercises to try and help you to improve.
Another example would be the online forums that have debates between different players on a number of topics. Watch out though. These can get pretty heated sometimes!
And a decent YouTube channel will post brand-new video tutorials each and every week for you to work through. If you haven't done it yet, check out the Ted's List YouTube channel, where we have 100's of training videos on all instruments.
Mastering something totally new will broaden your horizons and keep you encouraged to improve.
How to play double bass - top 10 tips


Summary
We hope you found this list of Top 10 Tips on How to Play the double bass useful. If you haven't signed up yet to get the Ted's List 4 Feature Friday emails, make sure you do that! Otherwise, good luck…