Our top 10 tips to help you learn the violin will give you some key ideas to put a rocket up your progress and performance!
Learning to play the violin can be one of the most fun and gratifying things in your life. Yet, if you don't know how to tackle it, the speed at which you learn will slow, playing the violin will feel like a chore, and your violin playing will suffer.
These tips are to be used alongside your lessons, not in place of them… So follow the violin exercises, and you'll become a superstar in no time at all!
Play in front of the mirror
Learn to play the violin whilst watching yourself in the mirror. It's a simple, but effective tip for every beginner. This allows you to watch that your posture is correct, your bow is straight, and that your left hand is the right shape.
It's also easy to check the position of the bow on the strings. It's a little bit like being your own violin teacher and giving yourself violin lessons! You'll find this little tip will help you enormously!
Listen to other violinists playing your pieces
YouTube has some great recordings of violin music. Listen and watch while following along with your sheet music.
See how they hold the bow on the strings
Listen to the tone they produce
See how each violinist is slightly different when it comes to how they balance the instruments on their neck
Doing all this means your favourite violinist can then be your own personal violin teacher!
Structure Your Practice Schedule
Most of your playing is done outside of your lessons, so violin practice is vital to your progress. In order to play well then, you'll really need to practice well, and it's tips like this that'll produce the world of difference to your playing. If you want to practice well, then you'll need to find out what things to practice!
A well-designed practice plan will provide you with guidance and focus during those precious practice hours. It is going to ensure you don't waste your time and energy trying to figure out things to practice, checking Twitter, or just generally wasting time.
For starters, and it doesn't matter if you're a less experienced player or professional, switch off your telephone (or at a minimum, place it on DND).
Secondly, get yourself comfy. Have your cup of water, your mug of tea (or whatever beverage you desire) prepared, and waiting.
Then, structure your violin practice routine. Take a moment and tell yourself "today I'm intending to work on my tone". Or maybe "I need to pay attention to practicing my left-hand posture". Or "My technique must progress, so I'm not going to play my favourite piece today until I work towards getting my fingers even more independent".
It doesn't really make any difference what exactly it is, so long as it's a conscious thought from you that has a macro-goal.
Remember, macro targets are the way forward
Macro targets are lots of mini things to strive for, then when you accomplish them, you'll get a feeling of self-confidence and a boost in your time and effort.
Some of the key things to work on are:
Practice your left hand silently, without your bow. This will help to strengthen your fingers and will build muscle memory.
When you're shifting into the higher positions bring your left elbow around so that it is easier to reach the top notes with your left hand.
Out of all of these tips on learning the violin, this tip about practice is the element that can produce a huge difference to your playing.
You will need a music stand at home. It doesn't matter if you're a beginner student or a pro, no negotiation is needed!
From every little thing in this article, obtaining a music stand is definitely the easiest thing to achieve, and as a consequence the easiest tip to follow!
A reliable music stand means you can forget lousy posture when playing and trying to balance sheet music on your knee. This goes for all instruments. It additionally means you can have your music where you can best see, it is possible to spread several sheets so that you don't have cumbersome page turns and a good music stand is something you are able to easily take to a lesson, music group practice, or even performance.
Playing your musical instrument is hard enough as it is, so don't make it trickier by having cheap gear that breaks…
Personally, I always think it's well worth getting something that's well built which will last a long time. The cheaper collapsible music stands are usually fine for when you want a transportable one for gigs – and the brand we highly recommend for collapsible stands is this; however, for practice at home, get something which won't collapse every five minutes!
It may be a little more expensive initially to purchase a foldable AND a non-flip-style – but you'll save cash in the end. Believe me when I say, the continual up and down of the foldable stands does make them break easily – so if you can minimize the amount you do it (by using your non-collapsible at your home), then you'll be the extremely pleased owner of two music stands that'll last you for years!
Overall, this is the best kind of music stand I've ever used. It's dependable, has got lots of amazing testimonials, and I also have one at home which I love…
Make sure to use enough rosin
Rosin is like oxygen to your bow. Without it, it just won't work! So add a little each week to make sure that you can make a good sound and tone.
The rosin I love to use is by D'Addario; it's not too expensive and does the job really well!  In fact, I can confidently say it's the best rosin money can buy…
But remember the golden rule, to loosen your bow at the end of each practice session too!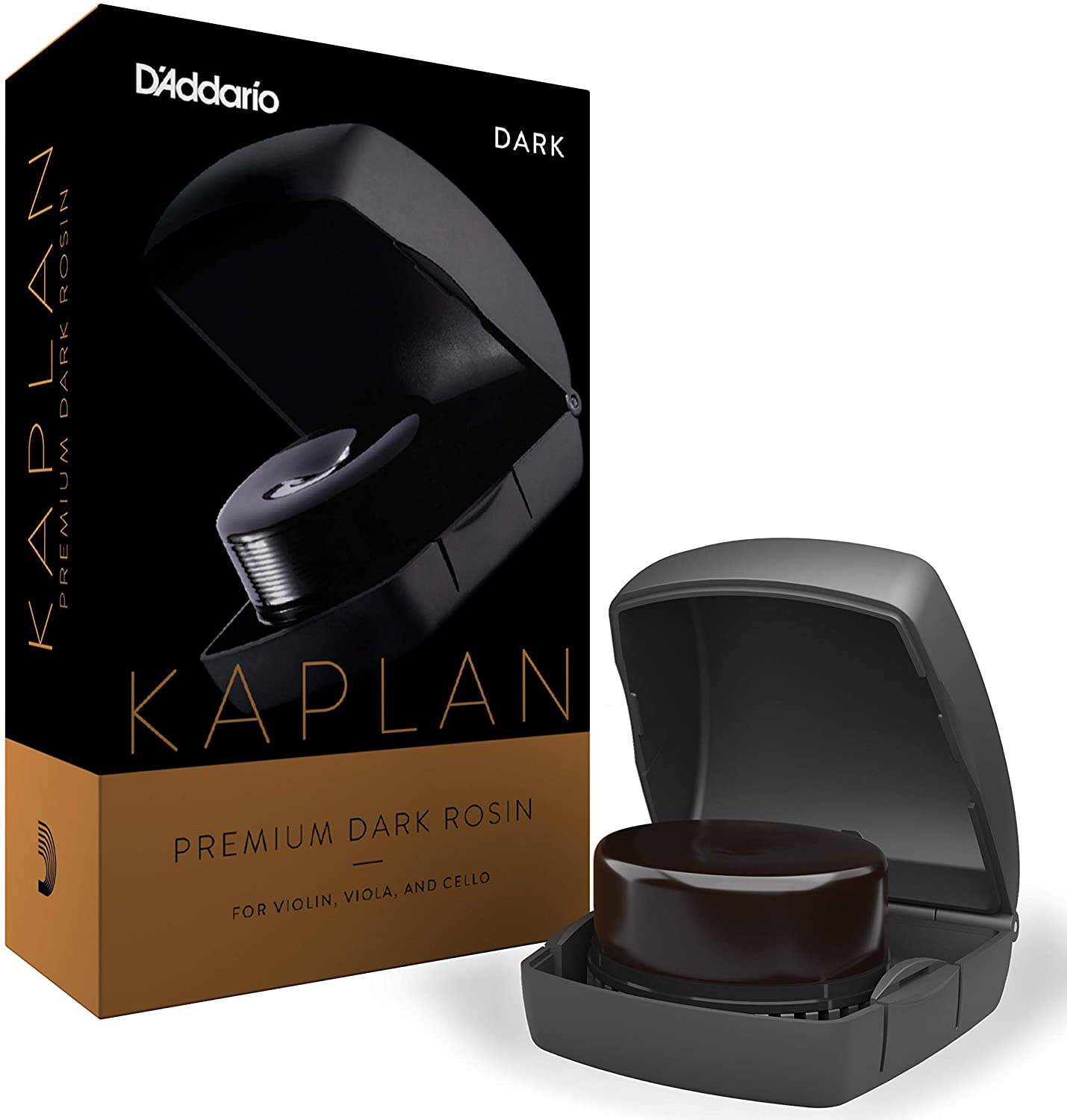 The best rosin on the market
LEVEL: Case designed for one-handed use COMES WITH: A premium case
FEATURES:
Uses the original recipe handed down from Ladislav Kaplan
- Low dust
When you check the price above, you'll see there are loads of great places to buy this item.  Our personal favorite is Gear4music.
It is the largest music retailer in the UK and fast becoming the most respected online music shop in the US too.  Their customer service is excellent, they have competitive prices, really fast shipping, and usually have the longest guarantee.
Most professional musicians use Gear4music, so there is no reason why you shouldn't too!
At the start of each practice session, grab your instrument and bow and play some open strings as loudly and with a warm sound and tone. Make sure that your bow is close to the bridge.
Technique, technique, technique!
Practise playing scales and sections of your pieces, loudly and softly, and focus on your sound.
It can help to mix them up. In fact, we all know variety is the spice of life, and that applies to your violin practice too! (Just don't mix up your strings ;-))
Yes, we play with the bow 90% of the time. However, often our solo pieces can include pizzicato. Play a scale or your open strings plucked. Experiment plucking with different fingers on your right hand too.
Share your music with others!
Get out your violin and play a piece of music to your family or friends, even over zoom! Remember that your music-making is a great way to make others happy, as well as yourself! And remember to play the music you love!
This is a simple tip, but also one of the more important. To put it simply, playing the violin will be ten times more pleasurable if you're studying the music that empowered you to pick up the violin to start with.
This is applicable if you're a newbie, intermediate or advanced player.
A lot of pros – jazz musicians in particular – will dedicate a significant part of their practice time to learning music that drives them. This is especially good advice for newbies – even in the classical world.
Not only does this increase each musician's repertoire but it additionally keeps them stimulated and makes such that the enjoyment of playing music is never lost.
If you only ever play your exercises during practice, you may end up being the most technically excellent musician on the planet but you're going to get fed up rapidly!
On the other hand, when you can pick up the violin and play after a tricky day in school or work and chill out for the evening by playing through your favorite songs, then you'll associate playing the violin with fun and excitement.
And this experience will usually help keep you coming back to the violin for more.
Learn the violin – top 10 tips


Summary
We hope you've found these violin tips useful. Being able to play the violin is a fun gift, and regardless if you have private face-to-face violin lessons, or learn from online violin videos, the key is to be clever in your practice.
It's so easy for beginners to 'go on auto pilot' and switch off during the practice session. As a beginner, you need to be aware of this, and make sure you don't fall into that trap! A 10-minute session once per day – totally focused and concentrated on the music, is MUCH better than 30 minutes every few days.
Lastly, remember to have fun! Yes, you need to think about your hand position, tuning, bowing, arm placement, using your ear, the position of the instrument on your neck, the position of the bow on the string (the list really can go on and on!) – but non of that matters if you're not enjoying yourself.
The violin is a great instrument. And don't you forget it!
Good luck!
"For aspiring violinists of any age, my single and most critical advice is to be aware of the places where one's body holds tension. Learn to feel the relaxation response throughout the body. Oh, and one other thing: always listen to yourself in a critical but non-judgemental way."
– Professor Rictor Noren, NEC